Home Depot Or Lowe's: Which Has Better Deals On Fire Pits?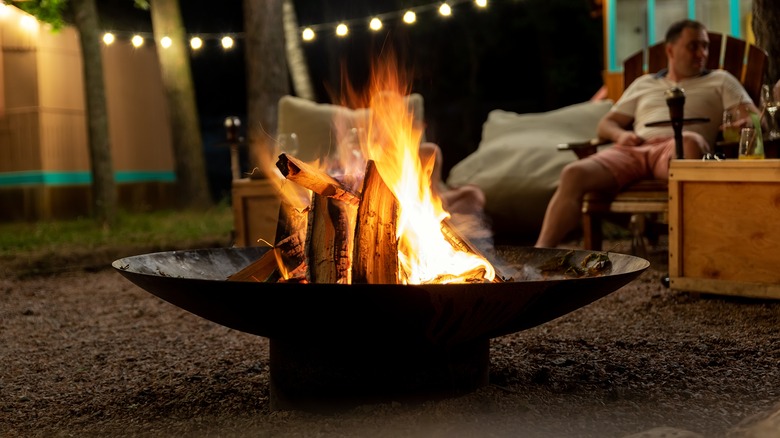 Gorloff-KV/Shutterstock
Few things are more enjoyable than curling up in front of a crackling fire on a chilly evening with your friends and family. Even warm summer nights can benefit from the beautiful glow and warmth cast by a fire pit. Fire pits can also help stretch out how late into the year you can enjoy your backyard and help add some decorative appeal, notes Fireside Hearth and Home.
Fire pits come in all different designs, including built-in stone pits and permanent installments, simple iron or steel basins, or even tables with fire pits built into them. There's really no wrong option in terms of both functionality and design — any fire pit, no matter how big or small, is bound to do wonders for your yard. Fire pits can be found easily at home improvement stores, like Home Depot and Lowe's, especially in the warmer months. Between the two stores, though, which one offers the better deal?
Home Depot fire pits
Home Depot has a large number of fire pits with multiple designs, fire sources, and more. One of their cheapest and simplest, but nonetheless effective, designs is by Hampton Bay and costs $140. The Piedmont 30 in. Steel Fire Pit is a simple steel pit with a mesh screen, cooking grate, and poker. You'll have to build and light your fire manually. It has a 4.4-star rating, with 76% of customers recommending the product.
A slightly more expensive fire pit option is also by Hampton Bay; the Crossridge 50,000 BTU Antique Bronze Gas Fire Pit costs $329. This gas-burning pit sits at tabletop level with an antique bronze finish, adding a bit more decorative appeal. The advantage of a gas fire pit over a wood burning model is safety because they provide a more hands-off approach to maintaining the fire and reducing the presence of sparks or rogue flames, notes Shop 4 Patio. This fire pit has a 4.5-star rating, with 77% of customers recommending the product.
Options from Lowe's
Lowe's also has a wide variety of fire pits for sale, including both wood-burning and gas models. Their most affordable and well-reviewed wood fire pit is the allen + roth Black Steel Wood-Burning Fire Pit, which costs $109. It has a very similar design to its Home Depot counterpart, with a black steel design, mesh cover, and poker. It does not, however, have a cooking grate. This fire pit has a 4.4-star rating, with 90% of customers recommending the fire pit.
An affordable gas-burning option from Lowe's is the Style Selections Black Steel Propane Gas Fire Pit Table, which only costs $199. It has a simpler design than the Home Depot gas-burning pit, but it's also a little more versatile and comes with a one-year warranty. The purchase comes with lava rocks for filling the base, which Designing Idea recommends for both functional heat distribution and decorative appeal. This pit has a 4.2-star rating, with 91% of customers recommending the product.
Both Home Depot and Lowe's sell a large number of fire pits for affordable prices, but when comparing the two, it's clear that Lowe's offers better deals. Their wood-burning fire pit is almost identical in design to Home Depot's while being fairly cheaper. The gas-burning pit from Lowe's is also significantly more affordable, and it comes with a warranty. While Home Depot has comparable items, Lowe's has the edge in terms of pricing.