Jenni Yolo Tells All About Her Farmhouse Renovations - Exclusive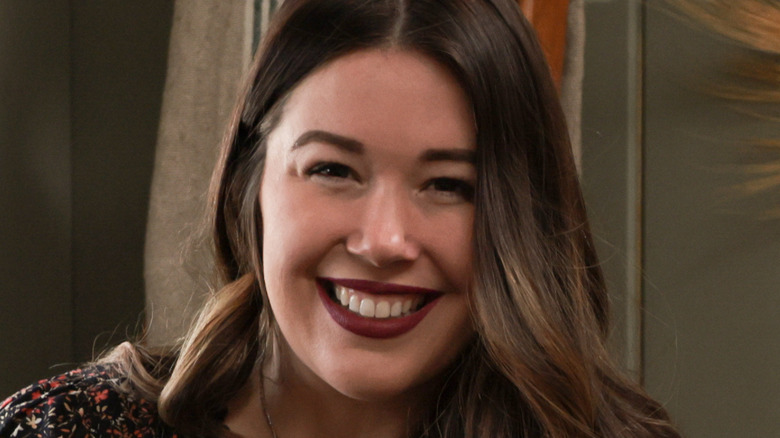 Magnolia Network
When buying a 100-year-old property, it'll take more than wishful thinking to transform your new pad into a home. Luckily for Jenni Yolo, the DIY renovation expert-turned-reality TV personality is accustomed to achieving dramatic results. The star of the Magnolia Network's "Makeover by Monday" reflected in an exclusive interview with House Digest that figuring out what to do with her new farmhouse required as much inspiration as it did labor and DIY ingenuity.
"This house, our barn house ... that we live in, it was built in ... I believe 1894 or 1884. So it's one of the oldest houses on the block," said Yolo exclusively to House Digest. "So of course with any sort of house like that, you run into all sorts of [issues]. Nothing was leveled straight. Everything was pretty irregular ... which made figuring a lot of things out a little bit challenging."
Of course, aiming for perfection is often a fool's errand. "That's one of my favorite things of working with old houses, you kind of have to work within the constraints that you have and ... all the wonkiness and all the unique things about an old house," Yolo mused. "So it has its pluses and it has its minuses."
A lot to renovate
One problem with old houses is that, as a new owner, you simply can't change the past. And houses built in the 1800s certainly had plenty of time for unfortunate decisions to leave their mark. "I don't want to be derogatory towards the previous owners, but they kind of left the house in disrepair," Jenni Yolo explained. "It was in really bad condition when we got it, like the kitchen and the bathrooms all had carpeting in it and they collected a lot of stuff, so it was full of a lot of stuff. And it kind of was untouched for many, many years. So it was a little bit hard to see through a lot of the clutter and the unfortunate choices in [things] like wallpaper and carpeting."
Thankfully, for a renovator of Yolo's caliber, there's always an opportunity to see the potential within the chaos. So even though her husband took some convincing, her farmhouse renovation plans began to take shape. "When I walked in, I immediately saw tall ceilings. I saw this beautiful archway and I saw a layout that actually really worked as it was," Yolo said.
A challenging project
When shopping for homes, it's said you can't put a price on character — something that new builds are often lacking. Luckily for Jenni Yolo, the farmhouse had plenty of rustic charm to uncover. "I knew that the whole house would have to be gutted, but that we could really keep a lot of the original character and the layout as it already was," Yolo reflected.
Unfortunately, like many large old houses, Yolo's new home came with one common quirk — it had been converted into a dwelling for multiple families to live in at some point in the past. Although this added to her laundry list of renovation projects, it didn't deter her from discovering the home's potential.
"It was a duplex and then we turned it into a single family home. So just like the separation between floors was kind of confusing," Yolo explained. "But I knew because of the tall ceilings and the arch and a lot of the original character that it could be a really beautiful house."
 Catch Jenni Yolo on "Makeover by Monday" streaming now on discovery+.