10 Fun Ways To Incorporate Patterns Into Your Guest Room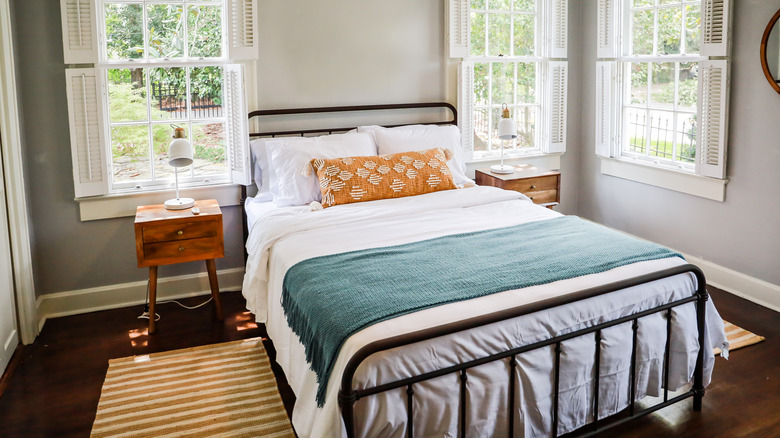 Ucpage/Getty Images
Patterns are one of the more playful elements of interior design — no matter how you incorporate them, patterns are guaranteed to make a room feel more lively and personal. Whether it's a simple stripe or polka dot, a more involved floral or paisley, or a more specific print, patterns are a great way to make a room instantly feel more put together and intentional.
As My Move explains, patterns don't just serve one function. While pattern mixing can be eclectic and playful, one large, simple pattern can help make a room feel cohesive. Similarly, a busier but small-patterned object can help liven up dull spaces, or it could contrast to another design element for some dynamic texture. Some people may be a little hesitant to introduce patterns into the main areas of their house, though, if they're not that familiar with them. Your guest bedroom, though, is a wonderful place to start and experiment, even if just in small ways.
1. Wallpaper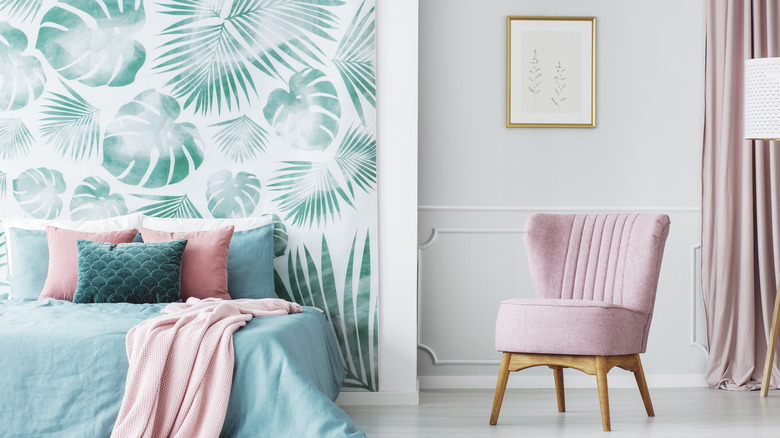 Katarzynabialasiewicz/Getty Images
If you've ever wanted to hang a fun, patterned wallpaper, but you didn't want to commit to it in your living room or bedroom, consider experimenting with it in your guest bedroom. Start subtle with a simple striped pattern, or go bold with a floral or botanical print.
2. Duvet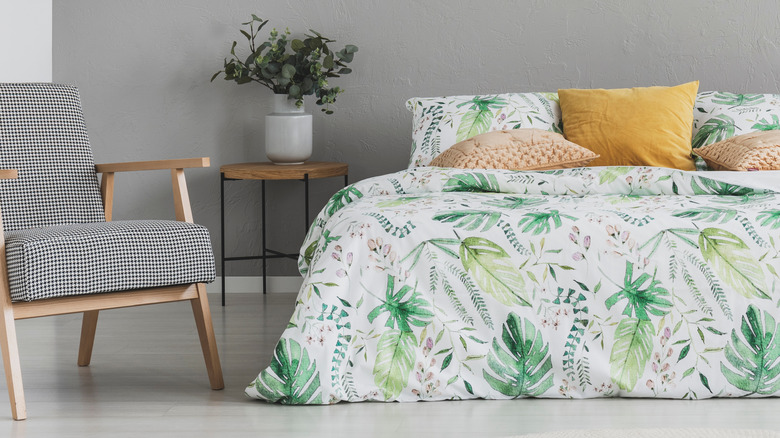 Ground Picture/Shutterstock
Duvet covers are another super simple way to play around with patterns in your guest bedroom. Since they're much more low-commitment than more permanent patterns like wallpaper, for example, go for something bold and eye-catching, like a busy botanical print.
3. Rug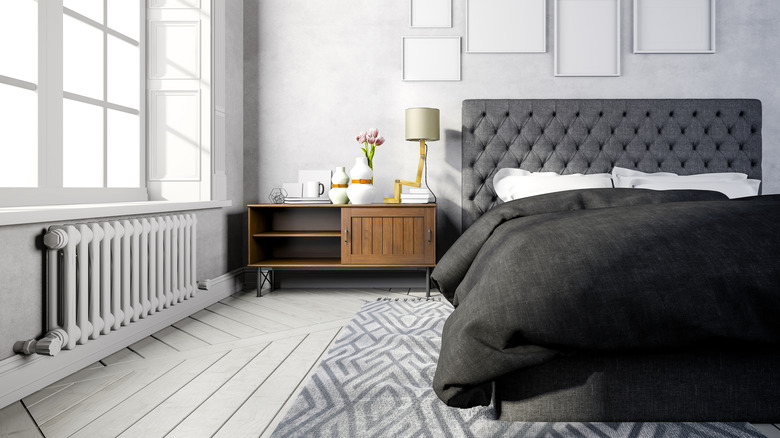 Digitalgenetics/Getty Images
Rugs are a great way to incorporate a more subtle, neutral pattern in your guest bedroom. Since they tend to be quite large, a large print pattern is ideal. You can go for a bright color scheme for a bolder approach, or opt for a neutral to keep things cohesive.
4. Curtains
While most people go for neutral curtains in their bedrooms, your guest bedroom is a great place to vary things up with fun, floral patterned curtain panels. You can also keep the pattern very understated with a floral lace interior panel.
5. Patterned headboard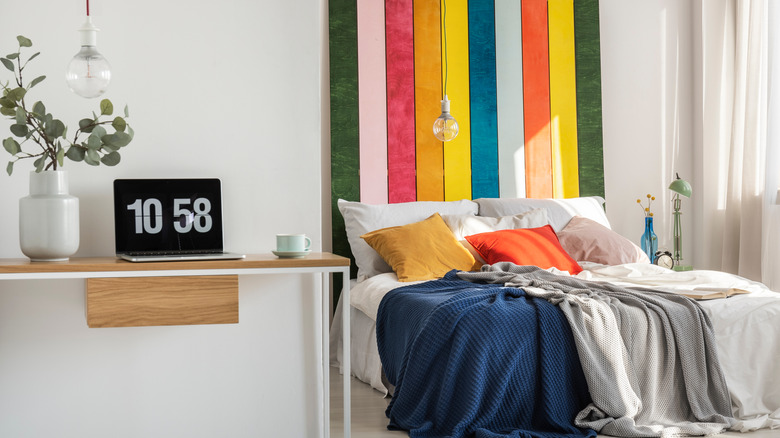 Ground Picture/Shutterstock
Headboards also tend to be a very neutral aspect of bedroom design, but they don't have to be. A patterned headboard can be as simple as painting colorful stripes on a wooden headboard.
6. Throw pillows/shams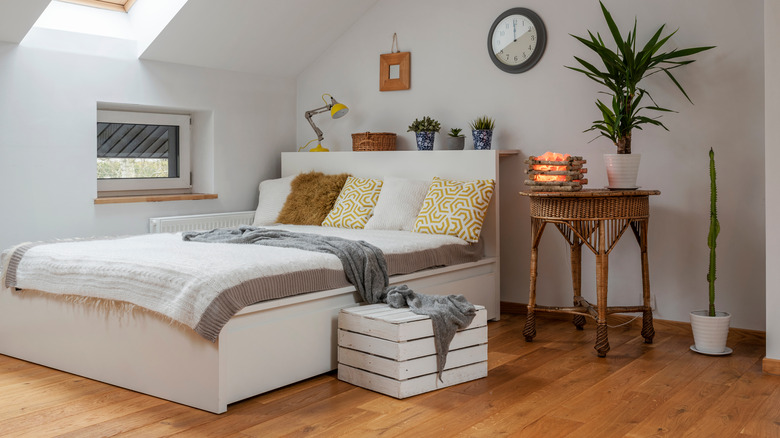 liloon/Shutterstock
For a more variable approach to incorporating patterns in your guest bedroom, opt for patterned throw pillows or shams. These can be as busy or subtle as you like. It's also a great opportunity for pattern mixing.
7. Plant pots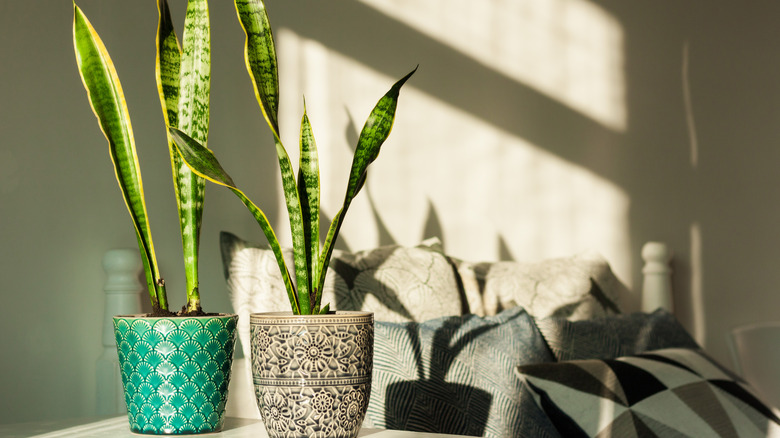 Inna Luzan/Getty Images
Plants are a great thing to incorporate in your guest bedroom décor, and also a great opportunity to show off some gorgeous patterns. Instead of simple terracotta pots, look for a glazed ceramic with stunning, colorful patterns.
8. Throw blanket
Ground Picture/Shutterstock
Another simple and cost-effective way to play with patterns in your guest bedroom is to add a patterned throw blanket at the foot of the bed. You can keep this very simple with a black-and-white polka-dot pattern, or go for a bolder animal or floral print for a pop of color.
9. Wall art
Not all wall art has to depict an image or photograph — abstract art is usually a great way to include more unique patterns in your bedroom. Alternatively, you could frame things like patterned blankets or tapestries for a more obvious pattern.
10. Accent furniture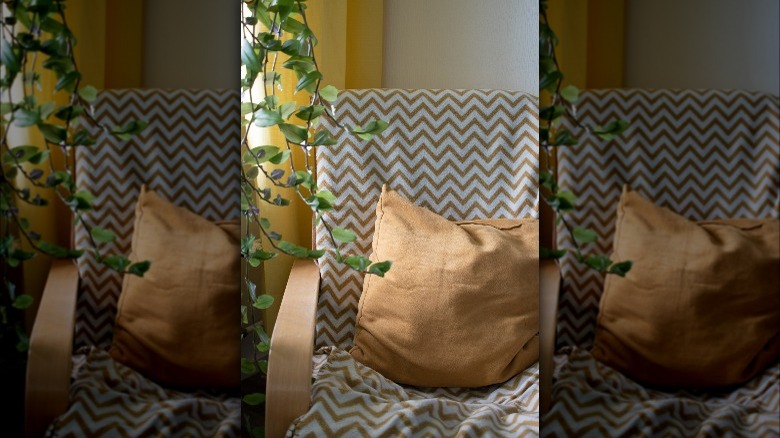 Tuisku Laakso/Shutterstock
Accent chairs are a great way to more boldly but effectively incorporate patterns in your guest bedroom, too. Look for an armchair with patterned upholstery, ranging from something as simple as stripes or plaid to as busy as floral or animal print.