Home Depot Or Lowe's: Which Has Better Deals On Trash Compactors?
Jahor/Shutterstock
Trash compactors... do people still use those? According to ElectraFix, a majority of homeowners stopped purchasing trash compactors for a few reasons. First and foremost, they're not inexpensive by any means — some cost more than $1000. Additionally, a full bag weighs more than 30 pounds, and people weren't into lugging something that heavy to the curb on garbage day. With that said, you might be wondering if owning a trash compactor is even necessary. In truth, it isn't entirely, but it does benefit both you and the planet.
Trash compactors decrease the amount of trash in the home by lessening the number of trash bags thrown into landfills, Friedmans Appliance explains. They also reduce that gross garbage smell in your kitchen, as some include air fresheners or charcoal filters. There are three types of trash compactors available: freestanding, which is essentially like a trash can; under-the-counter, which is installed between two bottom kitchen cabinets; and convertible, which works as a freestanding compactor, but you can install it under the counter if you wish.
You can purchase any one of these styles at Home Depot or Lowe's, but where will you find the best deal? Let's take a look.
Examining prices and materials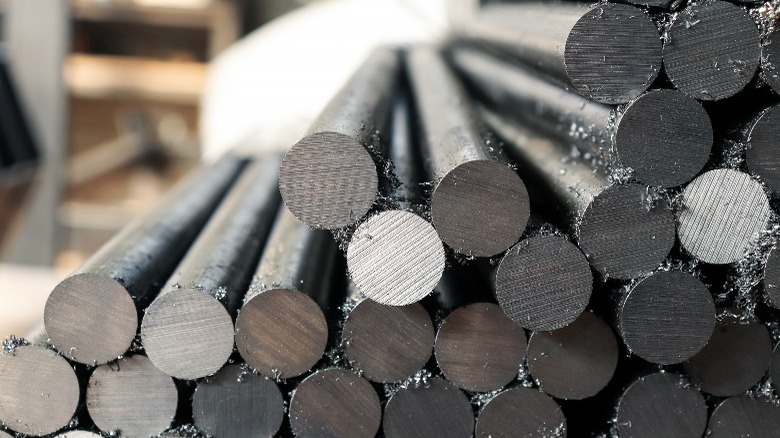 InWay/Shutterstock
Priced at $1,079, Home Depot's top seller, the GE 15 in. Built-In Trash Compactor, is made of 100% stainless steel — one of the best materials for kitchen appliances. It is stain-resistant, poreless, and has a sleeker appearance than other materials, says SimpleCoat. This built-in compactor has a 1.4 cubic-foot capacity, which offers an adequate amount of space for waste or recyclables. Its removable drawer makes it super easy to clean on trash day, and more importantly, it has an automatic anti-jam feature for larger loads. 
Lowe's best-selling trash compactor, the GE 14.875-in Stainless Steel Undercounter Trash Compactor, is also made from stainless steel. However, this model costs nearly $200 more for the same material and cubic feet as Home Depot's, and you're getting a smaller unit as well. Moreover, the Lowe's option has many of the same features as the Home Depot model (such as the removable drawer and automatic anti-jam), so it begs the question of why the model is priced much higher. 
What the reviews say
SewCream/Shutterstock
A low-priced, high-quality product is great, but what really matters is what the consumer thinks. Coincidentally, both trash compactors have a 3.8-star rating, but let's take a look at what the customers have to say. According to its product reviews, people love the GE 15-in. Built-In Trash Compactor features, and how sleek it looks in their kitchen. Many homeowners commented on how easy it was to install, and one reviewer said they purchased a second one for their new home because they loved its durability. 
Consumers had great things to say about the GE 14.875-in Stainless Steel Undercounter Trash Compactor from Lowe's as well. Again, they commented on the simplicity of installment, as well as the chic aesthetic the compactor gave their kitchen. Some said they would recommend it to family and friends, per customer reviews. Between the features, materials, and ratings, it's clear the only difference between these two trash compactors is their price, so you're better off picking one up at Home Depot.