25 Rustic Lighting Ideas To Add Flair To Your Home
One of the most important elements to tying a room's design together in a cohesive way is lighting. Choosing the right bulb and lighting temperature is important, but so is making sure the fixture itself is harmonious with your design choices. A grand chandelier is perfectly at home in vintage or elegant design, but would probably be out of place in a minimalistic or brutalist room, for example.
Lighting is especially important for rustic décor. As Vevano explains, rustic design has an emphasis on creating a warm and welcoming ambient environment. This is done through a combination of lots of different raw and natural textiles, including wood, fur, leather, and metal, but lighting also plays a huge factor in creating that warmth. Lighting, whether it's a table lamp or chandelier, is also a great opportunity to tie in certain thematic elements of your rustic room while providing ambiance and enhancing the atmosphere. 
1. Carved tree branch lamp
Rustic design places a major emphasis on natural materials. A lamp with a unique tree branch base instead of a traditional metal one would make a great addition to your rustic home.
2. Built-in arch lights
Rustic homes tend to have statement architectural features like unfinished wood archways. Turn it into a lighting fixture, too, by installing flush lights on the top.
3. Unglazed lamp
Opt for a lamp with a rougher, unfinished or unglazed base instead of a super polished or refined one for a more rustic look.
4. Rustic kitchen pendants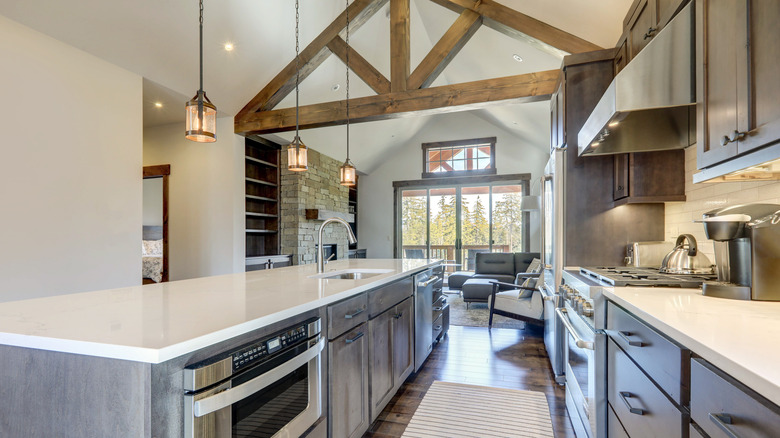 Artazum/Shutterstock
For a rustic kitchen, look for island pendants with a brown or black metal finish and chains, plus warm bulbs on the inside.
5. Branch fixture
Again, nature is one of the most important elements of rustic design. Hang some mismatched bare bulb pendants from a unique tree branch for an unequivocally rustic and charming lighting fixture.
6. Beehive style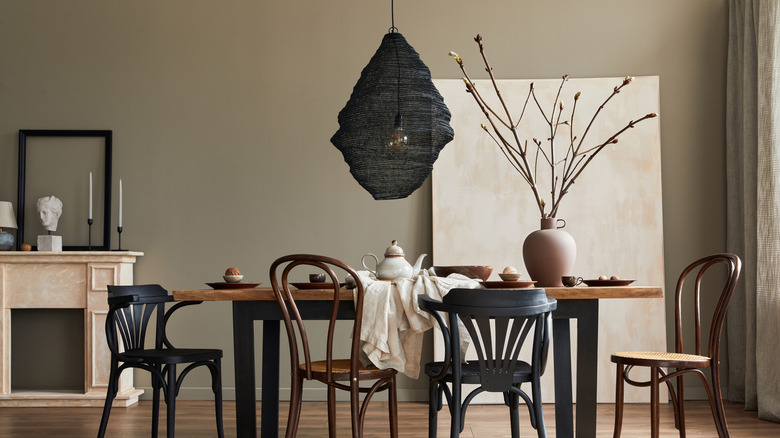 Followtheflow/Shutterstock
If you can't have literal elements of nature in your lighting, look for something that emulates it, like the above beehive-shaped and textured light fixture.
7. Simple table lamp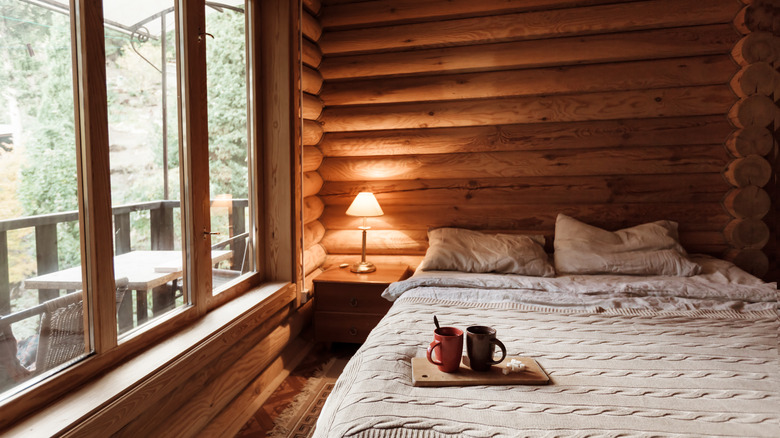 Alena Ozerova/Shutterstock
Rustic design is, at its core, very simple and understated. Look for a simple, vintage table lamp with a gold base and basic silhouette for a subtle but effective rustic lighting option.
8. Wood tripod floor lamp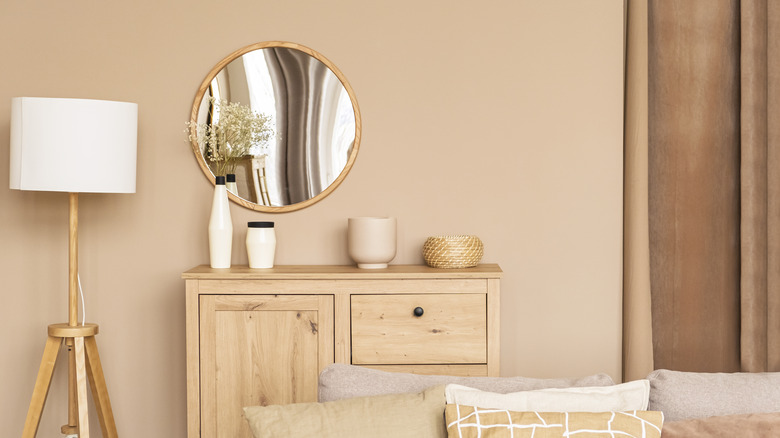 AliceCam/Shutterstock
Take a tripod style from traditional to rustic by opting for one with an unfinished wood base, pairing it with other similarly rough wood furniture pieces.
9. Rattan hanging pendant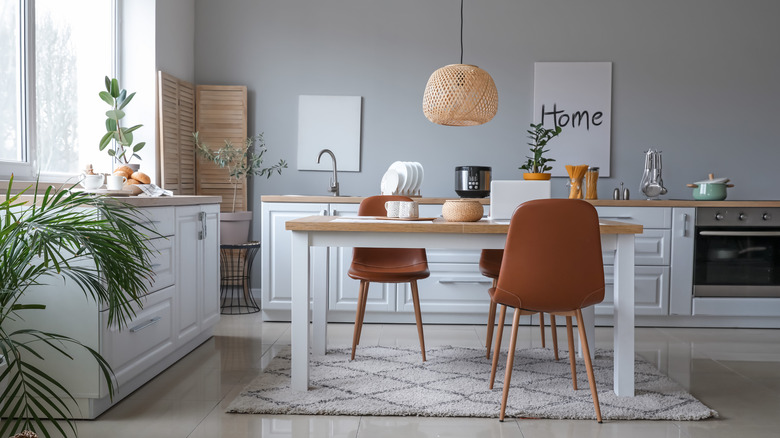 Pixel-Shot/Shutterstock
While rattan is more rustic boho than purely rustic, it still has that naturalistic effect inherent to rustic design. Look for a woven rattan hanging pendant to place above your kitchen island.
10. Antler chandelier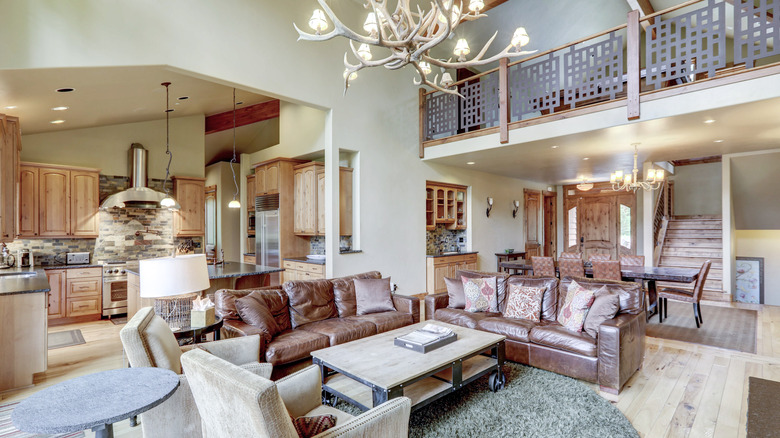 Artazum/Shutterstock
It's not uncommon to find animal iconography in rustic-designed rooms, especially in lodges or cabins. Incorporate some of that ruggedness with an antler-inspired chandelier.
11. Metal wagon wheel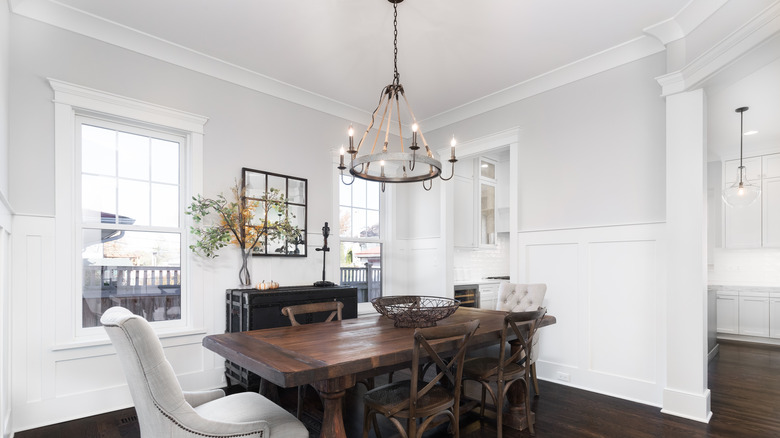 Hendrickson Photography/Shutterstock
Wagon wheel chandeliers are a perfect pairing for rustic dining rooms and living rooms alike. For a slightly more modern option, choose one with a metal base and chain. 
12. Traditional wagon wheel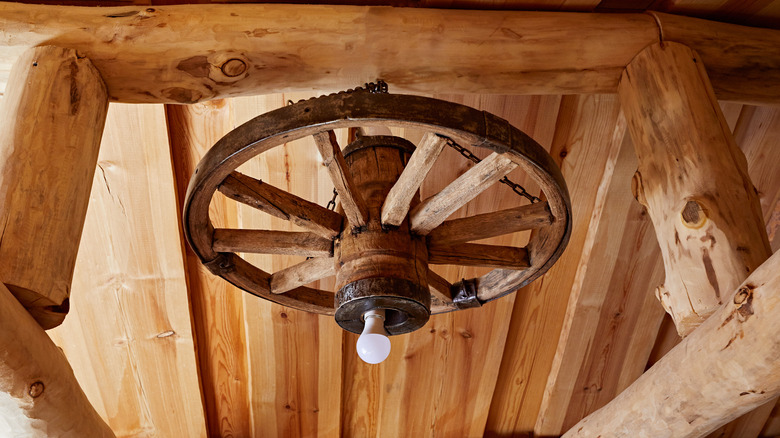 Artic_photo/Shutterstock
If you want something a bit more rugged and earthy, look for a traditional wood wagon wheel chandelier or light fixture — you can even repurpose an antique wagon wheel into a statement light. 
13. Simple wire pendants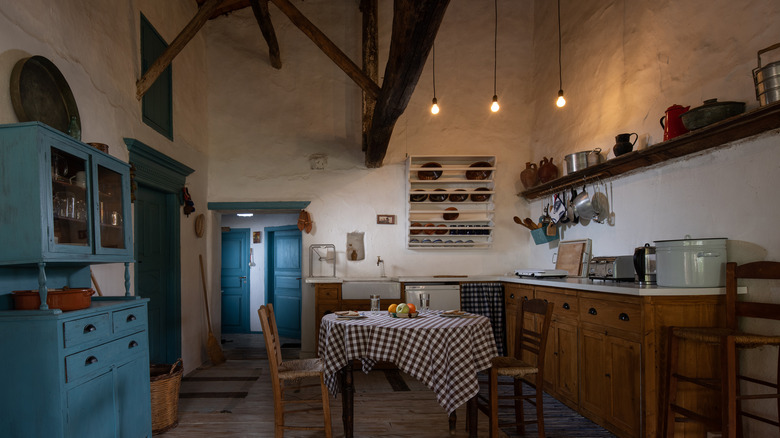 George Tsamakdas/Shutterstock
If you want to go very basic and minimalist in your rustic design, look for some simple lightbulb pendants suspended from black wire. Pair with other rustic elements like rugged wood furniture and touches of copper or steel.
14. Bamboo pendant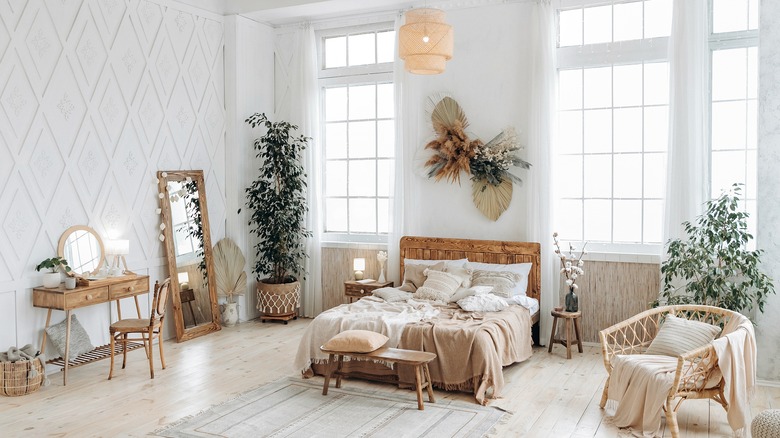 Sheremetio/Shutterstock
Another slightly boho but still appropriately rustic material for a light pendant is bamboo. Look for a thinner weave and a simple silhouette to keep it in rustic territory.
15. Copper wall lights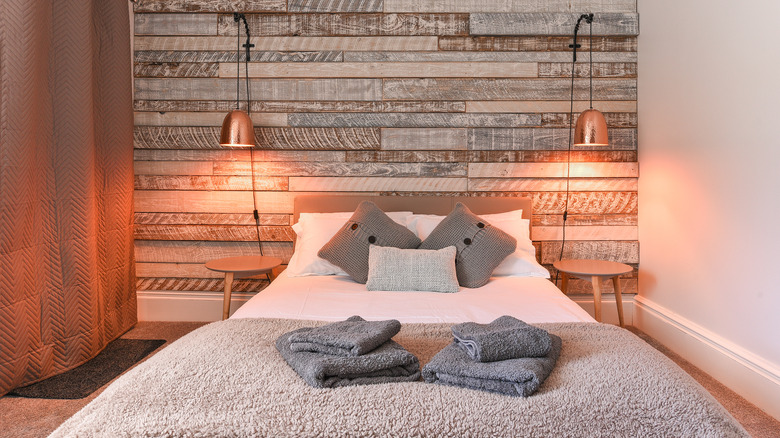 Lucia.Pinto/Shutterstock
Metals, especially copper, are also very relevant to rustic design. Mount some hanging wall lights with a copper shade for a trendy but rustic lighting option.
16. Tabletop tripod lamp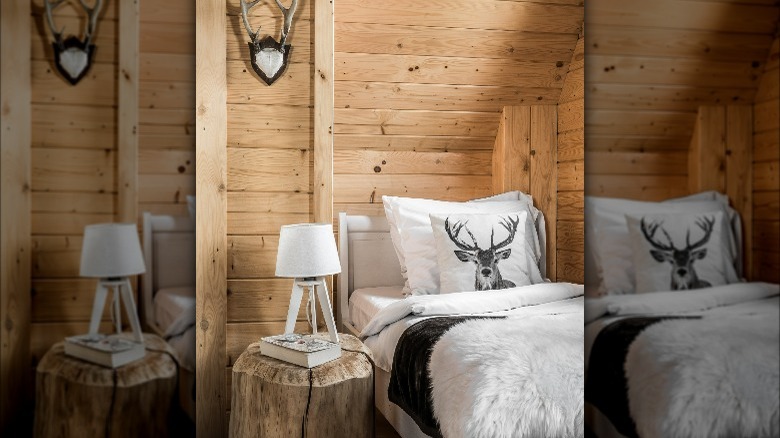 Pietruszka/Shutterstock
There's no need to go overboard with your lighting in a rustic-inspired bedroom. Let other elements, like animal iconography, wood statement pieces, paneling, etc. do the heavy lifting, and then add a basic but effective tabletop tripod lamp to tie it all together.
17. Modern wagon wheel chandelier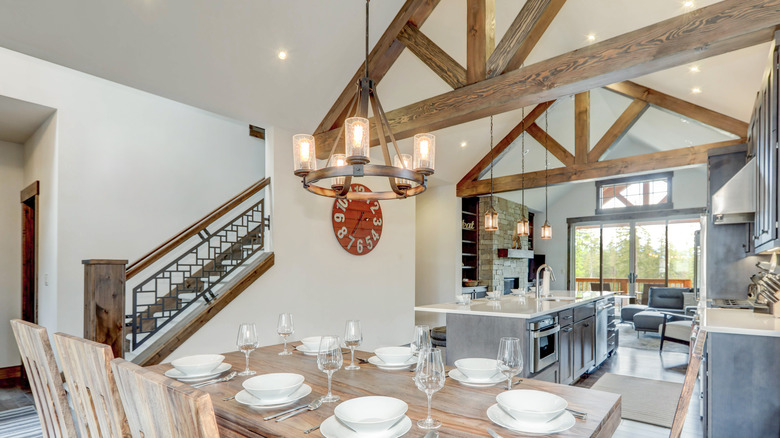 Artazum/Shutterstock
Make your wagon wheel chandelier even more modern but still rustic with lifted, modern light fixtures on the spokes instead of a faux candle shape.
18. Antique statement pendant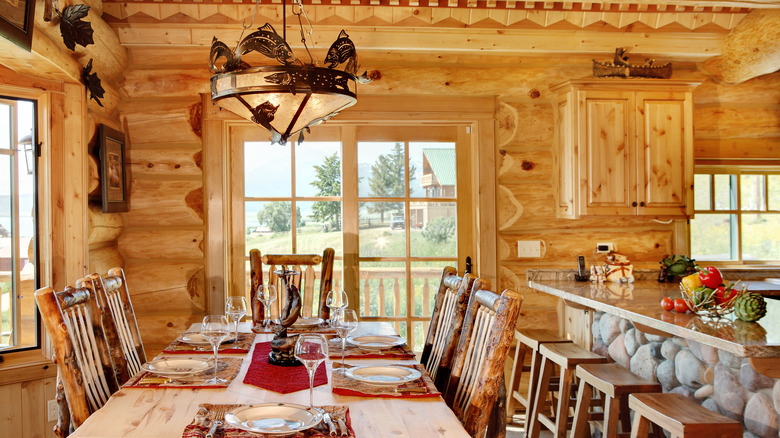 Brian Brown/Getty Images
Antique pieces are perfectly at home in traditional rustic rooms — especially antique lights. Look for a hanging pendant light with bronze or brass detailing to enhance a room's rustic design.
19. Basket weave pendants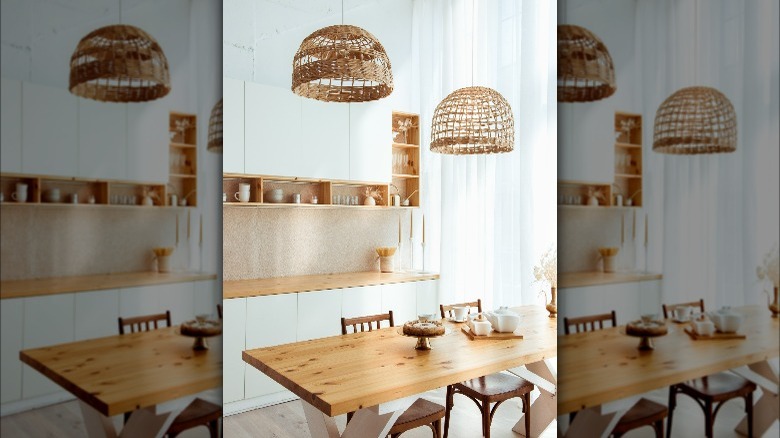 Iren_Geo/Shutterstock
An alternative to the previously mentioned rattan light is a rattan basket weave pendant, which, as the name suggests, is in the shape of an upside-down basket.
20. Wood light cage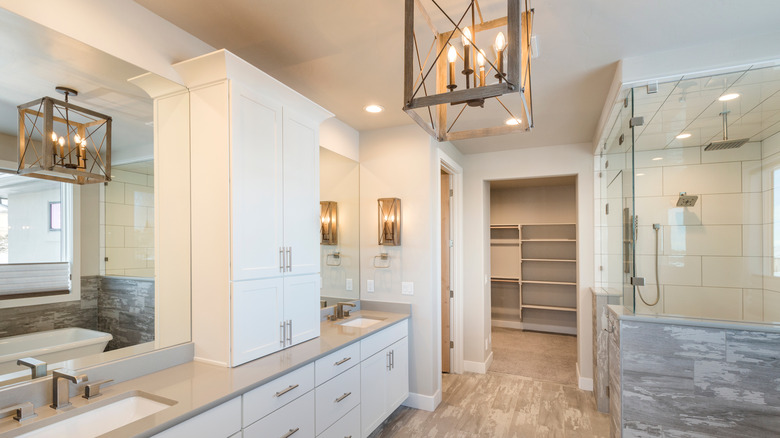 Neil Podoll/Shutterstock
If raw wood isn't your thing, consider a gray-toned wood base in a rustic-inspired room. You can even look for a light pendant cage with rustic gray wood framing and steel crossing. 
21. Traditional chandelier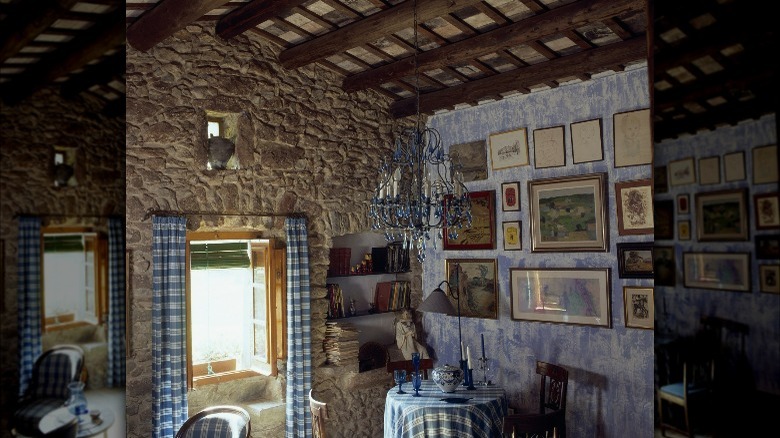 Construction Photography/avalon
While you may not think to put a traditional chandelier in a rustic room, it can work if done right. Instead of a sparkly, art deco crystal chandelier, look for one that matches the color scheme and can add some nice contrast to the other rugged elements.
22. String lights
String lights produce a very distinct type of cozy ambient lighting, and can do wonders to highlight rustic architectural elements like cross-beaming. The wire also has a very rugged, rustic effect naturally.
23. Grand chandelier
Another way to incorporate a chandelier in your rustic home is through a large but simple design, with grand curves in the frame but traditional lampshades, creating a luxurious cabin feel.
24. Hanging kerosene lamps
While actual kerosene lamps are obviously very dangerous, the style of the lamp is very rustic in design. Hang some modern electric kerosene-inspired lamps from the walls for immense rustic appeal.
25. Drop down wagon wheel chandelier
Finally, another variation on a classic wagon wheel chandelier is to have the lights hang or drop down instead of up, which can modernize it a little bit. Add some more rustic charm by swapping out your traditional bulbs for Edison-style ones.