51% Of People Agree That This Is The Best Type Of Fencing For Your Yard - Exclusive Survey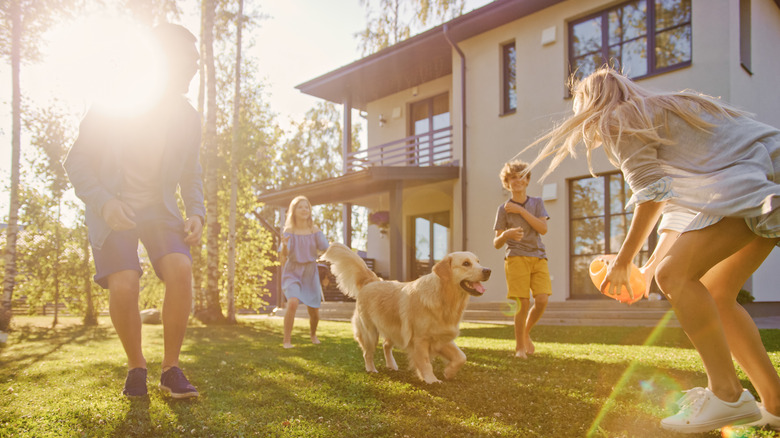 Gorodenkoff/Shutterstock
Did you know that enclosing your yard with a fence can increase your home value? According to Home Light, fences have the potential to increase your home value up to 10% depending on the type of materials you use. However, you should also be aware of the price to install a fence, as it can cost anywhere between $1,000 to $4,000. If you're going to spend such a large chunk of money, you'll want to ensure you use the right type of material to not only give your home the best value, but also a high quality design. 
House Digest recently conducted a survey asking 612 participants which type of fencing they would love to have around their backyard. We gave them six options: chain-link, wood privacy, picket, vinyl, metal, and composite. We'll break down which options received the most votes and the different characteristics that may have led to their popularity. If you're hoping to elevate the design of your yard, we've got your best options.
Choose something homebuyers want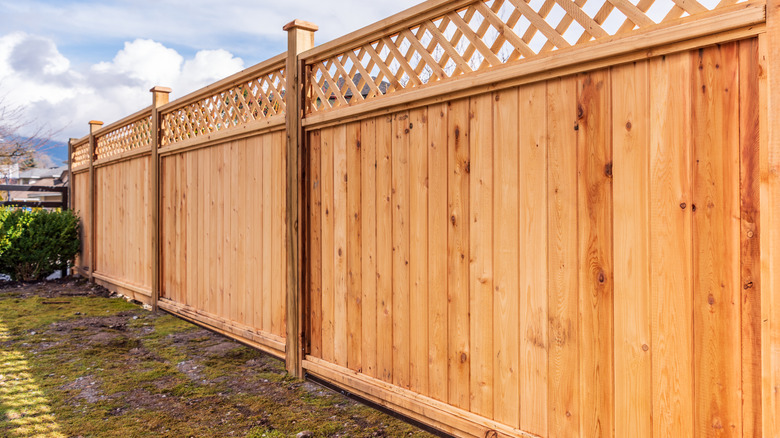 karamysh/Shutterstock
Out of 612 respondents, an overwhelming 51% (312 people) chose wood privacy as the type of fencing they would love to have around their yard, according to our survey. Warner Robins Fence Company says wood fencing is not only a much more affordable option compared to other materials, but it also has simple maintenance and repair needs, and its durability allows it to last for as long as 20 years. There are many different types of wood fences to consider in order to find one that will complement the exterior aesthetic of your home.
According to Secure Fence and Rail, installing a solid wood fence can result in a return on investment of 50% when you go to sell your home. Home buyers tend to like the aesthetically pleasing look of a solid fence. To ensure you're able to increase your home value to the fullest, it's advised to hire a professional to install your privacy fence.
Otherwise, go for something stylish and durable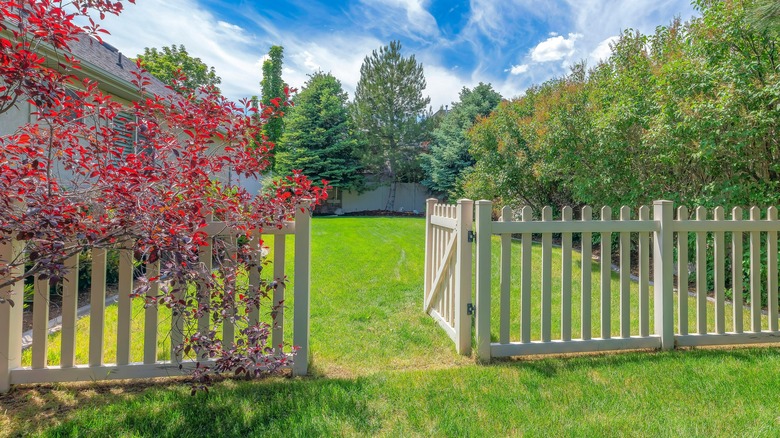 Jason Finn/Shutterstock
A second favorite is vinyl, with just over 12% of respondents (75 people) choosing this type of fencing as a border they'd love to see surrounding their property. Superior Fence and Rail says there are many benefits to installing vinyl fencing, such as its ability to create a stunning visual similar to wood fencing. It's also a durable material that can sustain its beauty for years while standing up to all types of inclement weather patterns. Like wood privacy fencing, vinyl also comes in different styles and colors to create whatever aesthetic you'd like for your yard.
Superior Fence and Rail notes that vinyl is a great option for those who desire a material that is easy to install because it simply clicks together. This type of material is easy to clean as well. All you'll need to do is apply a small amount of soap and then spray off any grime with your garden hose.
Rounding out the voting were picket fences at 11% (68 people), metal at 10% (61 people), composite at 9% (55 people), and finally, chain-link at 7% (41 people).