The Best Metallic Gold Paint To Use On Your Furniture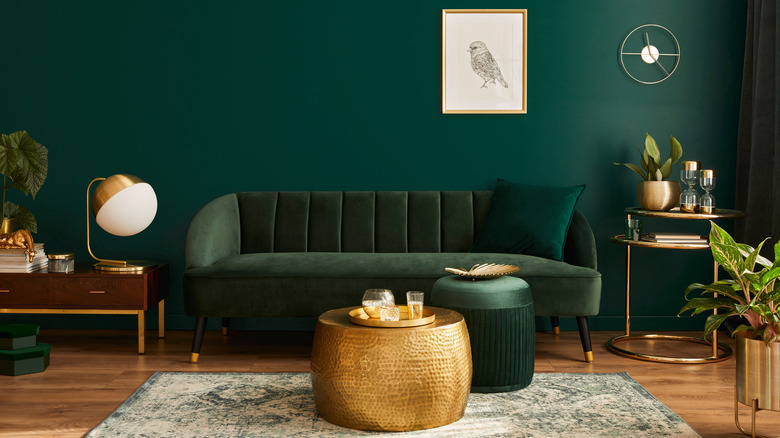 Followtheflow/Shutterstock
We may receive a commission on purchases made from links.
The color gold has held associations that date back centuries — King Midas, Goldilocks, El Dorado — and its always been prized for its rarity and stunning sheen. Nowadays, almost anything can be gilded with a touch of paint, but that doesn't stop the feeling of luxury. According to Signet Branding, gold is a color that psychologically evokes images of money, success, and the sought-after first-place medal. Who wouldn't want to bring a bit of that champion feeling into their interiors?
Picking up a can of gold paint might be easier than mining the precious material, but it still presents a challenge. If you're planning to upgrade some of your furniture with a metallic finish, the sheer number of options available on the market can be intimidating. That's why we narrowed it down to the best options, spray paint and liquid, giving you an even, realistic finish that rivals the real thing.
Spray paint: Rust-Oleum 2X
When hunting for the perfect spray paint, it's essential to know what exactly you're looking for. According to Masterclass, it's necessary to consider the material you're painting, the desired finish, and what conditions the final product will be in. This Rust-Oleum 2X Ultra Cover paint covers all the bases. It works well on wood, metal, plaster, unglazed ceramic, and brick includes a primer, and protects your furniture from rust if it's going outdoors. It even contains real metal flakes to provide a true-to-life shiny finish.
On Walmart's website, reviewers gave this paint 4.7 out of 5 stars and were impressed by its coverage. Instead of an ultra-shiny chrome finish that can show texture and imperfections, it's slightly more matte while retaining a subtle sheen. The color is also realistic — it's not bright, yellow gold; it's more subdued and approachable — perfect for larger pieces of furniture or subtle accents like shelving and cabinet pulls.
Liquid paint: Liquid Leaf
For smaller projects like subtle details on furniture and accents on décor, spray paint might not be the easiest option. Instead, reach for Liquid Leaf Paint. This oil-based paint contains flecks of metal and will leave you with a subtly shiny gold look. It's perfect if you want to add tiny details or get in the cracks of something textured, and its unique formula is designed to give you a smooth finish without brushstrokes. It's earned 4.7 stars across 400 reviews on Amazon, and customers were impressed with its sheen and natural-looking results on a variety of projects.
Tracking down a gold paint that doesn't end up looking patchy and cheap can be difficult, but these two options are tried and true favorites. Next time you're itching for home improvement, consider picking up a can of gold paint to bring some glitz into your home on a budget. It's a quick and easy DIY that will leave you feeling like royalty.