10 Things That Aren't Worth The Money When Renovating Your Kitchen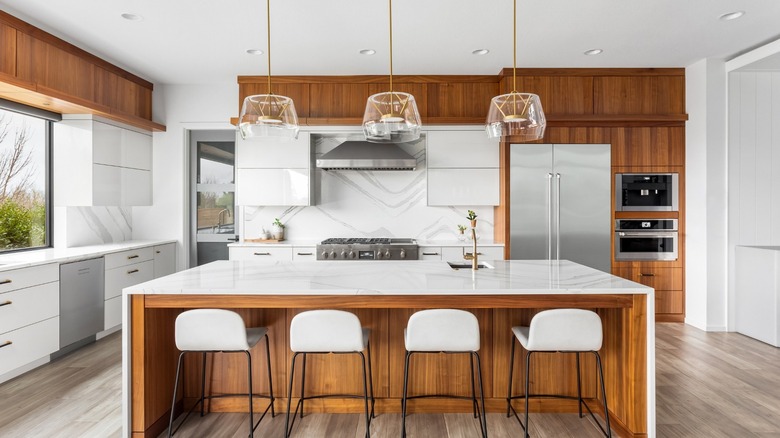 Hikesterson/Getty Images
A kitchen renovation may be the most significant improvement a homeowner will undertake, and it's one with immense impact on the daily function of the household and the equity in the physical home structure. If you're facing a gut job or updating a kitchen that hasn't been changed in decades, most likely, you're starting from scratch — creating an altered floor plan and installing everything new. But in most cases, a moderate kitchen renovation could be more beneficial. Per HomeLight, a minor remodel delivers a better return on investment and can be extremely cost-effective; replacing countertops, refacing cabinets, updating appliances, and freshening light fixtures, for example, dramatically impacts function and appearance.
According to Forbes, a great improvement renders an updated and practical kitchen with quality appliances and cabinetry, plentiful storage solutions, and a logical flow. It should also be aesthetically pleasing. There are ways to ensure your decisions afford the best possible outcome, such as hiring a professional designer and reputable tradespeople. However, there are as many ways to put your investment at risk — either regarding resale or, just as importantly, your level of satisfaction with the finished product — like spending in the wrong areas and creating a design that's too personalized. Below, we take a look at 10 common kitchen remodeling mistakes and offer insider advice for avoiding them — a recipe for renovation success.
1. Being too trendy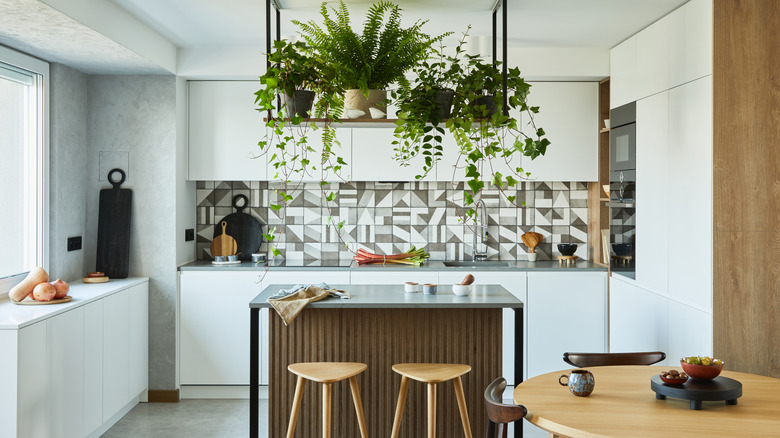 Followtheflow/Shutterstock
While updated kitchens are a driving factor in home sales, classic, as opposed to overly trendy styles, is always a safer bet. Choose timeless options with staying power and a wide appeal, particularly for more permanent and high-investment elements such as appliances, cabinetry, and countertops.
2. Dramatic lighting fixtures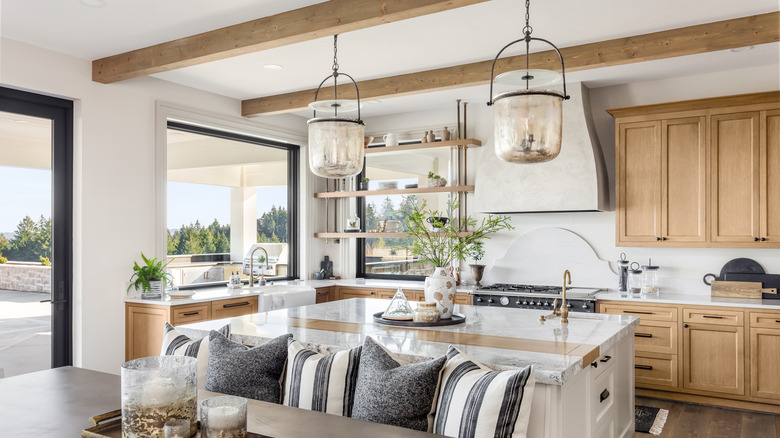 Justin_Krug/Shutterstock
Highly stylized and dramatic lighting fixtures fall under the same umbrella as a design that skews excessively trendy. Though they can be switched out easily by a professional, they're often a set-it-and-forget-it element, and they can be pricey as well. For style longevity, choose moderately sized and well-crafted fixtures on the simpler side. 
3. Going overboard with appliances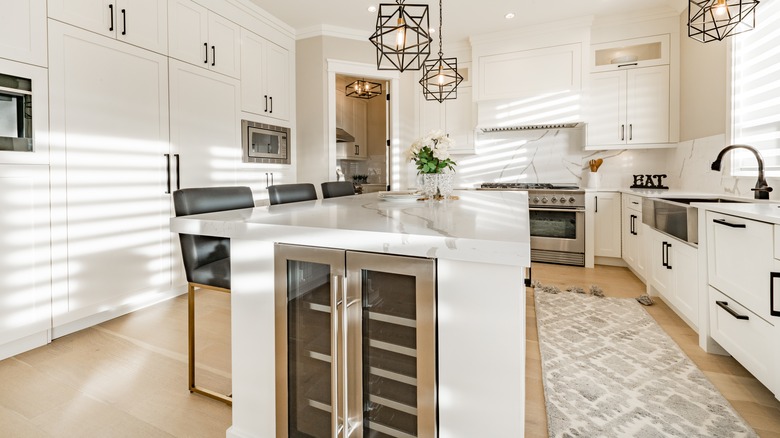 Sheila Say/Shutterstock
It's tempting to choose large and luxury appliances during a kitchen reno. However, do you really need a six-burner range or a commercial-sized refrigerator? How frequently will the second dishwasher and wine chiller be used? Practical kitchen design features functional, rather than show-off, pieces. Save the money for other upgrades unless comps in your area support high-end options.
4. Cheap appliances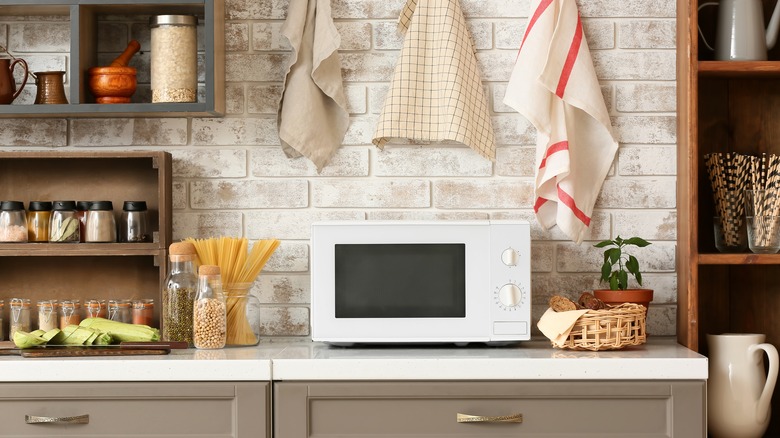 Pixel-Shot/Shutterstock
On the other hand, appliances and countertops are the workhorses in the kitchen, so they shouldn't be skimped on. Cheap appliances will devalue a thoughtfully designed space.  For instance, stainless steel is a favorite across the board with consumers for its clean and modern appearance; plus, the finish is both widely available and affordable. 
5. Busy backsplashes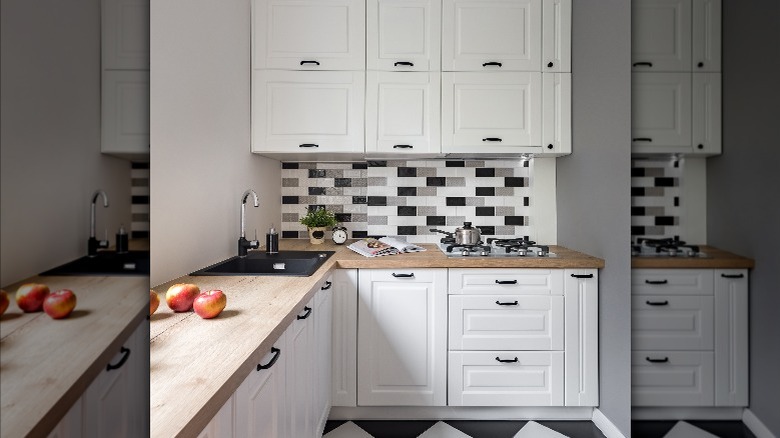 In4mal/Getty Images
While a backsplash can create an effective focal point, anything overly trendy or bold may not be something you'll want to draw attention to in a few years. It's best to stick with neutral-toned tile, classic white subway tiles, or an extension of natural stone countertops (aka a counter splash).
6. Open shelving
Open shelving is a great way to keep the room light, but it should be reserved for kitchens with a ton of storage space because storage is king in this room. Additionally, open shelving usually equates to visible clutter, so it's best for the minimalists among us.  
7. A style that doesn't match the exterior
If you're considering selling your home, one of the worst things you can do is confuse buyers, whether regarding a room's function or style. To that end, the interior should feel compatible with the home's exterior and age. For example, a rustic industrial kitchen in an elegant period Tudor would be jarring.
8. Wallpaper
Wallpaper is a personal design element that can add color and interest to a kitchen. Yet since it's style-subjective, it's not the best wall treatment for a room that sways potential buyers so strongly. In this case, the wallpaper is sequestered in a separate eat-in area, adding flair while allowing the main kitchen to appeal to broader tastes.
9. The wrong countertops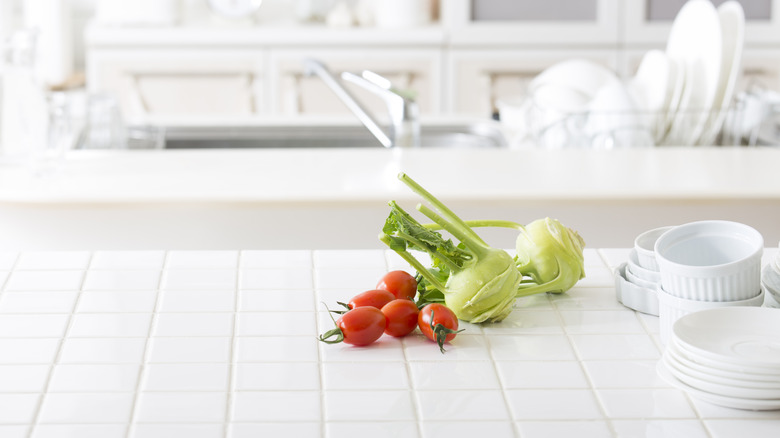 Kazoka30/Getty Images
Engineered quartz and natural stone such as granite, quartzite, marble, and soapstone are preferred choices for countertop materials; choose a neutral color with subdued contrast and movement. Their practicality and perception of luxury make them a logical investment. To that end, avoid bargain materials, like laminate and tile, which are considered shoddy and outdated.
10. Over-renovating in general
A minor kitchen remodel realizes one of the biggest returns on investment (ROI) among home improvement projects, with a major renovation trailing not far below. Spending more doesn't always net more; for the same ROI, cabinets can be refaced for 1/4 the cost of replacing them, while good quality standard appliances are far less expensive than luxury models.