Why You Should Reconsider Painting Your Entryway Gray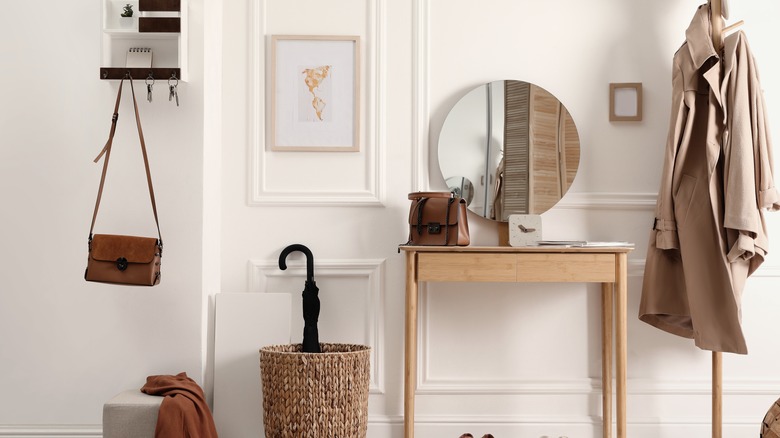 New Africa/Shutterstock
Whether you have a grand foyer or a modest hallway, your entryway décor is the first thing friends and family take note of when they enter your home (per Paula Interiors). It's also nice to walk through your own door and take in a view you love. Drabness probably isn't the image you want to convey, especially if you've taken great care in decorating the rest of your abode. Luckily, the old saying about never getting a second chance to make a first impression doesn't apply to home entryways. Decorating them can help you wow future visitors, even if you've failed at the task in the past.
If you're considering an entryway update, maybe you were thinking gray paint is the way to go since it's been featured so often in home decorating blogs and magazines in the past few years. If you don't want a spot in your home that'll be outdated before the paint dries, you might want to rethink that move.
Gray interior paint is trending downward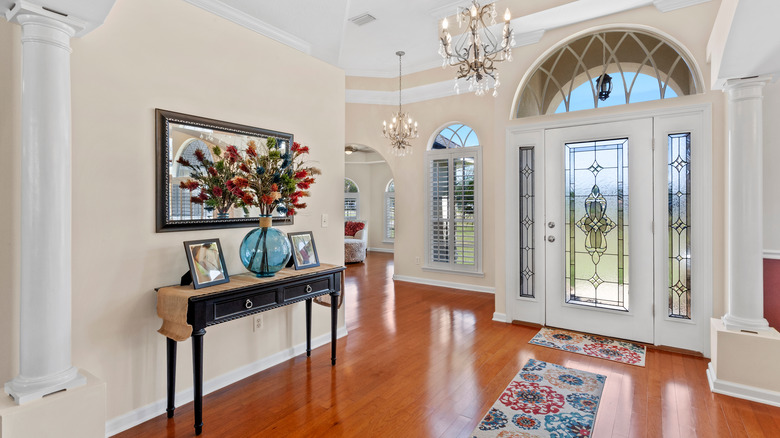 Pipas Imagery/Shutterstock
After more than a decade of painting every wall imaginable in cool gray tones, decorators are moving further and further away from this trend. In fact, they started backing away from gray more than a year ago, according to HomeLight. What started as a trickle is now becoming a wave with warmer neutrals and vivid colors taking center stage with both amateur decorators as well as pros.
This isn't surprising considering that home interior hues rotate out of fashion every decade or so, as mentioned by Paint Color Project. If you follow that line of thinking, it's about time for something fresh, and high-profile entryways are a good place to start. Even if you recently painted parts of your home gray and aren't quite ready for an entire redo, don't worry. You can still create an inviting entryway using colors that complement your home's current color scheme.
Alternatives to gray entryways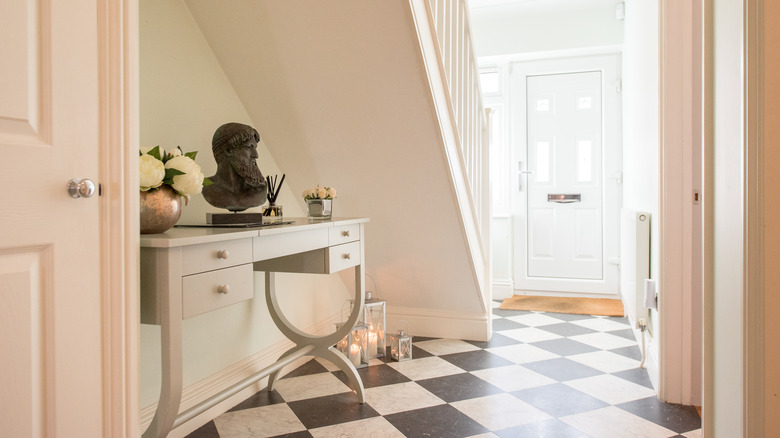 John Keeble/Getty Images
While bright colors and deep tones work well for many spaces, some experts prefer keeping entryways light and bright. A clean, off-white paint choice provides a super backdrop for showing off unique home furnishings and artwork in a front hall or foyer. It also won't distract from your festive holiday decorations and is one of those colors that will blend well with grays in other rooms until you're ready to repaint more extensively.
And if you're just not ready to completely let go of the gray, that's okay. We get it, and so does Sherwin Williams. As Stampin Fool mentions, plenty of warm gray and greige tones are available to help you transition away from the cool colors that are now starting to feel passe'. Exploring paint patterns is another idea to consider when taking the look of your foyer up a notch. That is if you're not ready to tackle a vivid look by using your favorite bold wallpaper.