The Best Place To Live In North Carolina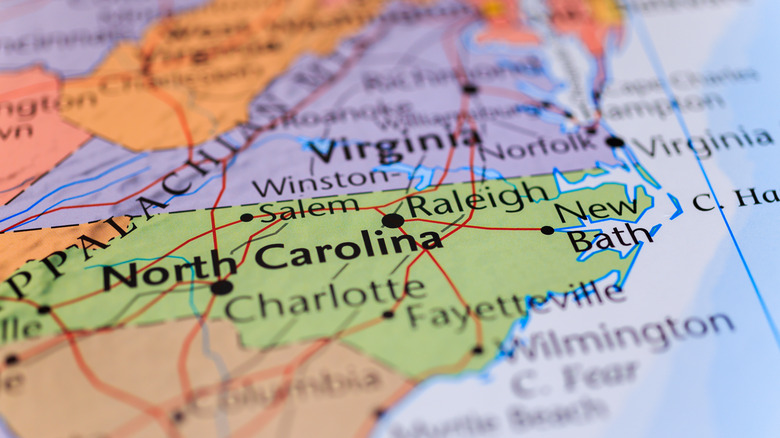 Alexander Lukatskiy/Shutterstock
North Carolina is noted for many things, from its beautiful climate and beaches along the Outer Banks to its tech-focused economy. Thus, quite a few areas can be the ideal choice for those looking for a place to buy a home in the state. There are many reasons to live in North Carolina, such as the mild weather, the Blue Ridge Mountains, and the 300 miles of barrier island beaches (per Moving.com). The state is also recognized as having a solid job market thanks to the banking, tech, and pharmaceutical companies present in various parts of the region. The cost of living statewide is also competitive, making it an affordable place to call home.
Moving to North Carolina means considering which city offers the best features and amenities to fit your needs. Real estate listings can be attractive throughout several communities here. However, one city seems to be the best place to live in North Carolina, thanks to its overall quality of life.
Raleigh boasts the best quality of life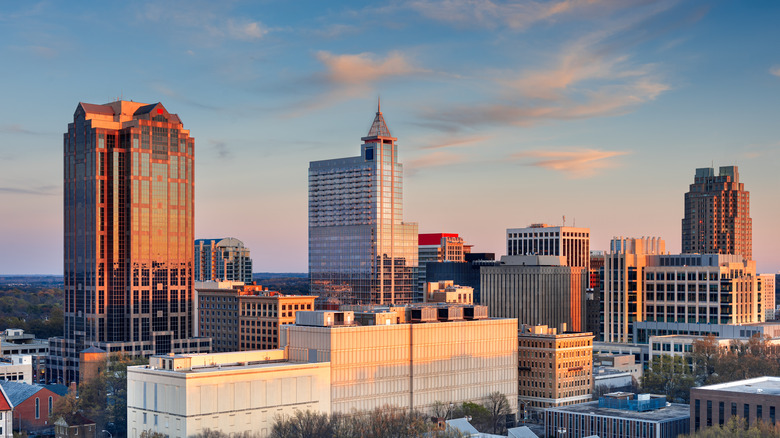 Sean Pavone/Getty Images
There are many reasons to consider a move to Raleigh, North Carolina, thanks to its personality as a cultural hub, strong economy, and moderate cost of living that outcompetes similar urban areas. According to the City of Raleigh, it's the ideal place to live for those who enjoy museums, with locations like The Contemporary Art Museum, The North Carolina Museum of Art, and the Visual Art Exchange to choose from. It's also home to the Duke Energy Center for the Performing Arts, Carolina Ballet, and North Carolina Opera. With PNC Arena and the Hopscotch Music Festival, it's a music lover's dream location that rivals Austin, Texas.
From the perspective of the outdoors, Raleigh boasts more than 9,500 acres of green spaces, including 220 dedicated parks in the city. There are also 44 recreation centers, 13,000 sports and recreation programs, lakes, pools, and much more available here. It's also home to the stunning Capital Area Greenway with 28 biking and hiking trails. Access to area dining and shopping also ensures residents have just about everything they need close by.  
The cost of living in Raleigh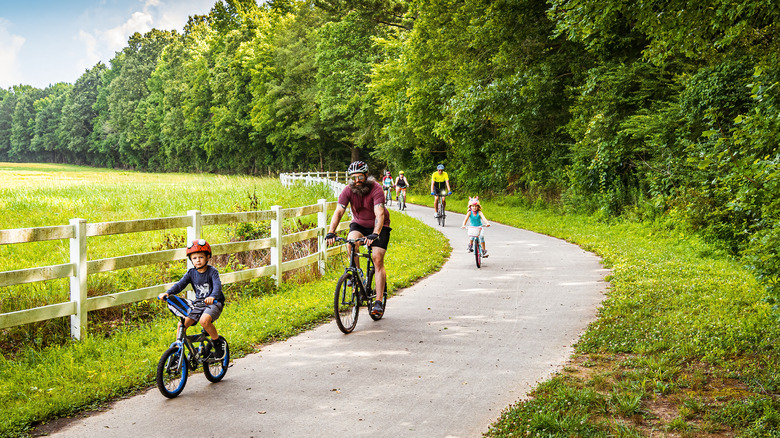 Wileydoc/Shutterstock
With over 469,000 residents, Raleigh is a large city with a mix of urban and suburban charm. The median home value is $266,900 (per Niche), which is a bit higher than the national average of $229,800. Rent here is also slightly above the national average at $1,175 per month. Interestingly, about 49% of residents rent here, which is considerably higher than most cities. The site ranks Raleigh as the 16th best city in the U.S. for buying a house and the 17th best place to live in the country.
BestPlaces provides insight into the cost of living as well. With the country's average cost of living ranked at 100, Raleigh comes in at 102.4, slightly higher than the national average. However, healthcare, utilities, and transportation costs are lower than the national average, while housing and groceries tend to be higher. So, while other areas of North Carolina may be more affordable places to buy a home, Raleigh's high quality of life and amenities help it stand out as an incredible place to live.