Is Encaustic Tile Out Of Style?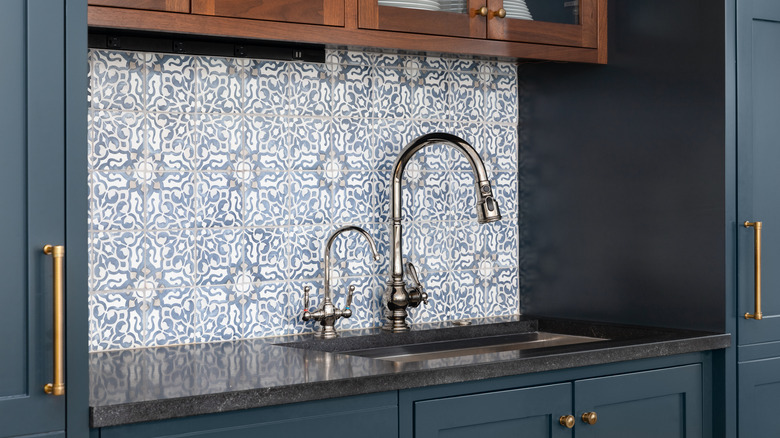 Hendrickson Photography/Shutterstock
The phrase everything old is new again has been attributed to everyone from Mark Twain to Winston Churchill. Or is it an ancient Chinese proverb? No matter who said it, they could have very easily been referencing encaustic tile since it dates back as far as medieval times, as noted by Villa Lagoon Tile. If you've ever visited any of the cathedrals, hotels, and villas in Europe, chances are you have walked on true encaustic tiles that were hundreds of years old, and yet modern day designers continue to use it in new homes as well.
While you might not be familiar with the name encaustic, you probably recognize the patterned look that's been steadily popping up in decorating blogs and magazine spreads for the past several years. Encaustic tiles are bold and often vibrant, making them particularly interesting in kitchens and bathrooms. Before you run out and hire a tile guy, though, learn a bit more about this material and why it may already be losing steam with interior designers.
What exactly is encaustic tile?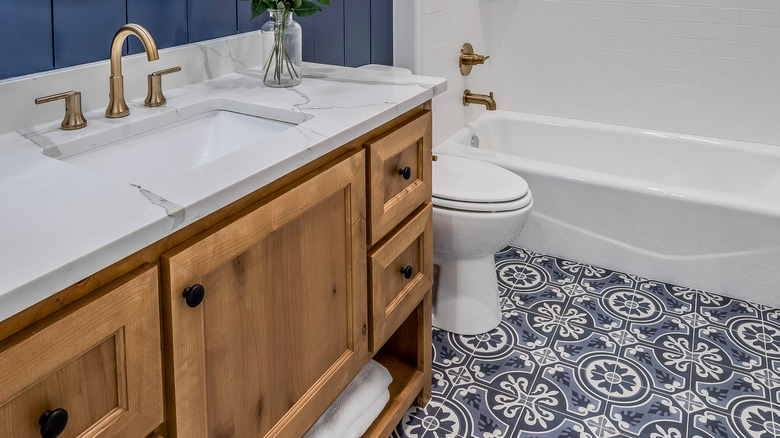 Pc Photography/Getty Images
True encaustic tiles were made centuries ago using inlay techniques. Cement tiles with a similar look became popular in the mid-1800s and were widely used in Victorian homes. Because they looked so much alike, people began calling them encaustic and the term stuck. What we now know as encaustic tiles, sometimes called Cuban tiles in the United States, are still made with cement along with sand, dyes, and marble powder. The resulting mixture is transferred to a mold and pressed, according to Fordham Marble. The result is a long-lasting tile with stylish patterns, vibrant hues, and a soft finish.
Cement tiles differ from ceramic tiles due to the way they are made. Ceramic tiles are fired in a kiln and glazed, while cement tiles are molded and remain unglazed. The colors and patterns also extend more deeply into cement tiles rather than being applied only to the surface as with ceramic. Nevertheless, cement tiles are sometimes mistakenly described as ceramic tiles and vice versa.
Why encaustic tile may be on its way out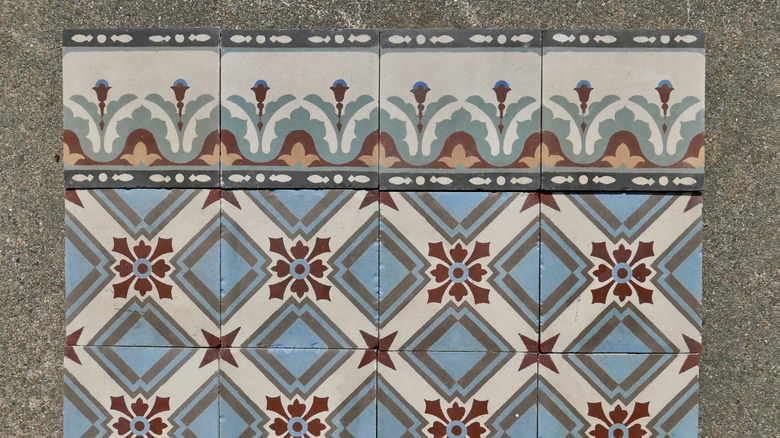 Anna Lee White/Shutterstock
Encaustic tile started to emerge as a trend in the mid-2010s, however, many people are just taking note of the style. For this reason, Flooring Inc. expects it to stay popular for a while longer. Nevertheless, there are some reasons why encaustic tile is already losing ground with decorators and homeowners working on their own DIY renovations. One thing that makes them less appealing to the average consumer is the cost; cement tends to be more expensive than ceramic. More and more budget-minded lookalikes are becoming available at home improvement centers, but that also makes the style officially trendy as opposed to timeless, notes Our Fifth House. By the time this happens, the people who originally installed encaustic tile years ago are eyeing their next renovation project. Concurrently, high end designers start viewing a trend as dated.
The other issue is that cement tiles stain more easily than ceramic and porcelain tiles. They must be sealed when they're installed and every few years thereafter; these tiles also need to be maintained with mild cleaning products. Homeowners with children and pets might find that they're not the best choice for their busy household, especially when it comes to flooring in high traffic areas. Incorporating encaustic tile in a powder room or around a fireplace can add a splash of color in a more budget-friendly, low maintenance way that will be easy to change out if you tire of the look.