House Digest Survey: If You Could Only Splurge On One Home Office Item, What Would It Be?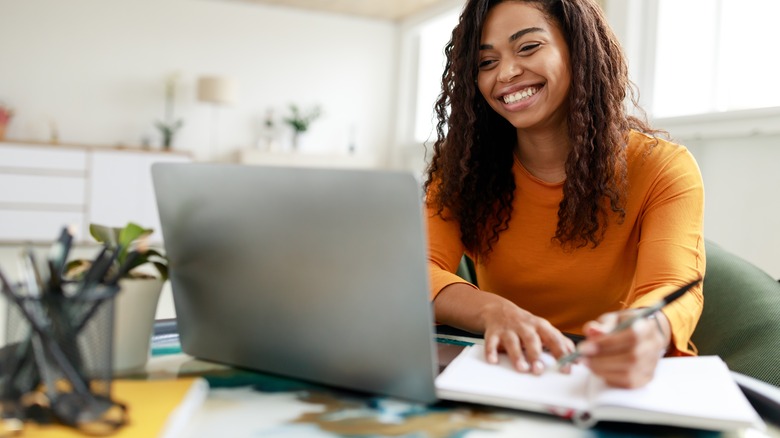 Prostock-studio/Shutterstock
The COVID-19 pandemic introduced a new way of working for those who could get things done from home to avoid spreading the virus. According to NCCI, 48.7 million people said they transferred to remote work in May 2020. And a June 2020 survey revealed that 83% of PwC employees planned to have a hybrid schedule after the pandemic, while 32% said they'd prefer to work from home all week. Now, more and more companies are embracing hybrid work, but if you're going to work from home, that means you'll need a quiet space to yourself. Many homeowners agree, and it's expected that the home office furniture market will reach $81.45 billion by 2025, up from $58.74 billion in 2020, per GlobeNewsWire.
However, creating the perfect office space for yourself can be difficult if you don't know where to start. Luckily, House Digest has conducted a survey asking participants if they could only splurge on one home office item, which would it be? We gave them six options: a comfortable chair, desk, storage, lighting, electronics, and décor. We'll reveal which options received the most votes and why they are essential in home office design.
A way to avoid body aches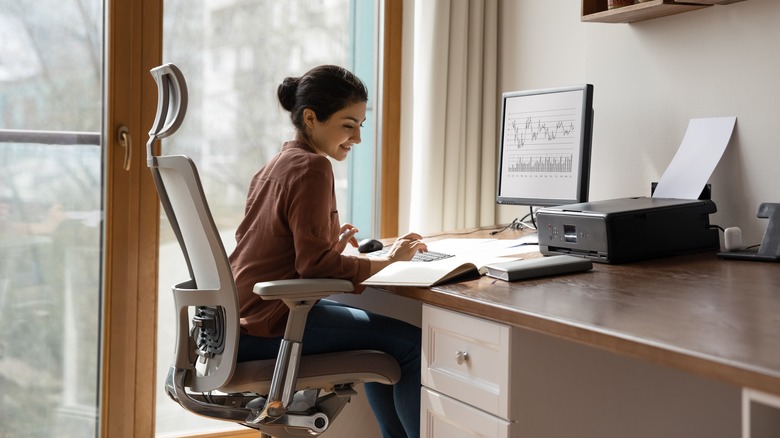 fizkes/Shutterstock
Out of 612 respondents, an astounding 41.83% (256 people) chose a comfortable chair as the one home office item they'd like to splurge on, per our survey. Purchasing a comfortable office chair is vital to avoid back, hip, and leg pain that can occur after sitting in one spot for hours. Having a comfortable chair can also help employees be more productive and develop good posture. However, there are a plethora of options to choose from.
According to Office Depot, there are a few characteristics buyers should be aware of, such as adjustable height. The ability to either raise or lower your office chair will create a more comfortable working environment at home. Tilt control is also important to maintaining a healthy spine. Also, consider your armrest options because they can help prevent forearm, neck, and shoulder pain. According to SitWorkPlay, a good quality office chair will cost between $250 to $750.
And a way to work efficiently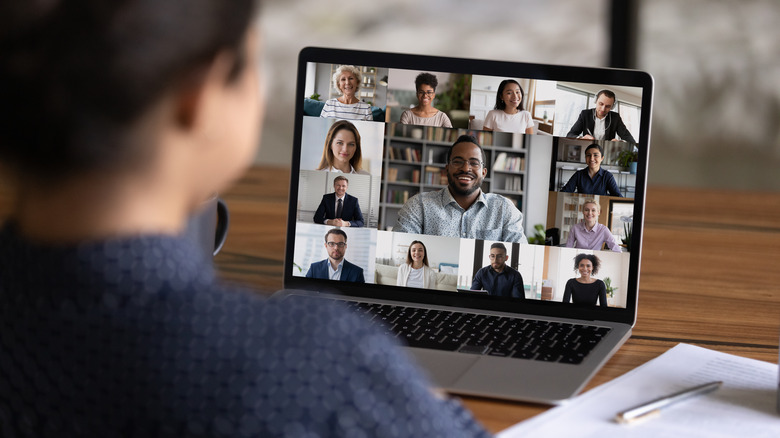 fizkes/Shutterstock
Coming in second is electronics, with 23.86% of respondents (146 people) choosing this as the one home office item they'd like to splurge on. When it comes to home offices, there are a variety of electronics you can incorporate. From computers to laptops, speakers, projectors, printers, and more, the options are seemingly endless. Some of the top electronic purchases were keyboards, internet upgrades, webcams, headphones, and microphones, according to TechRepublic.
If you're looking for the best products, Forbes recommends taking a look at the Logitech C920s webcam, which costs about $70. It offers high-quality visuals and privacy with its adjustable arms that can cover the camera. If you also need a headset for your video calls, they recommend the Jabra Evolve2 75 headset for about $260. It's wireless, which means you can walk around if needed, and it comes with noise-cancellation features.
The following are the other options from most to least amount of votes: desk with 75 votes (12.25%), storage with 75 votes (12.25%), lighting with 42 votes (6.86%), and décor with 18 votes (2.94%).