15 Gorgeous Homes Featured On House Hunters That We Want To Stay In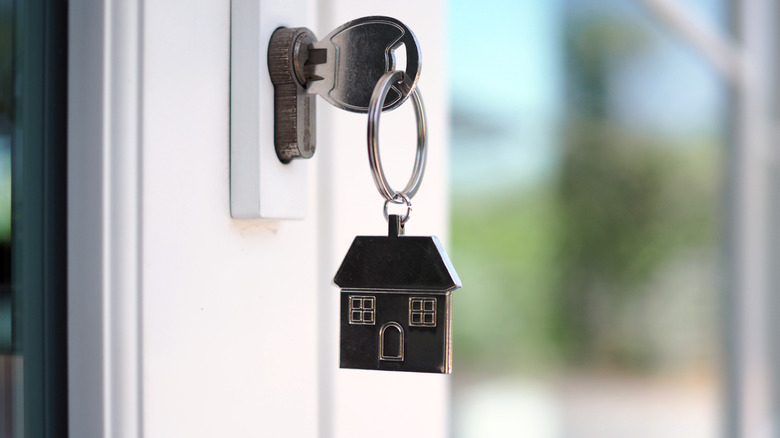 shisu_ka/Shutterstock
On HGTV's "House Hunters," homebuyers are often looking for different things, sometimes in the same episode among the same couple. While every house won't necessarily be a match for the show's participants, some exhibit a certain amount of beauty and charm that shines through. Whether you're looking for tropical vistas, desert living, tiny homes, or historic old-world charm, the featured residences come in all shapes, sizes, and locales.
We've rounded up a few of the more interesting examples that caught our attention, whether for their innovative concepts, beautiful historical details, or panoramic views. If you're in the market for something unique, websites like Special Finds are able to connect buyers with one-of-a-kind homes, including renovated castles, former summer camps, and old chapels. While locations vary from the beachfront to rural Italy, from city streets to the Florida suburbs, each has a unique bit of character that caught our eye as a place we'd like to spend some time in.
1. A Seattle beauty with a wraparound porch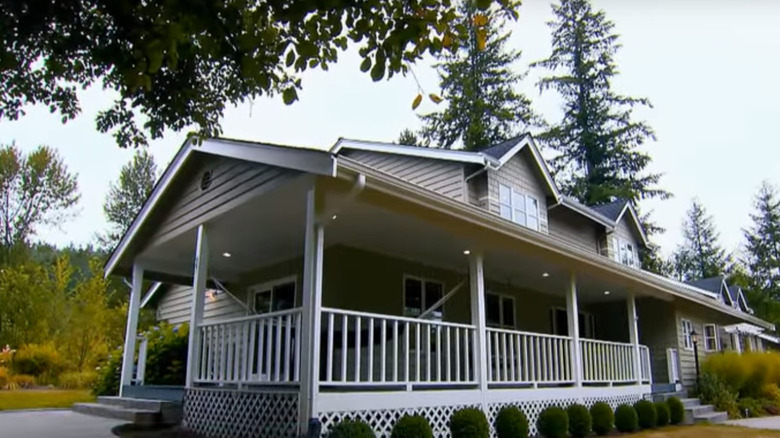 YouTube/HGTV
This Seattle three-bedroom home is as beautiful outside as it is inside, where it hosts a large kitchen with an island, wood floors throughout, and high ceilings with crown molding. It also features a fire pit, its very own creek, and a three-car garage with a large bonus room.
2. Texas waterfront home
This beautiful, green-clad waterfront "ranch on stilts" features two distinct living spaces spread out over one expansive floor. It also features handicap accessibility, a library, an elevator, and a large open-concept living room/dining room/kitchen space complete with wood floors and panoramic views of the water from almost every room.
3. Cabo San Lucas sanctuary
This Cabo San Lucas villa is a stunner, with an open concept floorplan, traditional Mexican details like wooden beam ceilings, and a mix of wood and terracotta tiled floors. The bathroom, with its unique tub rock formation created from local materials, is the show stealer (or the dealbreaker for these buyers), along with the beautiful tilework and mosaics peppered throughout.
4. Tulum glass pod
This glass pod home in Tulum, Mexico, is small but stunning, featuring 360-degree panoramic views of the surrounding forest. The outside is reflective, meaning you can see out without obstruction, but no one can see inside. Decks and treetop observation platforms round out the property, as well as a natural stone pool located just off the house.
5. Tiny home with lots of storage
This deceptively large tiny home features beautiful materials throughout, expanding walls, multiple sleeping lofts, and ample storage space via cupboards and cabinets, as well as a large open center that belies its tiny footprint.
6. Historic Boston home
Affordable single-family homes are a rarity in many urban locales, but this historic home in Boston's Charlestown neighborhood is a breath of fresh air. It features all the amenities of a historic home, including high ceilings and wood floors throughout, but also offers first-time homeowners a place to plant roots.
7. Baltimore row house
This Baltimore row house melds the charm of a historic structure, like exposed brick and wood floors, with modernized fixtures and appliances. It also includes a large basement with charming tin ceiling tiles.
8. Historic Detroit home
This beautiful and large 1915 home just outside of Detroit boasts five bedrooms and a large, expertly landscaped and wooded yard. It also boasts a number of gorgeous tiled fireplaces that, according to the Realtor, are "too many to count."
9. Tropical retreat in Dominican Republic
This bright and cheery home in the Dominican Republic boasts high wood ceilings created from natural wood, some definite tropical vibes, and sea green accents to mimic the surrounding landscape.
10. Fiji resort home
This expansive home in Fiji was once a small resort boasting a large pool, ample indoor/outdoor spaces, lots of room, and stunning views of the tropical grounds.
11. Stunning Florida home with fenced pool
The selling point on this unassuming but generously spaced Florida home is definitely this large, fenced-in pool and hot tube with natural rock surrounding it.
12. Old-world Italian villa
While this 500-year-old remote Italian home may not be much to look at from the exterior, rustic details like tile, the doors, and panoramic views of the countryside sold a couple on buying it.
13. Spanish mission-style home
This rustic Spanish home features all the touches of days gone by, including original tile floors, timbered ceilings, and exposed stone walls.
14. Tiny house cabin in Portland
While small in size and stature, this tiny home in Portland outfitted as a wood cabin is a beautiful example of a tight living space, featuring cozy wood throughout, a sleeping loft, and a fully appointed kitchen.
15. Desert cave house
This cave home, built into the surrounding natural landscape, is an intimate, but beautiful, hideout from the desert heat.