HGTV Star Breegan Jane's Easy Tip For Upgrading Your Outdoor Space
Matt Winkelmeyer/Getty Images
Breegan Jane is known for her refreshing and relaxing coastal style. As an interior designer, her spaces are infused with a feeling of sitting in the fresh air and listening to the sounds of nature, whether that's waves crashing or birds chirping. However, her expertise doesn't end inside the home. Jane also encourages an outdoor space that feels as comfortable as your house's interior. "[I]t's much more about bringing the inside outdoors," Breegan Jane tells She Knows, "and sort of facing everything in with seated arrangements that you would see in a typical living room — with the thought of friends and family gathering."
Think about creating an outdoor living room that makes your deck or patio feel like an extension of your indoor space. Of course, building an outdoor living area from the ground up starts with a good base. In general, according to Trex, a concrete patio costs approximately $4 per square foot, which is less expensive than a wooden deck that can cost $6 per square foot for a lower-end wood. But whether you have a deck or patio, you should choose outdoor upgrades that are comfortable for both relaxing and entertaining. Breegan Jane shares the easy additions that can instantly transform your outdoor space.
Bring the inside comforts out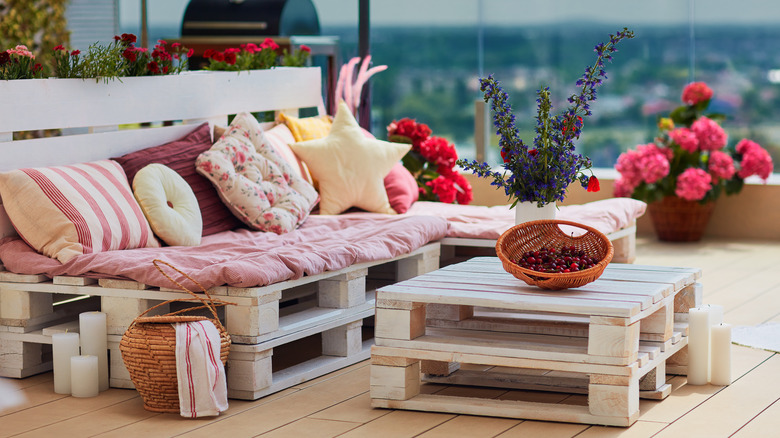 Olesia Bilkei/Shutterstock
When designing your outdoor living room, you want to think of all the things that make inside your home so comfortable and use them outside as well. "Pillows. That's the easiest way to brighten up your space," Breegan Jane tells She Knows. "It's like mascara or blush. It just says, 'hi! We're fresh and happy.'" Not only can outdoor pillows liven up the outdoors with colors and patterns, but they also go a long way in adding plush, luxurious textures that will make you want to linger outside.
Having a variety of seating arrangements facing each other will aid in conversation and make entertaining easier. Choose outdoor sofas, love seats, and chairs in durable materials so you have options for how you want to enjoy the outdoors. Teak is a favorite for outdoor furniture because it's naturally weather and pest-resistant, according to Teak Warehouse. Outdoor rugs and blankets can also make your outdoor space feel more inviting while adding color and texture.
Illuminate the space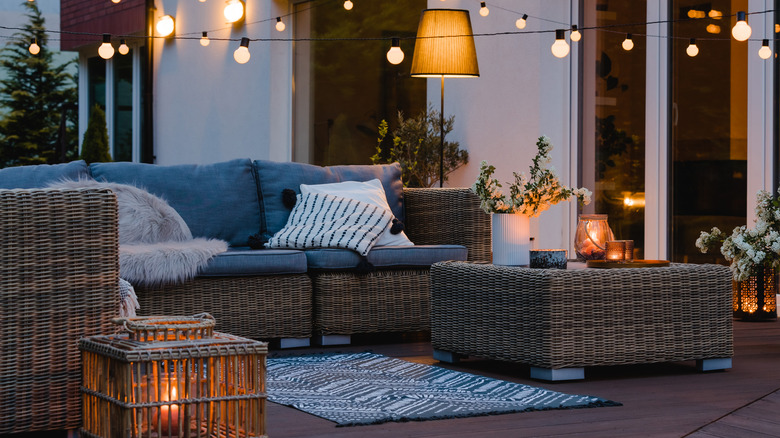 Ground Picture/Shutterstock
With a beautiful deck or patio, you won't only want to enjoy it during the daytime hours. Properly illuminating the space allows you to enjoy it at night as well. "I also think it's great to invest in some lighting if you can," Breegan Jane explains to She Knows. "You want [your outdoor space] to go from day to night . . . Because once you have lighting outdoors, you're more inclined to stay out there." For instance, solar-powered path lights can help illuminate your yard while adding visual interest.
"We forget about outdoors at night when the sun goes down, and there are so many light options like fire pits, candles, and LED lighting," Jane says in an interview with Hello Beautiful. Consider overhead lighting in the form of string lights or outdoor chandeliers. A little mood lighting will go a long way when relaxing outdoors at night.
While LED lighting is nice, many prefer the natural warmth and illumination of a cozy fire feature. "The fire pit is a little bit more of an investment but adds warmth and that ability to cozy up at night," Jane says to She Knows. A fire pit or fireplace is ideal, especially in cooler climates where the nights can get chilly. The warmth from the fire will allow you to use your outdoor space for more months out of the year.