This Table Is Perfect For Your Small Dining Space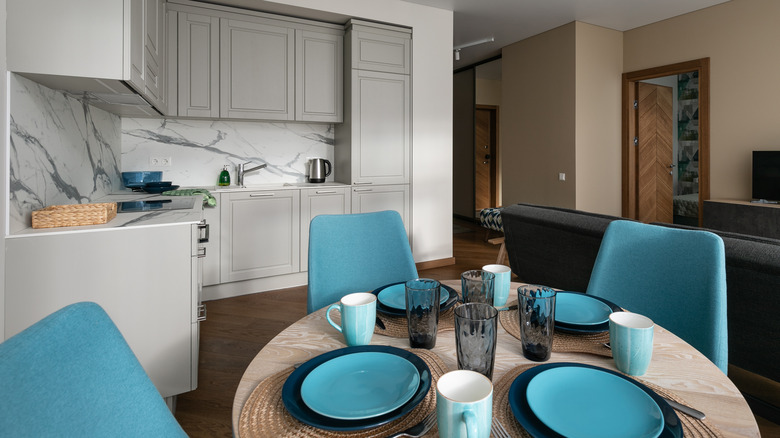 Enrika Samulionyte/Shutterstock
Do you have a dinnertime routine in your household? How about eating at the dining table every night? According to a study by retailer Furniture Village, 70% of participants felt that eating at the dining table positively affected their relationship with family (via La Belle Assiette). The study also revealed that eating communal meals is important for child development, mental health, and physical health. Even if you live alone, it's important to have a clean space in your home where you can eat, relax, and socialize with visitors.
Of course, not everyone has room for a designated dining space. If you live in an average studio apartment in New York, for example, you may have as little as 550 square feet in your whole home, explains Curbed New York. Choosing a table for your small space can be difficult — when you're pressed for space, each piece of furniture has to be functional and look nice. Luckily, we've found the perfect flexible and stylish table to suit your small space.
There when you need it, tucked away when you don't
Add this table to your shopping list; The Angeli Round Drop Leaf Table by Manor Park at Walmart is perfect for small dining spaces and studio apartments. Its 35.5-inch round surface gives plenty of horizontal space, and with a simple release, the two sides fold down to create a streamlined side table that's easy to tuck against the wall. Plus, the round edges ensure that you won't bump into any sharp table corners. When you're working on a project or enjoying a big feast, all you have to do is pop up the sides and slide the lightweight table where you need it. If you're living alone, popping up just one leaf gives plenty of space for dining or working.  
Reviewers love that the Angeli table is easy to assemble, sturdy, and spacious. Some reviewers felt that the price seemed a little steep at $259, but they were confident in their purchase as soon as they installed the table in their homes. With its dark walnut-colored, warp-resistant MDF tabletop, and black, powder-coated metal legs, this table is a stylish pick that should last for many years.  
A table that flows with you
Undoubtedly, the best feature of the table by Manor Park is that it's endlessly versatile — both physically and aesthetically. Nest Casa explains that walnut is a very traditional wood in American homes, but that it also feels extremely modern when well-styled. Even if your house or apartment doesn't have a large foyer or entryway, the table, when folded, creates an adorable hallway catchall shelf. The walnut color provides a timeless base that complements all kinds of décor, from flower vases in Spring to candles and coffee mugs in Fall. 
Interior design blogger Katrina Chambers points out that round tables are a rising trend in modern homes. She notes that round tables look especially great under pendant lighting and come in a wide variety of styles — from concrete and vinyl to timber and metal. Whether you're inspired by mid-century modern, bohemian, or American traditional design, there's a round table out there to suit your aesthetics and flow seamlessly in your small space.