House Digest Survey: Which Type Of Storage Do You Prefer For The Dining Room?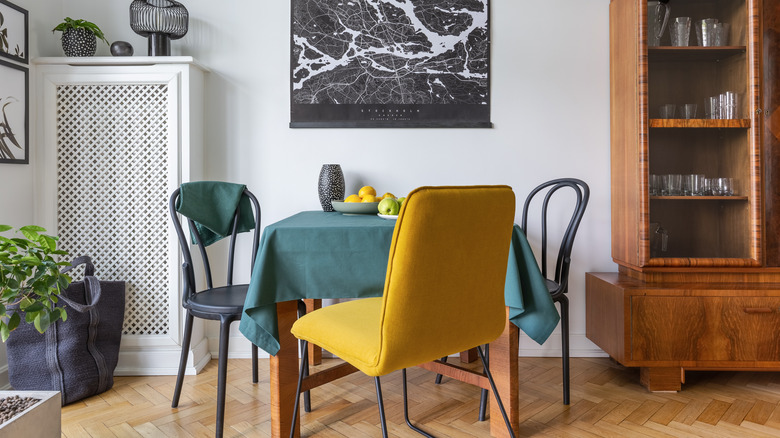 Ground Picture/Shutterstock
Are you always waiting for a special occasion to pull out your nice dishes and cloth napkins? Not sure why wedding china was ever a tradition? If you'd rather stick to cheap and functional dishes that are dishwasher-safe, you're not alone. Millennials, especially, have very little interest in owning, using, or inheriting fine china dishes, according to Fox Business. However, many people still see the value in having a nice set of formal dishes and tableware for special occasions — the bigger question is where to store them.
When it comes to dining room storage solutions, there is a surprising array of options. Those who don't have built-in cabinets can still find practical and stylish pieces, including china cabinets, hutches, buffets, banquettes, shelves, and sideboards. Each dining room storage method has its pros and cons, but which is best overall? To answer this question, House Digest conducted a survey of 629 people. Here's what we unpacked about the kind of dining room storage most people prefer.
Cabinets come in clutch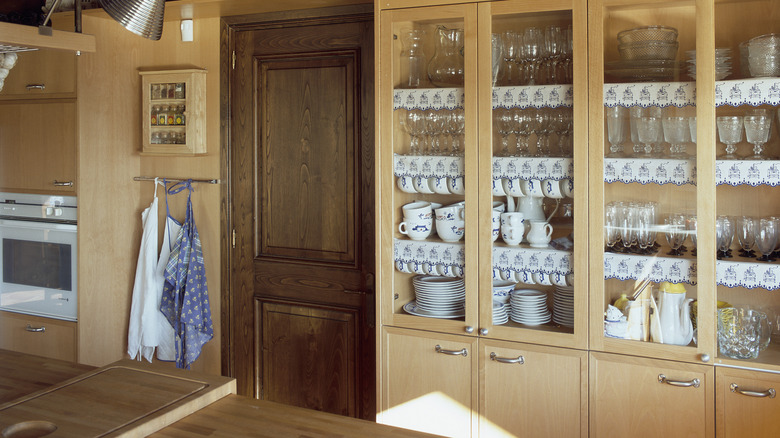 Construction Photography/avalon/Getty Images
Almost 30% (29.57%) of people surveyed said that they prefer to have cabinet storage in their dining room. China cabinets and built-in cabinets have closing doors, usually made with glass panels to show off the beautiful dishes inside. Of course, some people may opt for simple, opaque cabinet materials like wood, MDF, or acrylic to conceal messy shelves.
Compared to other storage methods, cabinets are ideal for minimizing dust and protecting fine dishes from accidental damage — especially in homes with kids or pets. Custom kitchen designer Livspace explains that there are some other benefits to a "closed" storage method, like cabinets. For example, drawers and cabinet doors can make everything feel more organized and compact. This is especially useful for other dining accessories like placemats, napkin rings, and more. Unlike open shelving and hutches, you don't need to have a carefully curated set of display-worthy dishes in cabinets, and you can safely store dishes right up to the edge of the shelves. Plus, when your dishes are well-organized, you may be more likely to use them and appreciate their beauty!
Dining room runner-ups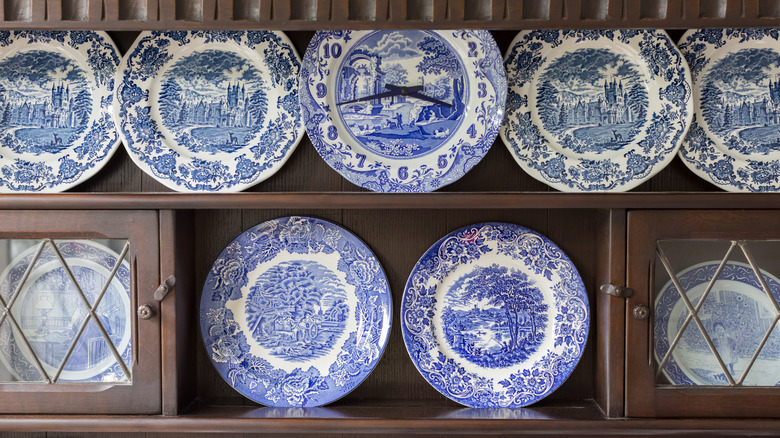 Wichits/Getty Images
If you're not such a fan of large, bulky cabinets, there are plenty of others who'd agree with you. With 23.37% of the votes, dining hutches were the poll-takers second favorite choice. You may be wondering, what's the difference between a china cabinet and a hutch? Cabinets have doors that close to encase the dishes, while hutches have a substantial amount of open shelving. Most people use the shelves of their hutch to display decorative plates and antiques.
Open shelves earned 16.69% of votes, closely followed by sideboards and buffets, with 15.42% and 12.4%, respectively. Interior design service Hackrea notes that, like many vintage furniture styles, buffets and sideboards have become a rising trend in dining rooms, though they may not be as classic or common as cabinets and hutches. Banquette storage was at the tail end of the survey running, with 2.54% of votes. Banquettes, a type of under-seat bench storage, likely earned the least number of votes because they aren't very common.