The Yard Feature Every Home Should Have, According To The Stars Of Inside Out
If you're like most Americans, you spend about 90% of your time indoors, according to research by the United States Environmental Protection Agency. Being outside is important for your health in many ways; sunlight helps your body produce vitamin D and improves your mood, while fresh air gives your lungs a much-needed break from indoor pollutants. Still, spending time outside can feel like a conscious effort, especially if you don't love your yard or you're still designing your perfect patio. 
Carmine Sabatella and Mike Pyle are the men behind the magic of HGTV's new series "Inside Out." Together, the duo transforms lucky homeowners' spaces, making them feel more balanced, relaxing, and inviting. Pyle and Sabatella know that a well-kept outdoor space is one of the biggest aspects of a gorgeous and comfortable home. There are a lot of factors that make up a good yard, from healthy, vibrant plants to comfortable seats and room for entertaining. The perfect outdoor space can take time and money, but if you're looking to make one big difference in your yard, there's one item Sabatella and Pyle believe is worth investing in. Here's what the stars told Realtor.com about the best feature you can add to your outdoor space. 
Fire pits are an impressive essential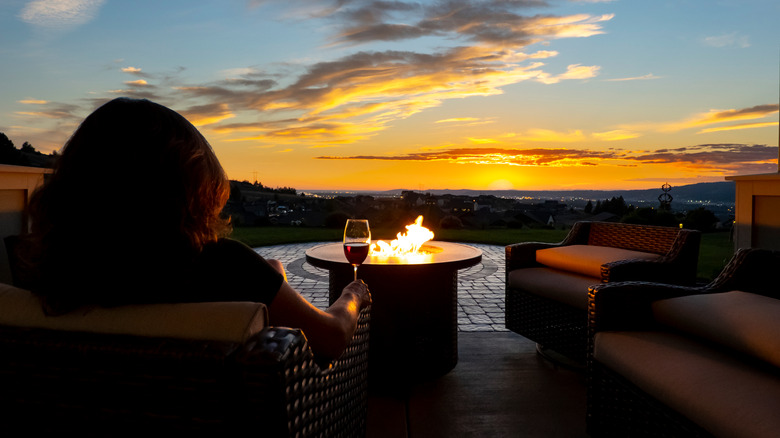 Kirk Fisher/Shutterstock
When Realtor.com asked Mike Pyle, the outdoor-focused member of the duo, about his favorite yard feature, Pyle responded, "I'm biased toward fire pits. It's not like a fireplace, because a fire pit is a much better gathering place. People surround it and have cocktails, appetizers, s'mores, whatever it may be. It's just a great conversation piece, and I try to fit one in every project if I can." Pyle's bias towards fire pits has even transformed into a recent business venture. His landscaping company, Mike Pyle Landscape Design and Consulting, has started retailing some of his unique and timeless fire pit designs. Of course, creating your own DIY fire pit can be equally rewarding and generally more affordable. 
Carmine Sabatella didn't have much to say about fire pits in particular, but he firmly believes that a home should merge indoor and outdoor elements. While it may not be safe to incorporate fire inside your house, having a fire pit on the patio allows you to play with other elements like metal and concrete indoors or contrast the fiery energy with an eye-catching water feature and live plants. Sabatella tells Realtor.com, "I try to incorporate [natural elements], because I feel like, from an organic standpoint, it just makes it feel like it's part of the yard. It makes it feel like it's all ... cohesive throughout the whole property."