This Backsplash Mistake Will Make Your Kitchen Look Dated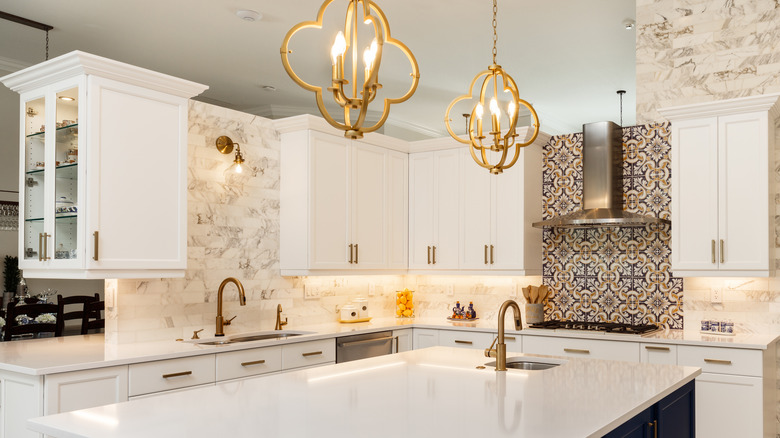 Fotoluminate LLC/Shutterstock
The kitchen is that special place — the heart of the home, the place where everyone gathers, the crowded space when guests are visiting, the nook where gossip is exchanged and secrets are whispered. It is THE place to be, and while you probably want your kitchen to feel welcoming and perfect, sometimes one little design element can throw everything off. Don't let the wrong backsplash be that mistake that makes your kitchen look dated and tired.
Choosing the right backsplash can make a good kitchen into a great kitchen with very little effort. New Spaces highlights the need to think big when it comes to backsplashes. While it was tolerable, they note, to have short backsplashes that were just a few tiles high a few decades ago, the trend now is to let the backsplash make a statement by covering a larger area. The backsplash not only creates a bold look to enhance the kitchen's overall theme, but also shields your kitchen wall from inevitable cooking mishaps, grease splatters, and smoky film. They add the sage advice of going with a look that will stand the test of time, recommending that homeowners resist the urge to hop on the trend train to whatever is popular at the moment since such trends often come and go fairly quickly.
Oh, look, shiny! Porcelain and glass tiles are eye-catching!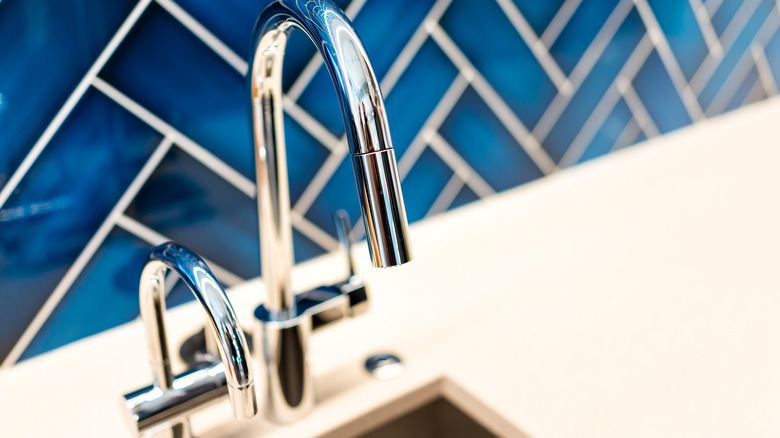 Kristi Blokhin/Shutterstock
It's hard to resist shiny, reflective, pretty things, so why not have a backsplash that's all three? A kitchen that is bright and filled with light is a cheery place when banging around pots and pans or doing dishes, and shiny tiles in porcelain and glass reflect a lot of light, making them great choices for backsplashes.
Available in a vast array of colors, shapes, and sizes, glossy tiles can be a transformative addition to your kitchen. Even if you aren't doing a full kitchen remodel, just changing the wall behind your range or sink to a shiny glass backsplash (perhaps in ocean blue shades or a funky geometric shape) can create a new look that is fresh and up-to-date. 
According to Oasis Tile, homeowners are opting for more innovative and unique looks and aren't afraid to be a little wild when selecting colors and designs. Pep Up Home agrees; to keep your kitchen from looking dated, not only do you want a big backsplash, but you want it to be shiny. Matte tiles are out, and reflective tiles are definitely the way to go, they say. To make the decision even easier, Upgraded Home confirms that glossy tiles are easy to clean because of their smooth surface. That is a pretty good reason to use them in a kitchen, a location that has a high likelihood of needing a fair amount of wiping and scrubbing.
Stone backsplashes with dimension and style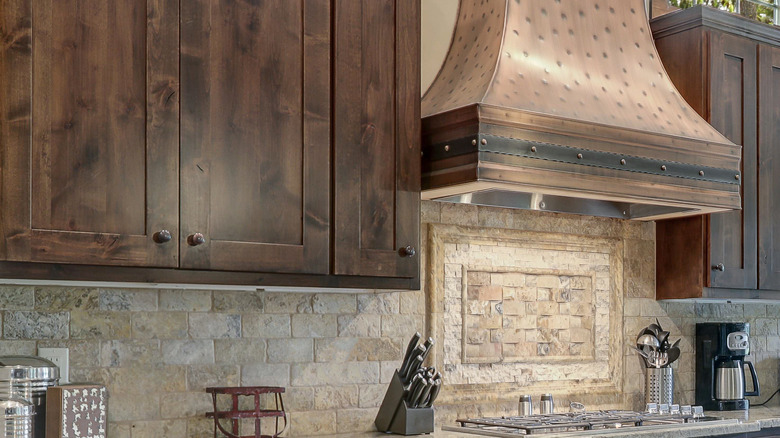 Artazum/Shutterstock
Be prepared for stone backsplashes to become one of the biggest design trends of 2023, says Casa Di Sassi. Traditional stone accents often lean toward lighter colors, but the look that Casa Di Sassi thinks is ready to explode onto the remodeling scene is textured or dark. They envision backsplashes of stone or stone veneer, some with heavy or dramatic veining, taking the spotlight in kitchens everywhere. According to Life on Virginia Street, another trend capturing the attention of homeowners involves the installation of full slabs of stone, such as marble mounted vertically as backsplashes on walls rather than as horizontal countertops.
The stone is engineered and cut to look like real stone, adding charm and rustic elegance to a kitchen. It can be paired with other kitchen elements, such as large, flat tiles that won't detract from the irregular patterns in the stones. Because of the unevenness of the stones, homeowners may wish to think about the placement of the backsplash and how easy it would be to clean. Homedit covers the pros and cons of the various types of stones. Regarding backsplashes, they note that marble is a great option for a backsplash and less expensive than you might expect. They also remarked that stone can be difficult to clean if it is rough, and homeowners should keep in mind that it is porous as well, so splashes, spills, and stains should be cleaned as soon as possible.