The Out-Of-The-Box Kitchen Color Scheme Homebuyers Are Excited About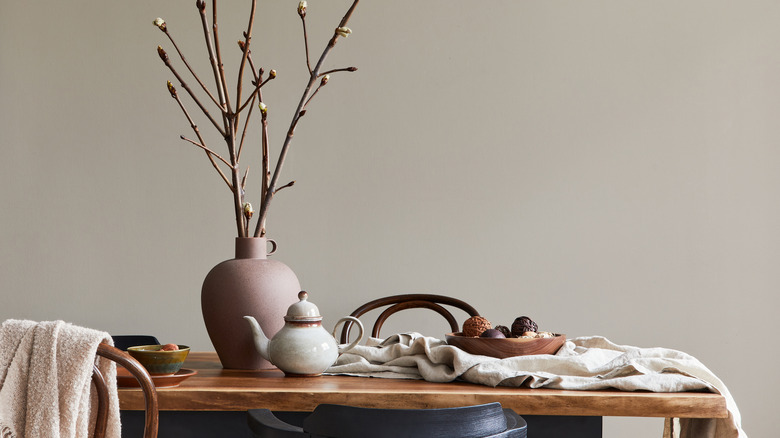 Artazum/Shutterstock
Home buying trends come and go, but several standards usually cause buyers to pause and consider purchasing. This is no more true than in the kitchen, which can make or break a buyer's decision. The goal of selling your home is not only to present an attractive, updated, and well-designed space but also one that potential buyers can see themselves living in and making their own. It's a tall order, needless to say, in a world with an abundance of design choices, personal preferences, and signature styles.
While many realtors will recommend providing as blank a slate as possible for people to imagine themselves living happily within, there is something to be said for creating spaces that are homey and welcoming instead of the former. According to HomeLight, many buyers historically favor white and light-neutral kitchens, with recent trends liking shades of gray. However, an emerging favorite among buyers has been a slightly more earthy focus in kitchen spaces, manifested by shades of brown, taupe, and ecru. These shades are beautifully accented by warmer, abundant woods and textured natural materials like stone, slate, and terracotta.
Adaptable earthtones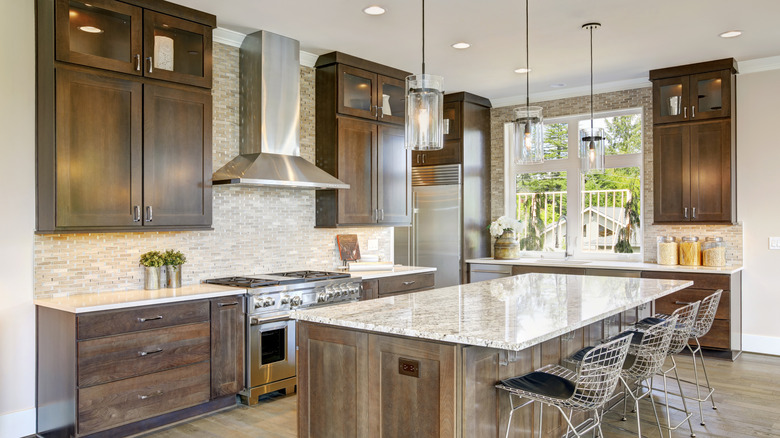 Followtheflow/Shutterstock
Natural, earthy kitchens are enjoying new popularity after years of white and cream cabinets at the top of buyers' lists. While many like the look and flexibility of neutrals, white can often be dull or harsh. In addition, all-white or cream cabinets can often limit your choices in terms of paint colors, with darker colors constantly proving too sharp a contrast with lighter finishes. In addition, white and light cabinetry often proves a challenge in upkeep and cleaning in a space prone to messes and sticky fingerprints. 
Earthy kitchens are a wonderful, neutral compromise, bedecking cooking spaces in rich, warm woods and texture and providing a great canvas for using an array of earthy colors like brown, taupe, and caramel, as well as earthier shades of green and gold, some of the hottest trends in kitchens and design at large. Warm deep wood cabinetry balances well with lighter marble and stone countertops. It's a look, depending on paint color and accessories, that can go any way — from more rustic and farmhouse to sleek and contemporary. According to Offeo, other great earthy shades often overlooked include mustard, marigold, and sage. 
Natural materials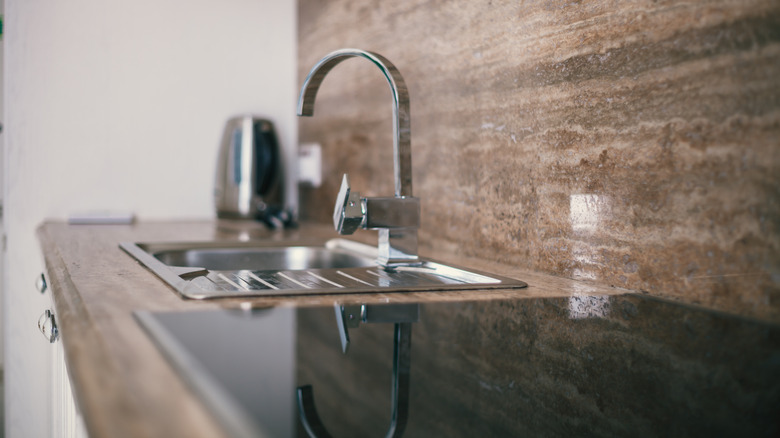 Polychronis Giannakakis/Getty Images
These attractive earth-tone kitchens emphasize natural materials that steal the show, like this gorgeous striated marble backsplash in rich shades of brown and tan. Statement marble is steadily making a comeback, not merely as a functional surface but as art itself. When combined with other natural textures like deeper woods and other varieties of stone, these true-to-life touches instantly give any room dimension and timeless appeal. After years of white and lighter wood cabinetry, darker, deeper shades of wood are definitely trending in design, according to Food52.
If you are selling your home, earthy, textured kitchens are a great alternative to the more generic white and cream spaces most sellers use in kitchens, presenting unique possibilities that can easily be adapted to every homeowner's aesthetic. The range of textures, materials, and earthy shades are more welcoming even in an otherwise empty kitchen on the market, giving a sense of liveability not often found in an empty home. If you are looking for a way to add a bit of punch to your kitchen as you prepare to sell, consider adding some earthier touches like warmer and deeper wood tones, striated marble, slate tiles, and accents like pottery and planters in rich stone finishes.