Floral Fabric Inside Homes Isn't Going Anywhere In 2023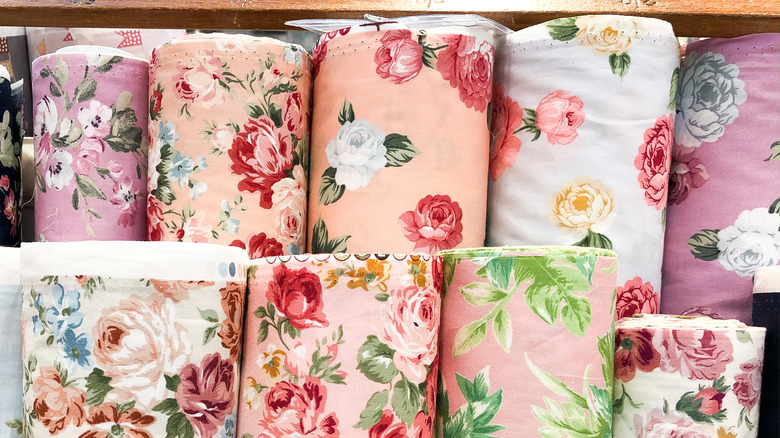 Tangerinesky/Shutterstock
According to a study explored by People, 71% of respondents felt inspired to revamp their homes after spending most of the year 2020 indoors. So perhaps it's no surprise that people are craving more color, comfort, and nostalgia in recent years, as evidenced by the rise of maximalism, vintage decor, and moody interior design choices. In addition to all these bright and visually exciting trends, another fun decorating idea is making a comeback: floral fabrics. 
Of course, floral fabrics are hardly a new concept. They've been used in interior design and clothing for centuries, with some prints dating back to 12th-century China (via Patra). Floral patterns project a sense of wonder and classic femininity, and today you can find them in a wide range of colors and styles, from earth-tone micro-florals to oversized pink peonies. So whether they fill you with a sense of whimsy or remind you of your grandmother's couch, floral fabrics in interior design are here to stay. Here's what you need to know about this blossoming trend. 
The root of the floral print trend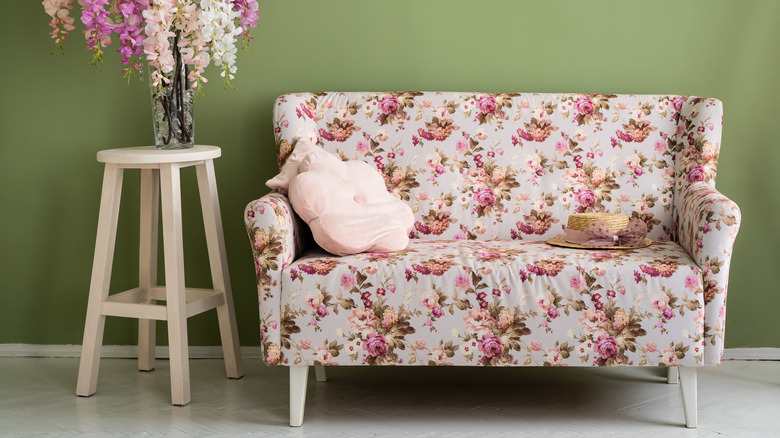 Lvivjanochka Photo/Shutterstock
Even if strong florals remind you of your grandparents' house, that might be part of the appeal of this trend. Brook Perdigon from The Fabric Collective tells Homes & Gardens, "for 2023 we are looking towards modern florals that are inspired by nostalgia, bridging past and present through bold patterns with unusual color palettes". While micro-florals and subtle botanical patterns are still fashionable, 2023 will see everyone embracing more wild, whimsical, and large-scale prints in furniture, wallpaper, décor, and more. 
Vogue declared that, yes, even the "grandma" floral sofa is back in style, following the nostalgic yet bold grandmillennial style. Grandmillenial toes the line between sentimental, classic items and more modern, avant-garde pieces. Maximalist prints and chintz may also be rising in popularity because of the longing to spend more time outdoors. Anthony Barzilay Freund, director of fine art at 1stDibs, explains, "Floral prints bring a bit of the outside into any home, whether it's an actual country house or an urban apartment — to which many people were confined during the pandemic. Who doesn't find solace and pleasure from a country scene, with its promise of innocent, simple pleasures and eternal renewal?" (via Vogue). 
How to plant the trend in your home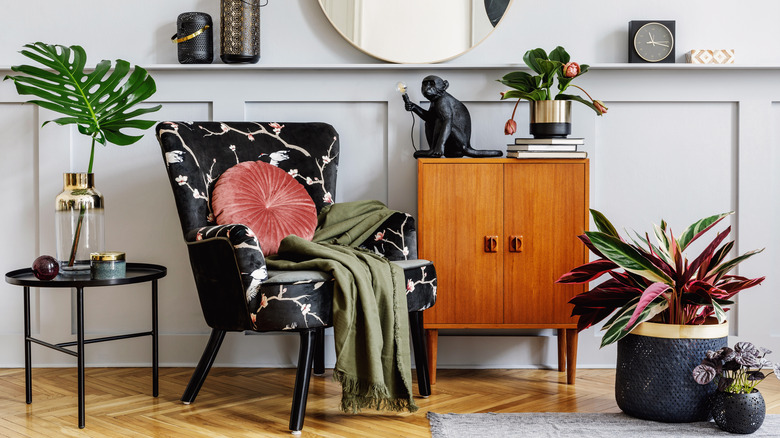 Followtheflow/Shutterstock
Once you've settled on the perfect floral couch, rug, or bedspread, how should you style the bold print? One way to play it safe is to pull a color from the print, such as the pink from budding roses or the taupe from vines and stems. Finding solid-colored pillows and accessories in this shade will help your decor pop. However, if you're determined to perfectly mix patterns with your florals, Ballard Designs recommends pairing a smaller-scale print with your large-scale floral or using a versatile print like neutral stripes or plaid. For example, a predominantly blue sofa would look gorgeous styled with navy pinstripe pillows and a leaf-green quilted throw. 
Although they were once considered a bit gaudy and outdated, flowery prints are finding new ground in all manners of interior design. Because of this, you can easily dip your toe in the aesthetic without committing to a complete interior overhaul. Instead, play with some floral patterned curtains or throw pillows and see where the trend takes you.