HGTV's David Bromstad Opens Up About The Game-Changing Amenity You Should Have By Your Pool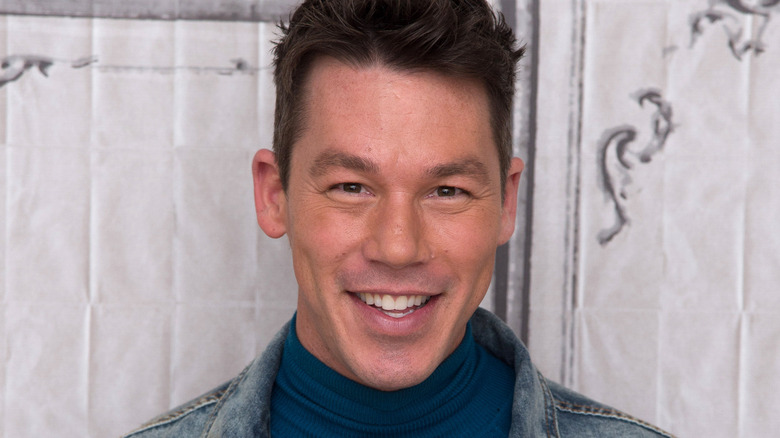 Dave Kotinsky/Getty Images
Improving your home is a never-ending task; there are always things that come to mind that you might want to change or add. Whether you're decorating the interior or exterior, home trends are constantly changing, but there are a few things you might want to incorporate from the get go. For example, properly maintaining the landscape will go a long way toward making your home's exterior look beautiful. According to Lubbock Landscaping, if you ever plan to sell your home, the way the exterior looks can add value and increase the sale price. On the other hand, if you don't see yourself selling anytime soon, you'll still get to enjoy the beauty for yourself and create a welcoming environment for guests.
For homeowners with a pool oasis in their backyard, you might think you have everything you need to complete your setup, such as lounging chairs, floaties, a leaf net, etc. However, there's an often overlooked feature that will improve both the exterior and interior of your home, and chances are good you haven't even considered it yet. HGTV's "My Lottery Dream Home" host, David Bromstad, talks about the game-changing element that he believes every homeowner should have near their pool area.
Bathroom near the pool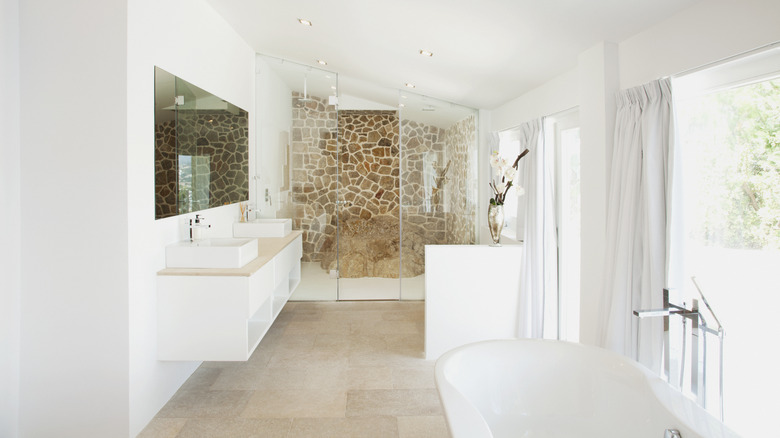 Martin Barraud/Getty Images
If you use your pool regularly for kids' birthday parties or gatherings with family and friends, then you know things can get a little wet. In a perfect world people would dry instantly as soon as they got out of the pool so they wouldn't drip all over the place. But the world isn't perfect, and watery footprints often get carried into the house. This is why Bromstad says a bathroom by the pool is ideal for preventing puddled messes throughout your home.
In an episode called "Second Chance Lottery," Bromstad shows a large four-bedroom, four-bath house to a couple, Bettyann and Jerry, who are looking into buying a vacation and retirement home, according to Realtor.com. The third house they look at has a bathroom next to the pool. It even has a door to the outside that can be easily accessed from the patio. While showing them the bathroom, Bromstad claims, "This area makes wonderful sense. Pool, and then come in here, take a shower, dry off, so you're not getting the whole house filthy." With this type of amenity in place, you won't have to worry about towel-drying the floor when kids run in and out of the house after they've just had a dip.
Have enough space to make improvements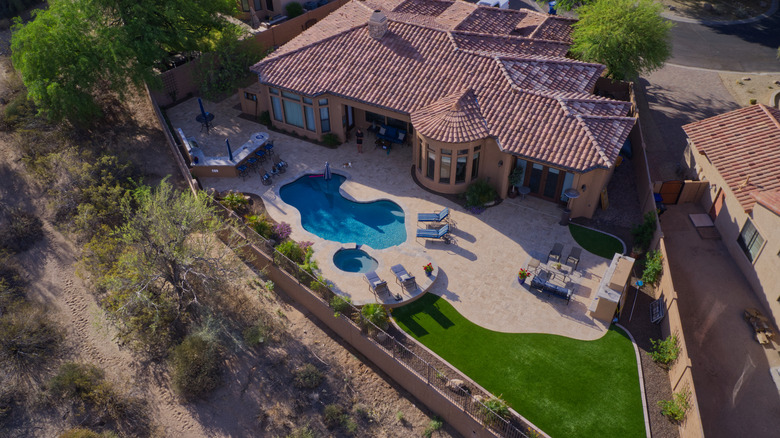 CactusPilot/Shutterstock
While looking at various house options on "My Lottery Dream Home," David Bromstad's clients wanted mature landscaping that included a swimming pool. One of the homes they looked at didn't have the pool they were dreaming of, but it did have a fireplace in a massive backyard with enough space to install a pool. It would be difficult to find one home that has absolutely everything you're looking for, which may mean settling for one that has the ability to accommodate a future upgrade.
Depending on size and space limitations, pools can be installed in most backyards. Whether you're looking into an above-ground or in-ground pool, you have multiple options, including vinyl liner, fiberglass, or concrete. Fiberglass pools tend to be low maintenance, classy, and durable. Of course, you can talk to a professional to discuss an exact price for your home. From there, all that's left is to contact the plumber to decide where to install the convenient patio accessible bathroom.