The Kitchen Trend That Over 40% Of Real Estate Agents Say Homebuyers Want More Of In 2023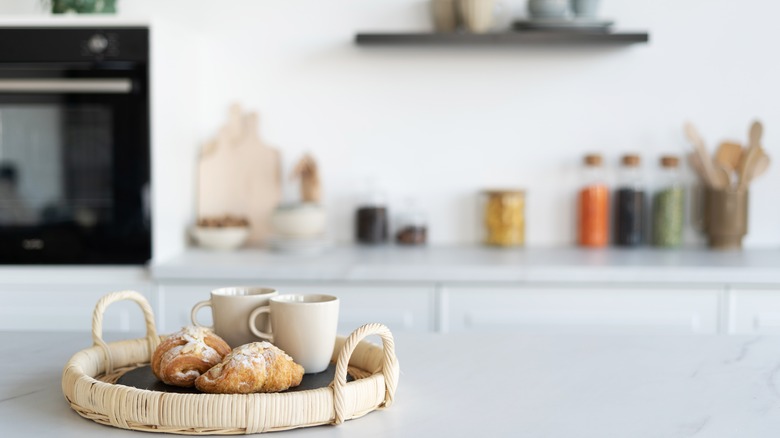 brizmaker/Shutterstock
Those selling their homes are constantly on the hunt for modernizations and tweaks to the property that can help garner increased interest. The real estate market is rife with competition, and buyers, heading into 2023, enjoy the ability to remain picky and cautious. Interest rates have risen to historically high levels — although the recent movement has seen them decrease slightly – so buyers are not engaging with the mortgage market as readily as they have in the past, according to CNBC.
Even so, people are still trying to sell their houses, and others are looking for a new place to call home at a significant clip. One feature of the property market that is continuing to make waves is the kitchen. Kitchens lie in a central location in most homes. And whether the feature includes an open concept that spills out into the living room or a closed-off space that makes your culinary experience more private, the area remains a crucial feature in the eyes of a homebuyer.
Real estate agents are particularly well-informed regarding the features that buyers have been prioritizing as of late. Realtors are working with clients daily to find homes that will form a core component of daily life for homebuyers and for years to come. As such, they must be receptive to the wants and needs of buyers, guiding them toward the important features they bring up.
Homebuyers are looking for bright kitchens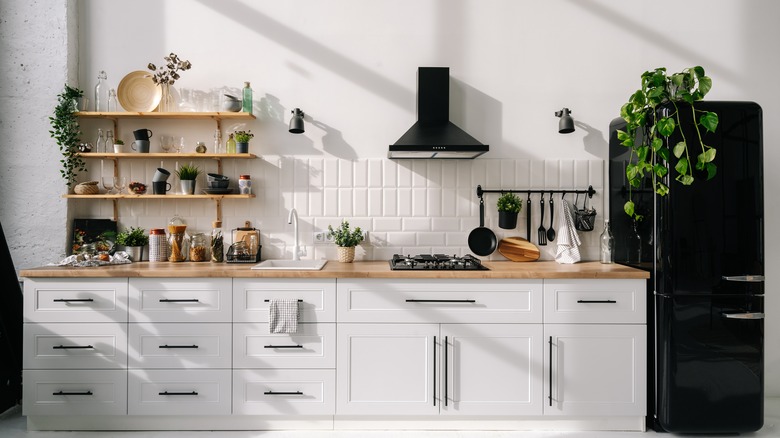 brizmaker/Shutterstock
One feature of the kitchen that can't be ignored is the amount of light and atmospheric brightness in the space. According to HomeLight, 43% of real estate agents say that home buyers are looking for light or calming color palettes in the kitchen. Additionally, 41% of agents note white as key feature buyers are seeking out heading into 2023 and beyond. Taken in combination, these figures offer a dramatic and overwhelming preference for brightness in the kitchen space that will continue to promote energy and comfort many years into the future.
It's important to note that the color palette you select when remodeling or repainting the kitchen walls and any amenities in the space — for example, your kitchen cabinets — is only one aspect involved in creating a light and uplifting kitchen area. It's essential to include as much natural light in the space as you can when establishing this kind of kitchen feature. Homebuyers may also seek out high-quality kitchen countertops to complement the overall color stylings of the area. Many home buyers are interested in marble, quartz, and granite countertops, for instance. The kitchen that incorporates these elements, starting with the color scheme is sure to attract increased tension from buyers and perhaps even a bidding war over your property.
Fortunately, this is an easy update that sellers can tackle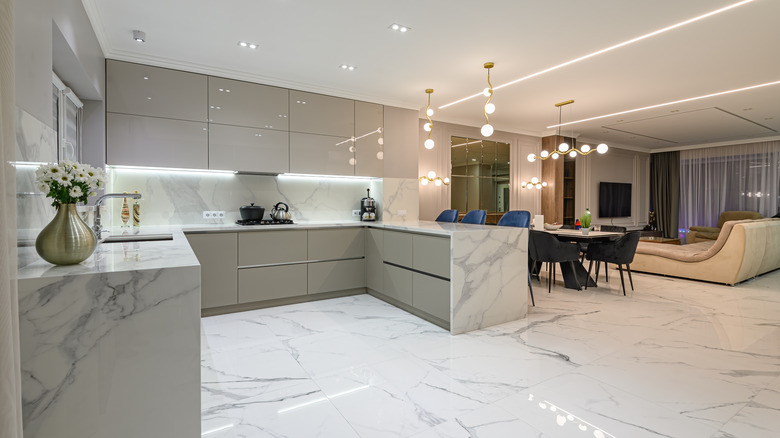 Serghei Starus/Shutterstock
Fortunately for homeowners, the primary driver of this sought-after kitchen is easy to implement. Repainting the walls of your kitchen with a white, cream, beige, or other light and soothing color is easy. If you have the time and patience, you might consider painting the room yourself. However, hiring a professional to tackle just this one space can be a time-saving measure that isn't outrageously expensive. Fixr estimates a cost of roughly $2 to $6 per square foot, or about $400 to $1,200 for a single room, depending on its overall size. Once again, homeowners have some good fortune in this department because the kitchen is often a room with much smaller wall space than many other parts of the home.
Some minor renovations will always be required when listing your home for sale. Your property is often perfectly suited to your needs, daily habits, workflow, and lifestyle. However, other people interested in your home will use the space in their own way. Therefore, it's crucial to revert some layout features to a more standard or neutral setting. Similarly, you'll want to repaint some parts of the home — perhaps even the whole thing — to give the space a feeling of freshness rather than the stuffy energy that can be easily imported by a property that still feels like the seller occupies it.