Does Having A Butler's Pantry Add Any Value To Your Home?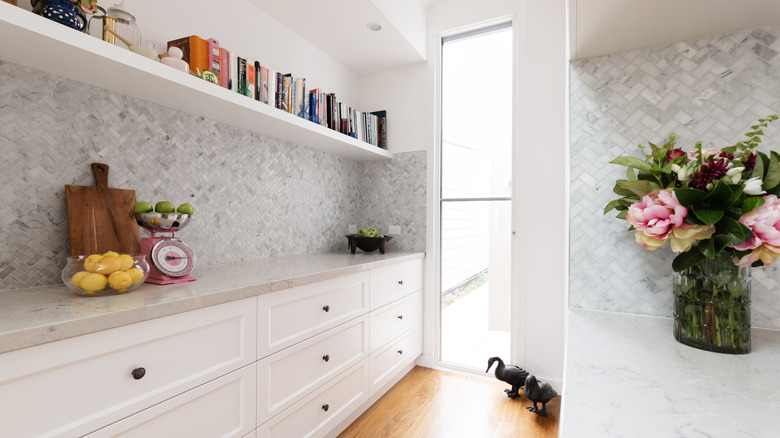 Jodiejohnson/Getty Images
In a world where kitchen real estate is at a premium, finding a home for your cooking essentials is important. One home addition that's both stylish and extremely hardworking is the butler's pantry. This transitional space, typically built between the kitchen and the dining area, is multifunctional, providing you with safe and secure storage for your spices, fine china, etc., along with an extra prepping area or even staging space.
A well-designed kitchen with enough storage space will always improve the aesthetics of a home; however, will installing a butler's pantry provide you with value for your money should you choose to sell? Well, this is an important question to ponder over, considering the current installation cost begins at $2,000, per Bienal Closets, and could rise even higher depending on factors like design and materials. Before installing a butler's pantry in your kitchen, take a look at how this home improvement will affect the home value.
Is the additional value worth the investment?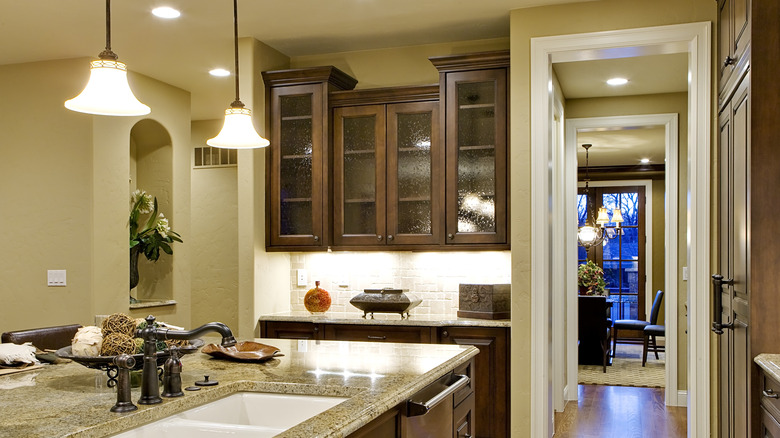 Ambient Ideas/Shutterstock
The kitchen is a major selling point for most homes since prospective homebuyers are often drawn to the aesthetics and also how functional the space is. A butler's pantry is one of those additions that improves the convenience of working around the kitchen. When it comes to whether it's a worthy investment or not, experts seem to believe it's a good one. To put this into perspective, you can expect to recoup between 50% and 70% of your initial investment, as noted by Jeff Johnson, a real estate agent at Simple Homebuyers (via Homes & Gardens). 
While this is true, estimating the true value increase of a home isn't as black or white as it might appear. Sometimes, it will depend on what the prospective buyer needs and also what they intend to use the space for. Also, just how much value you'll get from this home improvement is relative to the specific butler's pantry design, and the overall value of your home. Nonetheless, the fact remains that building a butler's pantry if you don't have one already is potentially better for your home value as opposed to having none at all.
Is a butler's pantry worth it?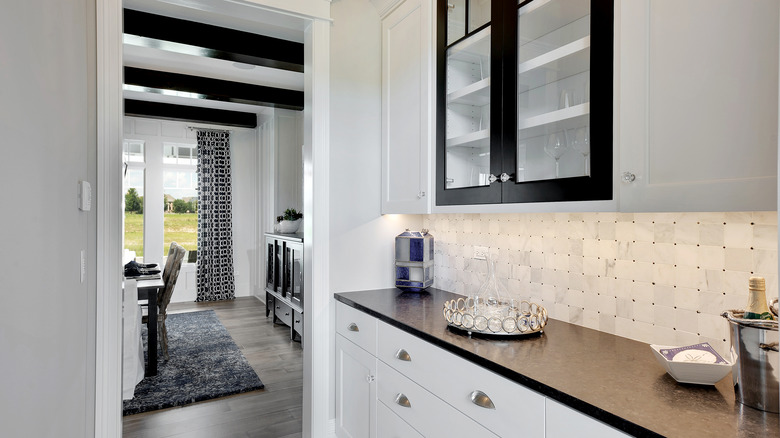 Pc Photography/Getty Images
Let's face it, building a butler's pantry needs not be about the resale value alone. This home addition will benefit you in other ways, especially if you're not planning to put your home on the market right away. This type of pantry is ideal for anyone who would like to do more than just store spices and kitchenware in their pantry. Because of the counter space, it'll come in handy if you like to entertain and also prefer prepping your meals in a separate room from your kitchen, as ShelfGenie explains. 
However, you need to be aware that installing a butler's pantry will require more space than its traditional counterparts, which might not be ideal for smaller kitchen spaces. When building a pantry, be sure to keep the design in line with the rest of the home's interior. Going for a more luxe pantry design in a modest home will cost you a lot more, and won't do much as far as improving your home value is concerned.