Home Depot's Spring Black Friday Explained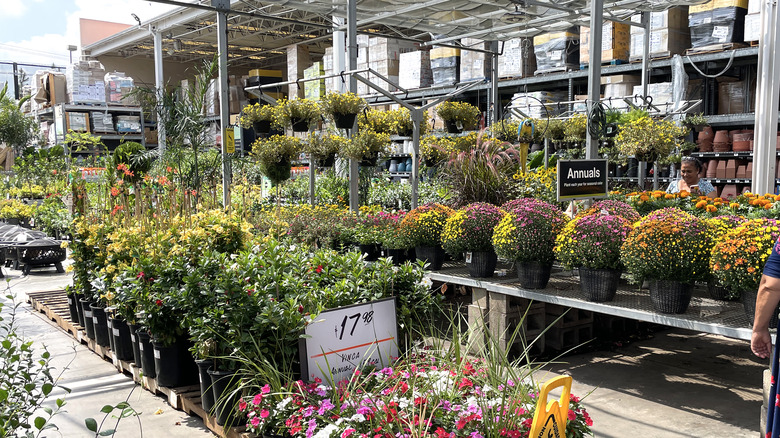 Mario Tama/Getty Images
We are all used to the Black Friday deals that roll around right between Thanksgiving and Christmas, and our flowerbeds and gardens are usually the furthest things from our thoughts as we focus on all the holiday preparations. But there's no need to regret letting your lawn slip your mind because you can look forward to a Spring Black Friday. While the name alludes to a singular Friday in spring, it is a sale that runs longer than one day. The Black Friday explains that home and garden stores celebrate the return of warmth and blossoming flowers with a large sale every spring, usually late March to early April. The price drops are expected to last up to 14 days.
In 2023, we look towards stores like Home Depot to give us great outdoor deals, from mulch and planters to larger-scale items like patio sets, pressure washers, and lawnmowers. Whatever your outdoor and gardening needs are, hold off a little longer to take advantage of this seasonal bargain.
What to expect from Home Depot's spring sale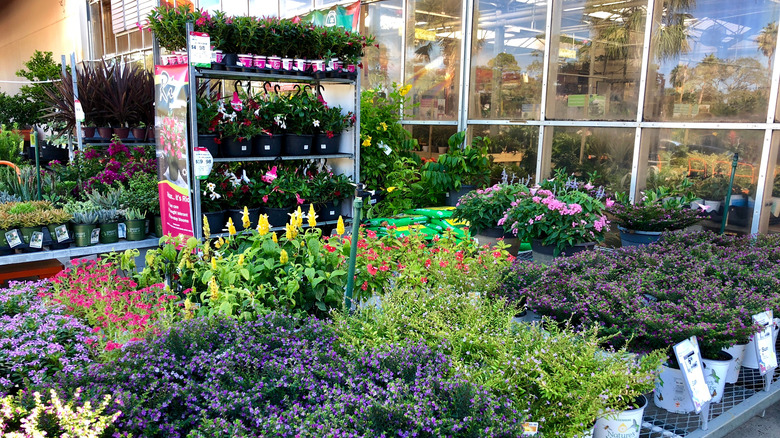 Robert Gregory Griffeth/Shutterstock
The Krazy Coupon Lady has followed Home Depot's Spring Black Friday for years, allowing the perfect guestimate of what to expect in 2023. Since 2018, Home Depot has launched its spring sale on the first Thursday of April, lasting a bit longer than a week. However, in 2022, the retailer mixed it up with two waves of deals — one in the first week of April and one in the last. It is safe to say that you can expect prices to drop in early April and hope to get lucky again later in the month.
Some of the deals featured in the first wave of 2022 included a buy one get one free deal on Roundup Weed Killer, $2 for 2 cubic feet of Vigoro Bagged Premium Brown Wood Mulch, and 50% off Vigoro All Purpose Soil. Whether in the first or last week, Krazy Coupon Lady says you can also expect to see a price decrease in these items from 2022's second wave: Classic Annual Hanging Basket for $9.98 rather than $14.98, Miracle-Gro Garden Soil for $1.98 per 0.75 cubic feet, and colored mulch for $1.98. Other great deals to look out for include concrete pavers from $1 to $0.25, three for $12 Bonnie vegetable and herb plants, 4-inch annuals for $0.88, and three geraniums for $10.
Staying on top of deals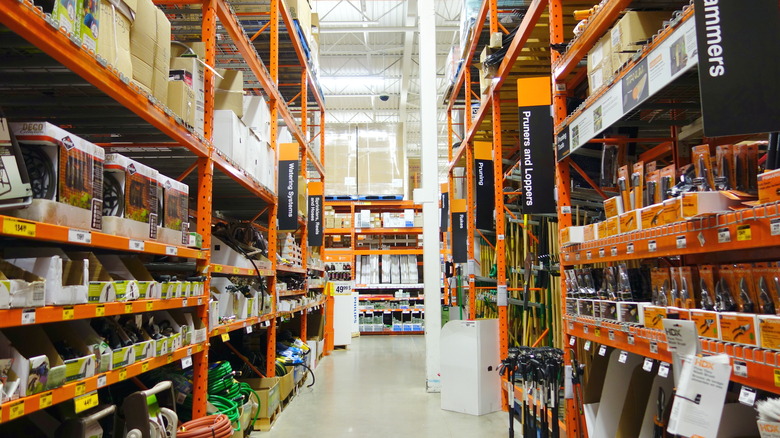 ValeStock/Shutterstock
As spring approaches and eventually leaves, there are many tricks for keeping track of Home Depot's best deals and getting the most out of their annual sales. The Krazy Coupon Lady encourages you to latch onto the lowest hanging fruit by signing up for email and text alerts, gaining $5 off a $50 purchase both times. These alerts will give you updates on Home Depot's daily flash deals on items anywhere between 25% to 50% off. If you also sign up for their style and décor emails, you'll receive a 10% off coupon for select home items.
On the first Saturday of every month at 9 a.m., the home and garden retailer hosts free workshops that gift you a 15% off coupon for attending. If you are an online shopper, consider signing up for auto-ship to save 5% on your order, a service that can easily be canceled online at any time. In addition, did you know Home Depot offers a one-year guarantee on trees, houseplants, perennials, and shrubs? The Krazy Coupon Lady shares the hack of simply taking back any plants that have died within a year of purchase to exchange with ones much more lively — so don't throw out those receipts. And finally, as Spring Black Friday hits the shelves, compare all other brick-and-mortar prices for the lowest ones as Home Depot will price match its competitors such as Target, Lowe's, Walmart, Best Buy, and Macy's.