Why Dishwasher Experts Warn Against This TikTok Detergent Pod Hack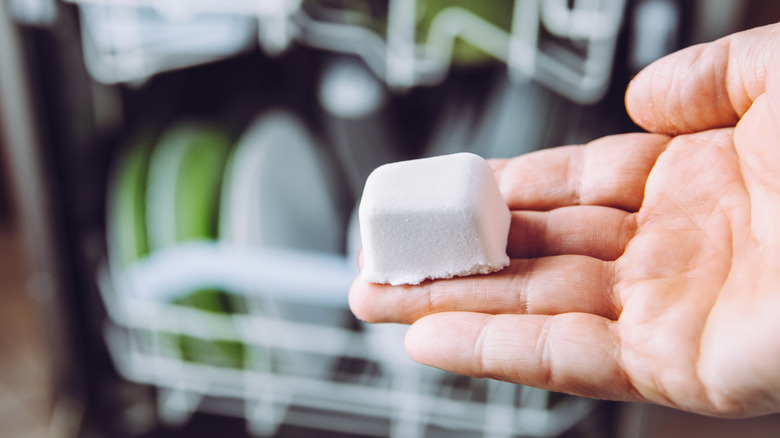 FotoHelin/Shutterstock
Plenty of helpful household hacks floating around the web nowadays can help you with new ideas on taking care of your property. From making your home smell great, fighting dust build-up, and everyday cleaning tricks, However, not all trends live up to the hype and you should be wary, especially when it has to do with your expensive appliances. 
In a TikTok video that has gained over 100,000 likes, appliance technician, @renduh, talked about whether or not dishwasher detergent pods go into the soap dispenser. She claims that the little convenient cleaning pods are actually not meant for the dispenser slot unless it's specifically designed for pod use. She goes on to explain that the casing for the gel-like pods can become very sticky and jam up the traditional dispenser. She then suggests that to avoid this, you can place the pod in the bottom of your dishwasher or even pop one in the silverware rack instead.
For a professional take on this TikTok hack, we reached out to an expert. In an exclusive interview with House Digest, the founder of Diamond Appliance Repair, Jim Schmid weighed in on this new pod placement technique and gave us his opinion. "The most important thing is to always read your appliance's manual before proceeding with any type of cleaning solution," Schmid advises, "That way, you can ensure that you're using a safe and effective cleaning method."
Why do some say to avoid it?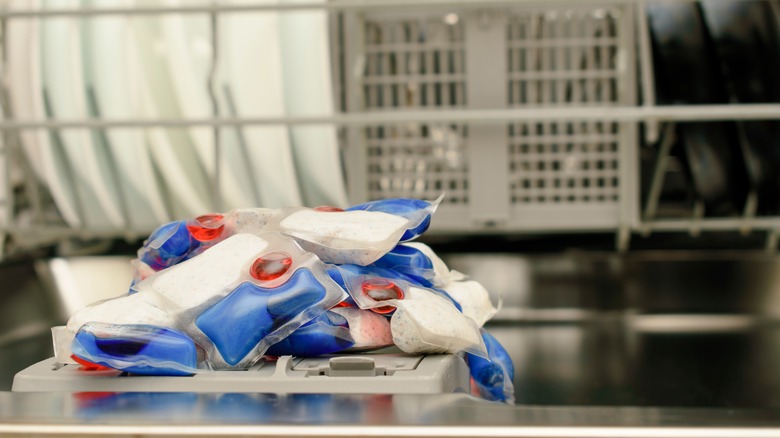 osonmez2/Shutterstock
Some folks seemed a little skeptical about the dishwasher pod hack, with commenters on the video expressing their concerns that the pods would simply disappear before it was time for the soap to enter the proper cycle. Another user objected, saying "but my cascade pods say to put in the dispenser??"  With so much obvious confusion, we wanted to know what our expert thinks about the subject. "Not all appliance brands recommend this. For instance, Whirlpool does not recommend the silverware tray method. Pods may dissolve too early," warns Schmid.
In addition, there could also be some lasting negative effects from using this method, which may cause damage to your appliance. "Not all cleaning agents work with all models of dishwashers, so it is essential to make sure you know what works best with yours," Schmid recommends, "furthermore, many of the detergent pods may contain harsh chemicals which can cause corrosion to the seals and gaskets of your dishwasher, reducing its lifespan." So even before purchasing dishwasher detergent — whether in pod, liquid, or powdered form — he advises that "it is always best to use detergents that are specifically designed for dishwashers."
But the hack can work for some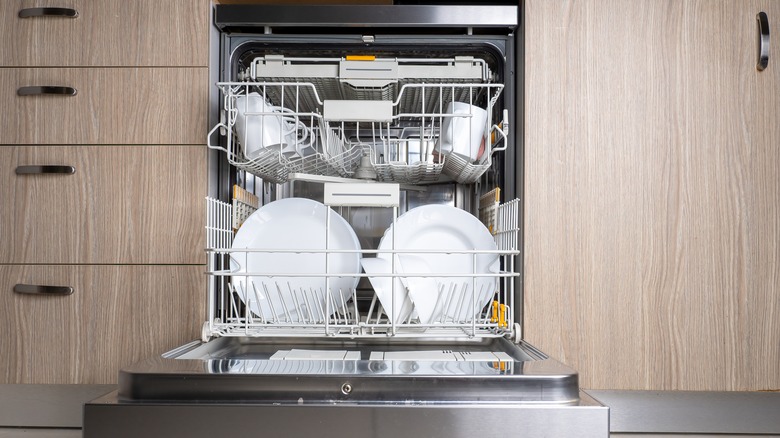 Oxanaso/Shutterstock
On the other hand, plenty of people used the hack and it seemed to work for them. One commenter said, "I saw this video a few weeks ago and after I repaired/replaced my top rack adjuster, I started putting the pods in the caddy. My dishes seem cleaner." So, is this method actually recommended? Schmid says, "Overall, the TikTok hack can work. The dishwasher detergent pods can go into the silverware tray, but they can also go in the soap dispenser. Most pods fit in the dispenser without being squeezed in, but some might not."
If you have a smaller soap dispenser and find that you need to cram the pod in, then there is a very real chance that it won't be able to dissolve properly. Because of that, you would find build-up or residue clogging up the dispenser, which may lead to an improper cleaning cycle. Schmid recommends "I would put them in the silverware tray if the size of the pod made closing the dispenser door hard."