HGTV Star Christina Hall Explains Why You Should Examine Flooring In Different Lighting Before Installing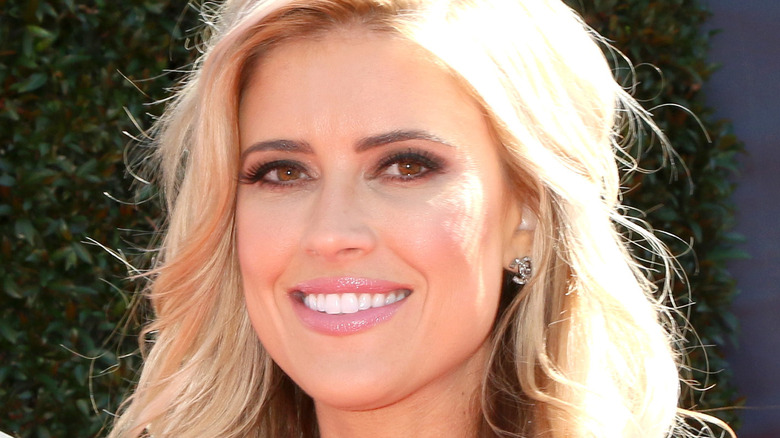 Kathy Hutchins/Shutterstock
We've always been told to sample paint colors in several areas of our homes to examine how it changes during different hours of the day. The white shade you chose may look bright in the morning, but you may discover it'll take on a slightly yellow tinge during the afternoon. This is an important interior design step to ensure the hue you choose will complement your décor throughout the entire day. However, it's not just paint colors you should worry about, but flooring as well — designer and real estate expert Christina Hall, explains why.
Hall, host of "Christina on the Coast," and "Christina in the Country," has transformed countless homes to create something unique and beautiful for her clients. With her experience, she has guided homeowners toward making the right decisions when it comes to budget, finishes, and style. Now, she'll give you the rundown on the importance of testing out your flooring in different lighting before spending a huge chunk of your budget on installation.
There's always a third option
In an episode of "Christina in the Country," titled Undoing the Damage, Hall was tasked with rebuilding a home after it was lost to a devastating fire. This meant working on roofing, plumbing, a whole kitchen remodel, and the flooring. Hall selected a few flooring samples for the couple to get an idea of what they'd like best. One questioned if the red oak would pull more red or pink when exposed to light. "It doesn't look like it would pull anything," Hall said, keeping the sample in a shaded area. "But, if we put it in the sun, it gets redder."
After Hall revealed what the red oak looked like in the sunlight, the couple leaned toward the white oak. However, they quickly realized it would cost them an additional $5,000. So, Hall offered a third option. "You guys currently have solid oak floors in the house," she said. "They weren't technically damaged because the fire was in the attic, so they're salvageable. We could sand them down and stain them like this color (the white oak.)" The couple agreed to this option and saved about $20,000.