Simple Upgrades That Will Help You Sell Your House Faster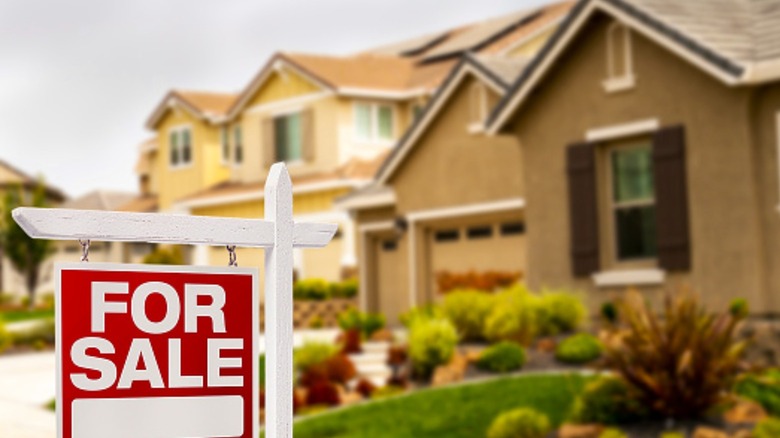 Jaskaran Kooner/Getty
Whether you're thinking of selling your home or you've already put it on the market, it's safe to say that you want it to sell as quickly as possible so you can move forward with the next phase of your life. Luckily, there are simple upgrades and tweaks you can make to help your home sell faster. The best part? These upgrades won't take much time or money — we're talking about things you can do in one to three hours, and, generally, for less than $100, especially if you're willing to get creative with your solutions. 
Two things make a huge difference in how well your home presents itself to potential buyers: Curb appeal and how well prospective buyers can imagine themselves living there. These upgrades are geared toward achieving those objectives, and you can check each of them off your list in the time it takes to watch a movie or binge your favorite show.
Tidy the yard for instant curb appeal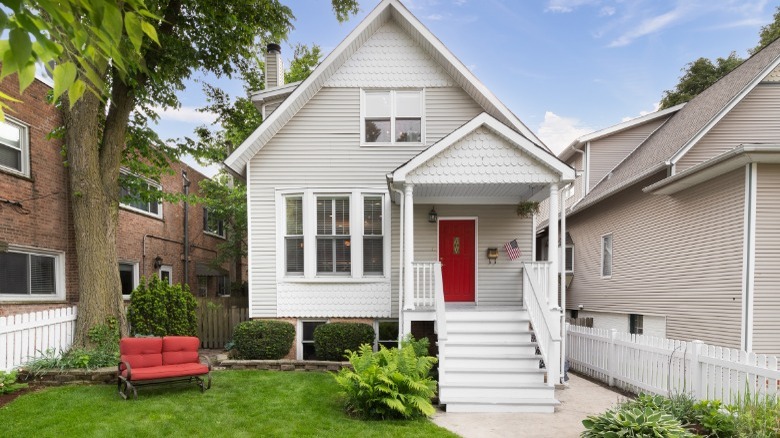 Hendrickson Photography/Shutterstock
Curb appeal is a major factor in getting prospective buyers interested in your home. There are several easy tweaks you can make to your front yard to make it more attractive, and none of them cost a lot of money — in fact, many are free! A well-manicured yard tells potential buyers you take pride in your home and property, and will help sell your house faster. The first step is to make sure everything looks neat and clean. This means mowing and edging the lawn, as well as making sure it's weed-free. This is also the perfect time to seed any bare patches. Trim any shrubs and trees, and pick up any debris, including toys, gardening tools, or other clutter.
Once it's clean, you can put it over the top by making sure the front entry is clean and welcoming. Consider adding a new welcome mat, a hanging plant or two, a pot of flowering plants, and maybe a wreath or swag for the front door. The goal here is to impress prospective buyers enough that they want to see the rest of the home.
Update the mailbox and address numbers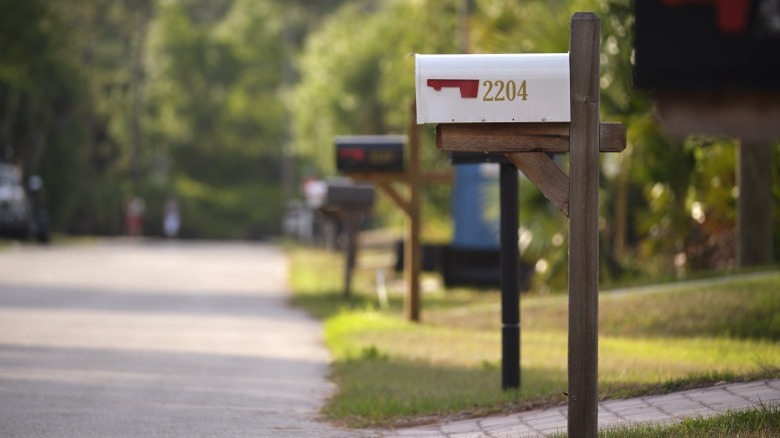 Bilanol/Getty
The details can make all the difference, in life and when it comes to curb appeal. Tired-looking house numbers and mailboxes can make the entire entryway look dingy and tired. So, spruce them up! Whether you decide to go the DIY route or replace the old with the new, this is one of those small touches that makes a big impact. 
House numbers are like jewelry for your house. The right ones can tie together the overall look and give everything a more high-end feel. Faded, broken, or outdated house numbers can bring the whole thing down. If your current numbers are in a style that works well with the house, all they might need is cleaning and a fresh coat of paint. If not, then this is the time to purchase new ones. There are a few important things to keep in mind. They need to be readable from the street, and you should check your town's codes to see if there are rules about the size of the house numbers. The color should also contrast enough with the color of your house to make them easy to see.
Mailboxes have a similar impact on your home's appearance. An old, rusted one won't make a good impression. If your current mailbox is in good shape and it works well with your home, just paint it. If not, look for one that augments the style of your home and the overall feel you want to convey.
Spruce up your fence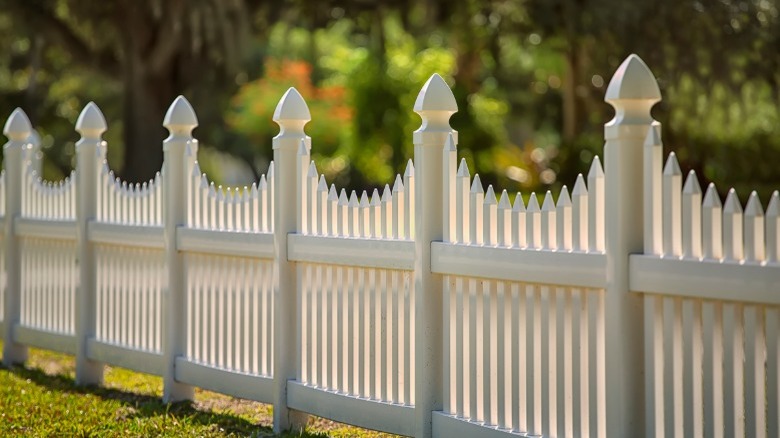 Genotar/Shutterstock
If you have a fence that's looking dated and a little run down, this is something you can easily fix in a short amount of time and a little paint. Whether your fence is in the front or back, this is part of your curb appeal (the importance of which cannot be overstated). If you have a wooden fence that has broken or damaged boards or posts, it's best to replace them before cleaning the fence or giving it a new coat of paint.
However, a fence in decent condition looks amazing with a simple makeover. Spray it down with the garden hose, then wash it with soapy water, and rinse. If you have a power washer, you can do this step in a quarter of the time, and incidentally, power wash the exterior of the house while you're at it instead of a new paint job! After rinsing, allow it to dry for at least 24 hours or longer according to the weather in your area. 
If washing doesn't spruce it up enough, fresh paint or stain should do the trick. Once the fence is fully dry, apply a couple of coats of some new white or neutral paint or stain. Remember to apply a sealing coat to waterproof it, and stand back to admire your work and witness the huge impact it has on your home! The same general principles apply to other fencing materials, including chainlink: Repair, clean, and then paint to bring them back to life.
Add features to enhance security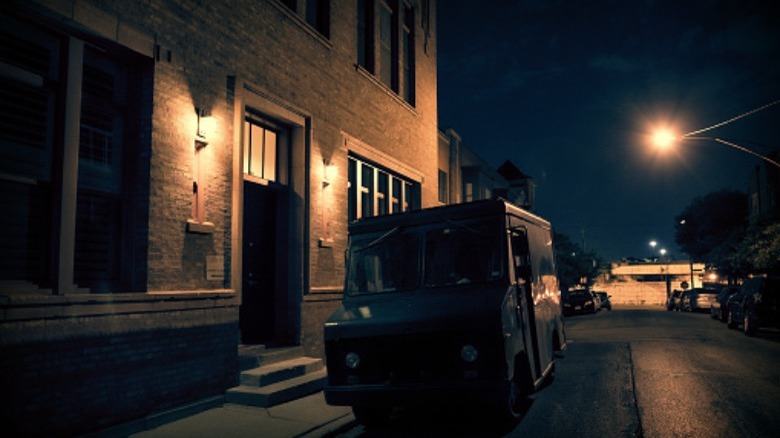 Passigatti/Getty
Another upgrade to consider is adding some features to enhance your home's security. Adding more lighting outside not only enhances security but can also make it look more attractive. For added security, consider motion sensor lights. Another idea is to add window alarms. This is relatively inexpensive, you can find them at Walmart for $14.52 for a package of four window and door alarms. They're also simple to install. You've probably heard about Ring, and you can purchase a doorbell alarm like the Ring & Video Doorbell including the camera for $37.99, also at Walmart.
In fact, there are quite a few different products sold that can offer added security features to help your house stand out to buyers. Everyone wants to feel safe in their homes, and although these features may not add monetary value, they will be a big plus to families looking for the best home. Safety is an issue for everyone these days, and something as simple as this can push your home to the top of the list. Bonus tip: while you're at it, be sure to check your smoke and carbon monoxide detectors and make sure they have fresh batteries and are in good working order.
Update the lighting and fixtures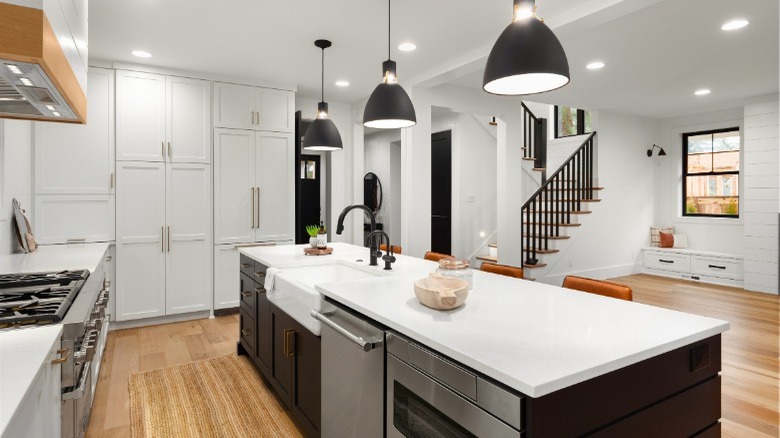 Justin_Krug/Shutterstock
Moving on to the interior of the house, one thing to note is whether the light fixtures need updating. There are plenty of options for doing this that are simple and inexpensive. You can actually use spray paint to update the color of a lighting fixture and make it look new again, as long as the insides are still functioning well. If you have recessed lights, you can purchase a light conversion kit and create lovely pendant lights instead. You can find these kits at most home improvement stores for under $50 with a quick Google search.
Another simple option is to replace the old fixtures with wireless ones instead. This can be done easily by pulling out the old fixture and wiring, then covering the mounting plate with the new wireless one. This type of fixture usually runs on batteries with a remote control wall switch, so you can't even tell the difference! There are modern choices of many kinds that can make this an especially appealing choice, and a detail like updated lighting lets buyers know that your home has been well cared for. Lighting is super important to buyers, so if you have dark, dreary spots in your home, try to lighten them up.
Repaint in neutral colors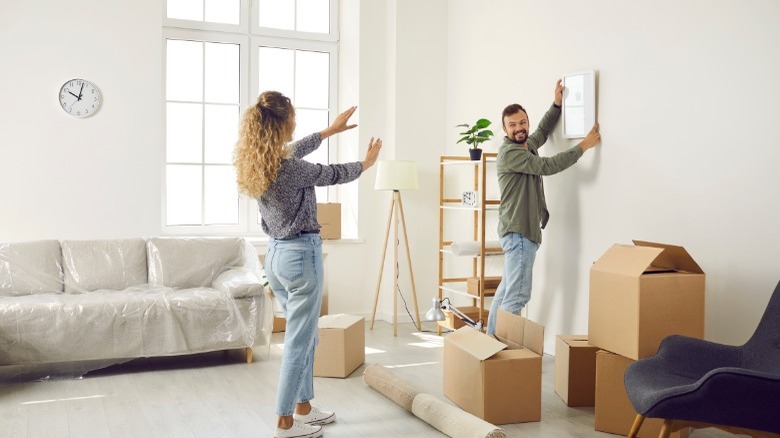 Studio Romantic/Shutterstock
Another thing to keep in mind when making your room-by-room inspection is whether or not it needs a fresh coat of paint. The thing to remember if you want to sell faster is to stay neutral. Neutral colors give potential buyers a blank slate to better imagine what they want to do with the space. People tend to find comfort and a calm, welcoming feeling with neutral colors rather than bold shades, or even pastels. This is especially true for potential home buyers, and the bottom line is that houses with neutral colors sell faster.
Some examples of neutral shades are white, ivory, beige, gray, light brown, even terra cotta. Sticking to colors like these will keep every room versatile for the buyer. Remember that you never know how certain colors might affect some people, eliciting a negative response. Typically that doesn't happen with neutral colors, while even one room in the wrong shade could turn a buyer off.
Give the closets a custom feel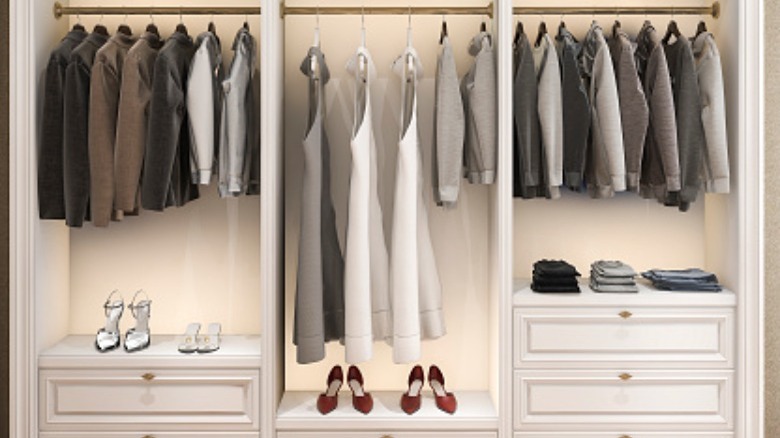 Dit26978/Getty
Every potential buyer will want to peek at the closets, and what they see can have a big impact on their decision to buy or not. A custom-looking closet can be one more factor in getting an offer on your house sooner rather than later. And the best news is that you don't have to pay custom closet prices to get it. You can give your closet a built-in look by removing old wire shelves and rods and measuring the available space. 
Purchase modular shelving units and bookcases at retailers such as Target and Ikea. Find shelving units that fit the available space, put them together, and arrange them to make the most of your closet space. Be sure to incorporate both shelving and space for hanging items. 
You can even take this up a notch by adding a piece of countertop or a wide piece of wood over the top of a low bookcase or two to make a spot for a dressing or makeup table or to add decorative items. And don't overlook lighting – you can add battery-operated LED lights to the closet to brighten it up and give it a custom feel.
Add smart features like lighting
Stock-Asso/Shutterstock
Technology is a huge part of our lives today, and we're implementing more and more smart devices within our homes. Nothing says modern like adding a feature such as smart lighting. This is one of the least expensive smart features that can make a great selling point. According to Homes By Neda, homeowners can save up to 12% on utility bills by using smart lighting, so you can see how this fact can be beneficial. You don't necessarily need to install an entire system with an automation hub and everything, as this can cost around $750.
However, smart lights can be purchased for around $15 and up, and they can be paired with a smartphone by installing an app and controlled from anywhere. Even just having smart lights in the home and using LED bulbs throughout gives it an updated and modern feel. These bulbs save energy and last much longer than other lightbulbs, as well. 
Update kitchen cabinet hardware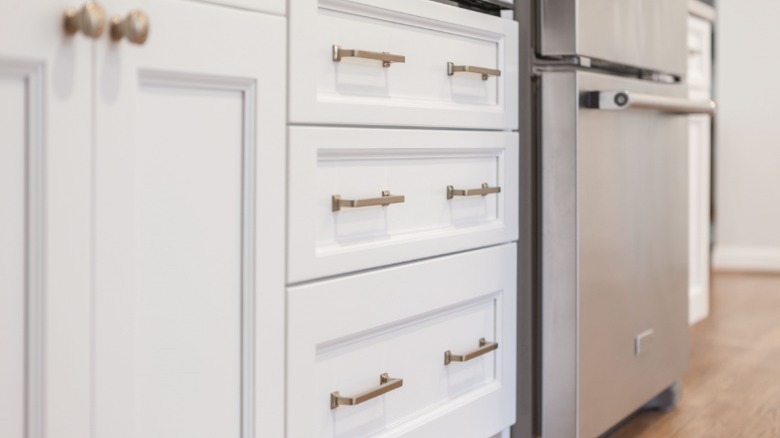 Berkay Demirkan/Shutterstock
Many people think they need to remodel their kitchen when reselling, but most sources say it's not usually necessary. According to Today, the return on investment for a major kitchen renovation is probably not going to be worth it. Instead, you can opt for small, quick upgrades that can really make a difference, such as updating the hardware on your kitchen cabinets. You'll be surprised how much this little touch can add. 
When choosing new kitchen hardware, you'll want to go with something classic and simple. This probably isn't the time for ornate, quirky hardware; remember that the goal is to let buyers envision themselves in the space, and that's easier to do with a more classic approach.
Replacing kitchen cabinet hardware is also an easy DIY project. Measure the distance between the existing screws, so you can get the right size. Otherwise, you'll have to patch holes and drill new ones, which can be a pain. Additionally, count the number of each piece you'll need. You can even take off one of each piece of hardware you'll need and bring them with you to the hardware store to be sure. This is a simple upgrade you can make without spending too much money, and it should take you less than an hour to accomplish.
Replace or fix any leaky faucets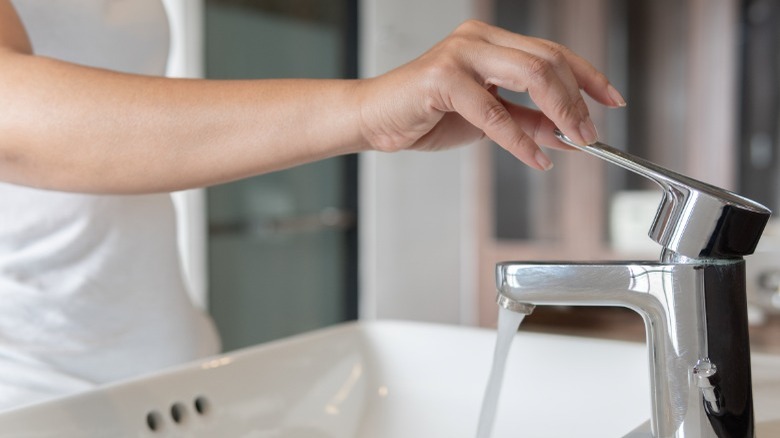 Art Stocker/Shutterstock
While you're at it in the kitchen, check out your faucets and decide if you should replace any. Focus mainly on leaky faucets, since these can be a warning sign for potential buyers. That's because leaky faucets can be an indicator of unseen plumbing issues. If you know it's just the faucet, simply replace it to avoid any misconceptions. You'll want to check bathroom sinks and shower faucets, the kitchen faucet, any laundry room faucets, and outdoor faucets, as well.
Luckily, fixing a leaky faucet is a fairly easy DIY project. First you need to shut off the water and turn them in the on position so that any water will drain out. Remove the handle with the appropriate screwdriver and/or allen wrench. Remove the cartridge or stem from the handle assembly with a wrench and pull straight out. This is the key to why your faucet is leaking, as it's the part that regulates the water flow. At this point, you can either just replace the cartridge with a new one and reattach the handle, or replace the entire faucet if you prefer. Simple hand tools should be all you need.
Even if your faucets aren't leaking, it's not a bad idea to replace them if they're old, outdated, or otherwise look dingy. This is another detail that can help a home stand out to a buyer and makes a home look like it's been maintained well.
Install a kitchen backsplash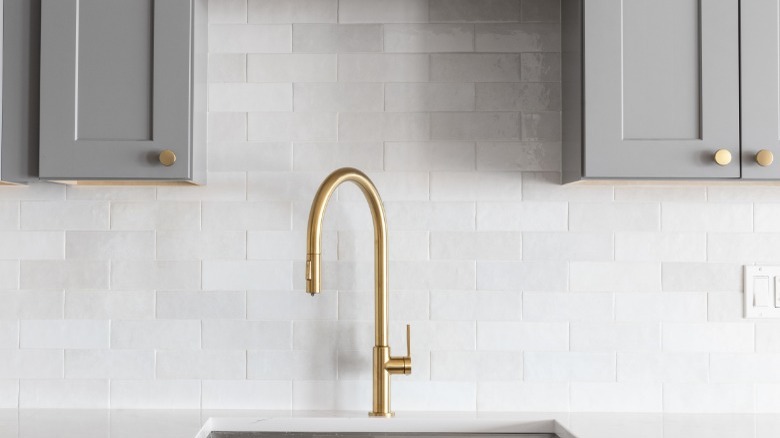 Hendrickson Photography/Shutterstock
The one upgrade you definitely want to remember is to take a look at the kitchen backsplash. This is a feature that will grab the eye and give the entire kitchen a whole new look. Backsplashes are practical to DIY and you can choose from endless materials, designs, and styles. According to USA Today, designer Shaolin Low of Studio Shaolin in Honolulu advises, "Subway tile is classic and timeless." This is the kind of look you want to achieve to appeal to prospective buyers.  
Installing a new kitchen backsplash is feasible on a budget, as well. According to Angi, the tools and materials will cost about $300, and the rest depends on the material and cost you choose for the tiles. But you can save even more by opting for peel-and-stick tiles and skipping the mess of grouting altogether. 
Peel-and-stick tiles are a lot less expensive when you just want to do quick and simple upgrades to sell your house faster. The DIY process is easy and it can feasibly be accomplished in a weekend. Selling your house can be daunting and feel overwhelming, but if you follow these tips and choose simple upgrades like these, you'll sell your house in record time!