Terrazzo Countertops: Here's What To Know Before Choosing Them And How To Style Them In Your Kitchen
Wongsakorn Dulyavit/Shutterstock
If you've realized marble, quartz, and wooden countertops aren't your thing, have you stopped to consider terrazzo? It's made of marble chips, glass, cement, and resin. It's typically depicted with a solid background covered in small, jagged-shaped pieces of different colors. What we especially enjoy about this countertop option is that it comes in a variety of colors, making it a useful design tool to complement a kitchen containing various hues. Those who are fans of Italian décor will be excited to know that terrazzo was first created 500 years ago in Venice and was used to design the flooring at St. Peter's Basilica beneath Michelangelo's mural.
Imagining Italian history sitting on top of your cabinetry is exciting and overwhelming. But jotting down all the important details before making any commitments is important. So, we've gathered a variety of information, such as durability, cost, styling methods, and more, to help you make a responsible decision.
Information you should know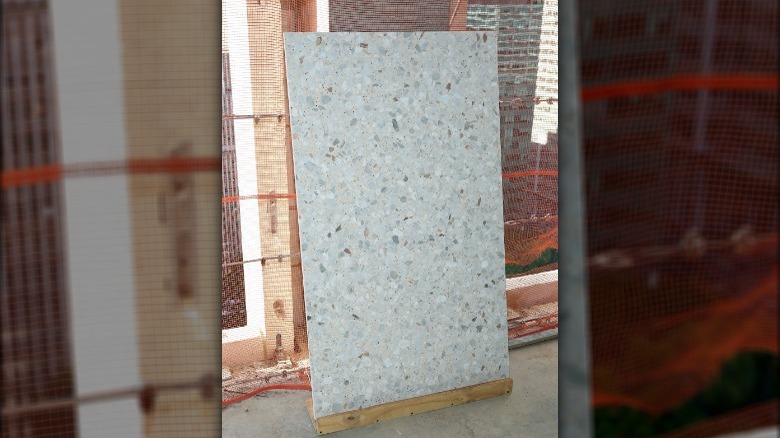 Monica Schipper/Getty Images
The first characteristic we'd like to mention is its heat resistance. Similar to granite, terrazzo is capable of handling high temperatures. While cooking, if you realize there's no heat pad nearby, you can safely place a hot pot onto this material without worrying about damage. Additionally, as manufacturing technologies advance, companies are developing stronger terrazzo options. They usually have a hardiness between 4 and 6, making them resistant to water, chemicals, and stains. It's also relatively more affordable than other materials, such as quartz and slate, and is priced at about $50 to $100 per square foot.
Additionally, terrazzo is an excellent choice for those who desire something eco-friendly. The various materials it's made of are usually recycled, so you'll find that each slab has a distinctive design. The one downside to terrazzo is that if damaged, it's typically costly to fix. However, this is unlikely to happen unless the installation is botched.
How to style terrazzo
Ykvision/Getty Images
The great thing about terrazzo is the countless design options in which it's available. This material can complement kitchen aesthetics using the right colors and patterns. For example, those designing a minimalist kitchen with white cabinetry can easily incorporate a white terrazzo slab featuring specks of warm tones. This will ultimately help a homeowner create a clean yet inviting space. 
However, if you're working with something more eclectic, featuring bright orange and blue cabinetry, creating a cohesive design is quite simple by installing a terrazzo countertop designed with similar shades randomly distributed. But let's say you have a colorful backsplash and hope to tone down the color scheme. More neutral options are available so that your countertop can be more complementary than a focal point. Additionally, you may be used to observing terrazzo slabs with small, busy patterns. However, many available alternatives depict larger-scale patterns capable of creating a calmer design.