Wicker Vs Rattan: Is There A Difference?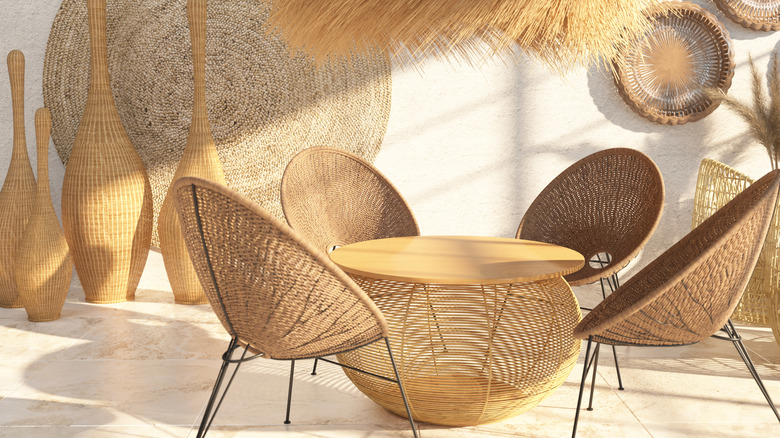 Julia Garan/Getty Images
The boho chic aesthetic is all the rage these days, soaring as high as ever on the trends chart. Originally catching popularity in the 70s, this design choice infuses a room with an eclectic mix of vintage items, natural woods and stones, neutral palettes, green foliage, and fun accents like fringe rugs and pillows. It's a style that works well whether you're a minimalist or a maximalist, and it allows ample opportunity to be creative. Boho chic décor really puts an emphasis on the natural look of handmade items. So, it's no wonder that rattan and wicker furniture are widely sought after to complete this look.
Rattan and wicker pieces are commonly found in antique shops and estate sales due to their durability; this furniture truly lasts for decades. While many use the terms rattan and wicker interchangeably, there is actually a clear difference between the two that should be considered when implementing them into your curated spaces.
Difference between rattan and wicker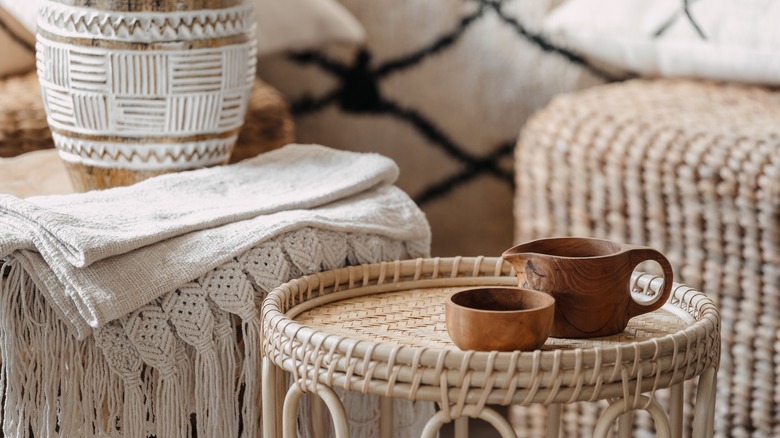 brizmaker/Shutterstock
It's easy to assume that rattan and wicker are the same, considering they are used together so frequently. However, the word rattan refers to the material used while wicker pertains to the woven style we so often see rattan take. This means that wicker furniture can be made from different materials like bamboo, cane, willow, and raffia. Rattan plants are grown in regions such as Africa, Asia, and Australia and have been used for centuries. Before the material was ever used for weaving furniture, rattan was crafted into weapons like spears and arrows. It was also consumed as a food source and used in medicines. Countries like Indonesia and Malaysia still use rattan as a nutritional source today. It became a popular material for furniture due to its durability, flexibility, and low maintenance care — not to mention it's an entirely renewable source.
Wicker is one of the oldest furniture styles known, as instances of this design were found in King Tut's tomb in Egypt. The wicker technique spread quickly around the world. It was adopted by the Romans and then moved into Northern Europe, the British Empire, and of course, eventually to America. America saw its first piece of wicker furniture in 1620 after it arrived on the Mayflower in the form of a baby cradle. That said, wicker did not see mass production in the U.S. until the 19th century.
Natural rattan and synthetic options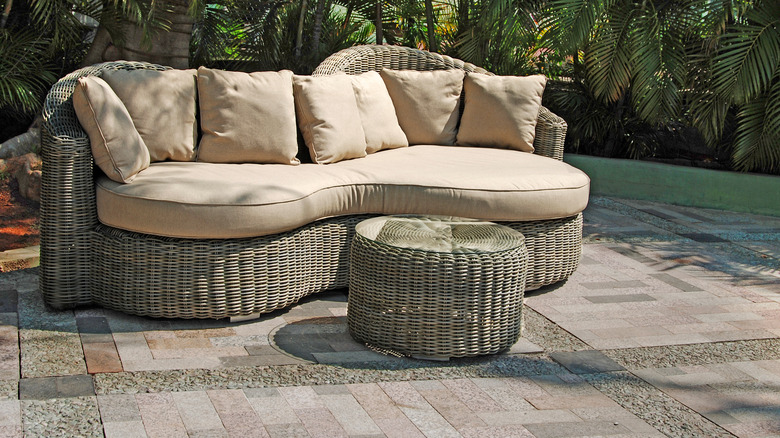 Yudhistira99/Shutterstock
Now that the difference between rattan and wicker has been explained, it's also important to consider the pros and cons of owning wicker furniture made from natural rattan versus synthetic options. Natural rattan is a beautiful material that seems like the clear winner between the two but, unfortunately, rattan does not do well outdoors. Sun exposure, rain, and even just cold weather can be harmful to the material, causing it to become vulnerable to breakage. Natural rattan may not be the best choice for your patio, but it will fit wonderfully into your interior spaces, including sun rooms.
Wicker furniture made from synthetic materials is often the best route for outdoor furniture that has a rattan look. These options are engineered with resin that recreates the natural woven look that is so loved. Furniture made with this technique is also called resin wicker or all-weather wicker. It is crafted with several components that make it long-lasting and suitable for outdoor living. This alternative became mainstream in the mid-2000s and is widely chosen for its affordable price point and wide variety of styles and colors.