Bring Nature's Beauty In Your Home With Perfectly Imperfect Furniture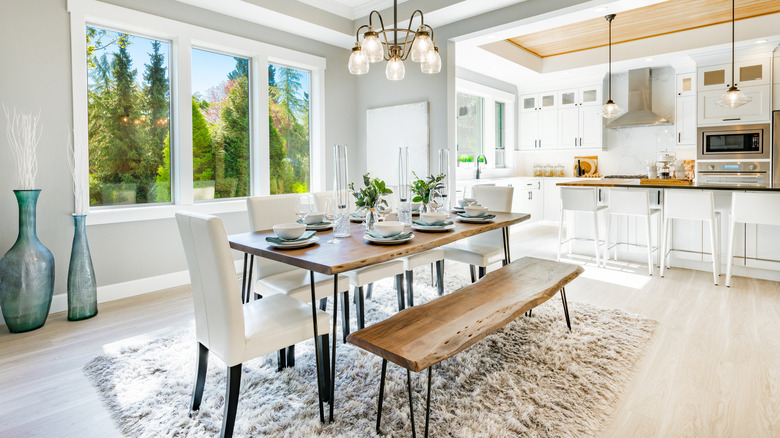 Sheila Say/Shutterstock
With the days of matchy-matchy decorating thankfully behind us, at least for now, perfectly imperfect furniture is beautifully making its way into homes. From farmhouse kitchens to living rooms featuring boho décor, pieces letting the natural loveliness of wood imperfections shine through are more readily available than ever. 
What's so great about this type of furniture? Just one piece can add an eye-catching spotlight feature to a room imparting a warm and inviting vibe. And, since no two pieces are alike, the uniqueness of the wood used in these designs really becomes evident. You can also go with newly made designs that combine the curvy allure of imperfect wood with modern metal elements that bring together the best of both worlds. Whether you choose brand-new furniture or shop your local antique dealers and auction houses for one-of-a-kind pieces, you can easily add a perfectly imperfect accent to your home.
The appealing characteristics of imperfect furniture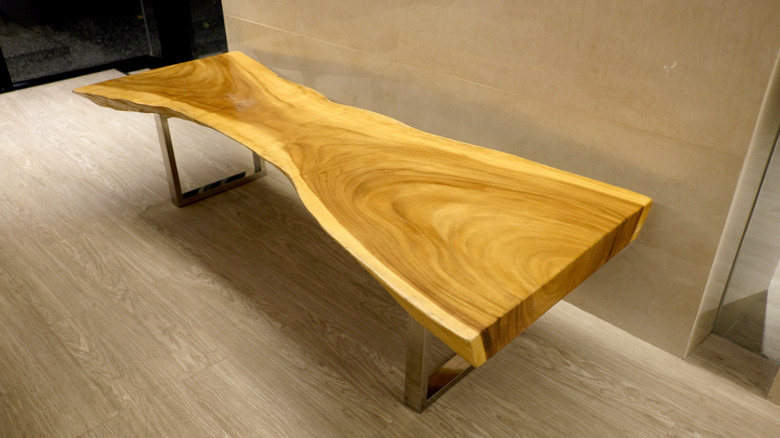 26April/Shutterstock
There are several reasons why imperfect wood furniture pieces are so appealing. In imperfect designs, wood grains take center stage. They can be straight, spirals, or waves, but the way the grain runs through a plank of wood enhances the beauty of a finished piece of furniture. 
Woods can also be coarse-grained or fine-grained. Those terms refer to the texture of the surface. In many imperfect furniture items, the texture is left coarse. It depends on how the item will be used, however. For instance, the top of a stool may be sanded smooth while the legs show more texture. Other features can include figures like those found in birdseye maple, tiger and ribbon patterns, or burling. These elements can add both beauty and value to wood furniture. Other things like wormholes, pecking marks from birds, and knots can give the wood an interesting look.
Many people also like the way imperfect furniture pieces use wood as it is found rather than being cut down into uniform boards. There's less waste this way, and the odd shapes can add even more lovely intrigue to the finished product. 
Exploring imperfect antique furniture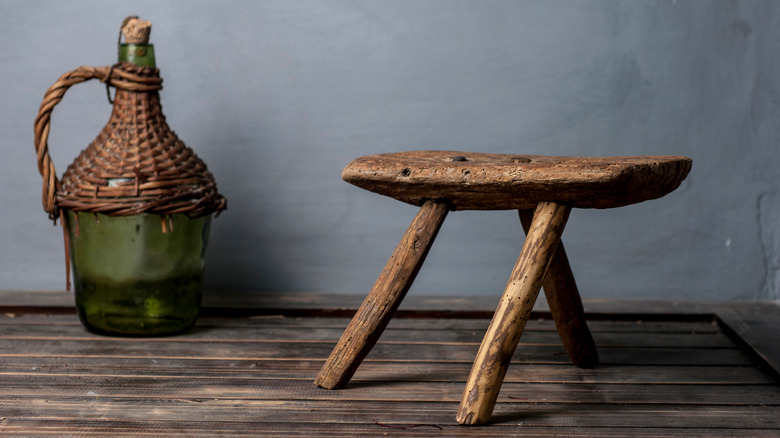 K.Nenkov/Shutterstock
If you're into antiques or want to learn more about them, furniture hand-crafted from wood is a great point of departure. Early pieces called "primitives" fell out of favor over more modern-looking vintage styles for several decades. The popularity of the farmhouse kitchen, however, has been causing more and more home decorators to take another look at this type of perfectly imperfect furniture that can bring the natural beauty of wood into your home. 
Since lots of antique furniture was made by country artisans before industrialization became widespread in the 1800s, these pieces often have construction that is less than perfect. These designs–from milking stools to kitchen cabinets–were made to be utilitarian instead of intrinsically beautiful. They don't have the polish of antique pieces made by skilled furniture makers. 
Handmade square nails, dovetailing that is less than precise, and other crude joining techniques are earmarks of primitives. They may also include closures or pulls that look crudely made. Nevertheless, the lovely details held in the wood shine through. Whether you select a primitive antique as a conversation-starting accent piece for your living area or to add more storage space to your kitchen, these old beauties are a sustainable alternative to consider when decorating with wood furniture.