Pantone's Spring And Summer Color Trends Are Perfect For A Bright, Cheery Home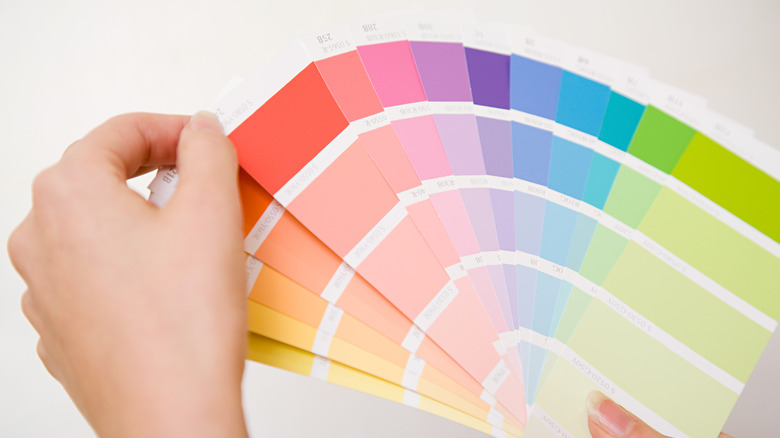 Image Source/Getty Images
If you're having trouble deciding what color to paint your walls this spring and summer, look no further than the Pantone Color Institute 2023 seasonal trend report. The institute released their line of 15 color trend predictions specifically for the fashion industry and New York Fashion Week, but they certainly translate well to home décor and interior design.
Leatrice Eiseman, the Executive Director of the Pantone Color Institute, reported these predictions back in the fall of 2022, saying they intended to "[Blend] escapism with reality, wholesomeness, and joy." Eiseman also described the 2023 spring and summer colors as "the exploration of extreme contrast in mood and color." There are two distinct sides to Pantone's color trends — neutral and vibrant. "There is utility and basic-ness to this season's color story," Eiseman says, "while at the same time, there is an uplifting vital sense of play that comes through." Whether you prefer the subtleties of neutral shades, or like making bold statements with vibrant fashionable colors, there's something for you to explore in the trend report.
Core classics
The first colors the Pantone Color Institute released for their 2023 color predictions were a group of five neutral shades they dubbed the Core Classics; they are described as being calm and quiet. The neutral shown above is called Skylight, a "cleansing aqua" shade. This would be a great color to brighten up a room, especially when paired with lighter oak or pine wood trim, similarly toned wood furniture, linens, and other sea-inspired touches.
Another one of their neutrals is called Vanilla Cream, "a soft and delicious creamy tone." This has a vintage inspired sentiment, especially if used as an alternative to white as a base shade for your walls. It has a slightly pink undertone, making it a nice warm core color. Gray Lilac is the third neutral of the spring/summer predictions, described as an "ethereal lilac infused gray." Similar to Vanilla Cream, it makes a wonderful neutral base shade for painting an entire room. This one, however, is on the cooler side and would pair well with minimalist, contemporary, or rustic farmhouse designs.
A more saturated addition to the line is Leek Green, "a vegetal green." It's a little fresher and more spring-like than sage or olive green, but has a similar earthy neutral impact that would go well with richer mahogany or walnut woods. Last is Macchiato, "a delectable brown with a light layer of foam." This brown shade is a little spicy and very warm, and would go wonderfully with bolder dark shades.
New York Fashion Week color palette
The vivid New York Fashion Week (NYFW) color palette includes 10 vibrant shades, including nearly the whole color spectrum. Some hues, like the intense Fiery Red, punchy Classic Green, and chartreuse inspired Love Bird may be a bit too intense to use in your home interiors. Others are more adaptable, such as the Beetroot Purple seen above. This bold fuchsia would do well as an accent shade in a tropical room paired with golds and greens. The same can be said for Tangelo, an equally striking orange.
For calmer takes on both shades, Pantone also included Crystal Rose and Peach Pink. The former is a little brighter than a dusty rose pink, but more classic and adaptable than millennial pink. You could use it to paint an entire room or just an accent wall. It also has that vintage undertone, but could be used in modern design as well. Peach Pink is a very springy, pink-hued orange. If you want a softer, less intense take on the terracotta craze, this would be a wonderful option. Wrapping up the warm shades is Empire Yellow, which is a brighter take on classic mustard.
Blue Perennial is an edgy steel blue shade that would stand out in industrial designs with steel accents and black furniture. Last is Summer Song, a mature, slightly smoky take on soft blues like Skylight. Enhance it with gray furniture, or contrast it with richer mahogany or cherry woods.