The TikTok Hack That Will Transform Your Throw Blankets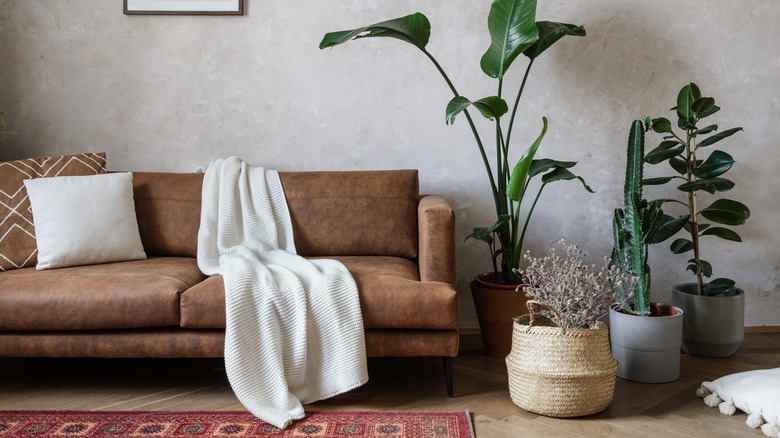 brizmaker/Shutterstock
For many of us, creating a sense of coziness in our homes means piling up a bunch of throw pillows and blankets on furniture in different ways. Although the variety of textures and materials create a beautiful and relaxing design, they can also appear quite messy. Yes, you could create a storage system within a space to keep everything organized, but if done incorrectly, it could take up more space in the room or block traffic flow. If you're unsure which method to turn to next, we've got you covered.
TikTok user organizingbyivonne is a professional organizer based in Houston, Texas. Ivonne posted a video revealing two innovative folding techniques that hide throw blankets in plain sight. So far, the video has gained 2.6 million views, over 104,000 likes, and almost 500 comments. We'll explain how they folded their blankets and their impact on the overall design of their living space.
The folding techniques
Ivonne demonstrated the first folding technique with a dark blue knit blanket. First, they laid it down on a flat surface. Then, starting from the longer edge of the blanket, they rolled it up before grabbing both ends and tying the material into a tight knot. Then, they held each end, one at a time, and tucked them into the knot, resulting in a uniquely shaped bundle they placed against the other pillows.
For the second technique, Ivonne grabbed a lighter blue plush blanket and folded it in half before placing it on the countertop. They then folded it again lengthwise before holding both ends and tucking them toward each other. One end was folded over twice before being strategically pushed into the open fold of the other end, turning it into a cozy, square-shaped pillow. As we review the completed design, no one would immediately believe these pillows were once blankets. Additionally, the overall look was transformed into a clean and organized design.