Is It Possible To Clean A Limewashed Wall?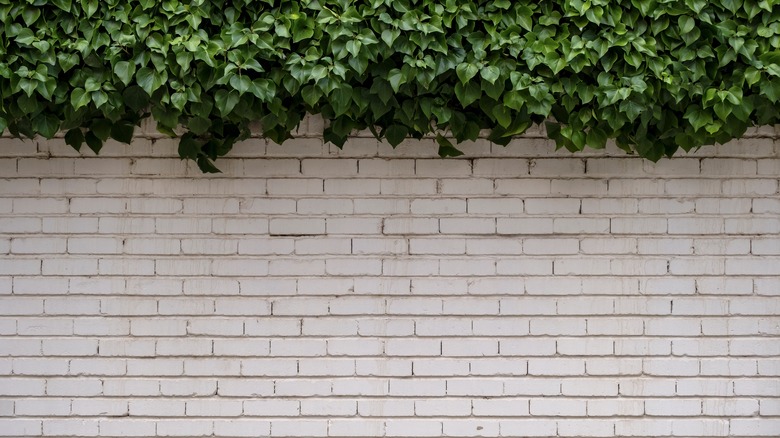 jessicahyde/Shutterstock
Is your limewashed wall starting to look dingy? While limewashing is a brilliant way to coat your exterior and interior walls, sometimes it may require a good cleaning — or does it? Known for their crisp, white texture, limewashed walls are meant to resemble a pristine visual appearance. Often applied to porous surfaces like wood and brick, limewash has a chalky quality that may be more prone to obtaining stains, dirt, and other particles that are a challenge to clean. While the outstanding finish is made to handle the natural elements while aging gracefully, is it okay to wash it? The answer is likely no, as heavy scrubbing and power washing can cause your limewash to deteriorate, but sometimes there are alternative approaches.
According to Farmhouse Finishes, limewash is durable enough to withstand the hindrance of grime and the natural elements, especially over time, as it contains sustainable, antimicrobial properties. While you can apply more of the mineral-based paint every few years to achieve its authentic look, doing less for your limewashed wall is ideal. However, if an area of your wall needs a refresh, a delicate cleaning may help to sustain its brilliance without the need to reapply. Whether it's inside or out, there are a few ways to help promote a spotless limewashed wall without a harmful result.
Gently spot clean your limewashed surface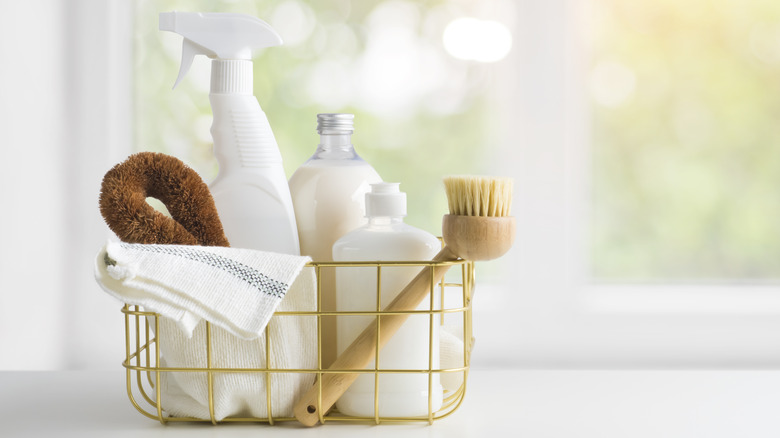 Didecs/Getty Images
From scrubbing to bleaching, highly dirty and soiled areas often require a deep, significant cleanse using a variety of chemicals and techniques. When it comes to limewash, you want to approach it with precision. According to The Coastal Oak, you can mildly wipe away debris and marks from your wall with a soft brush or slightly damp cloth. You might also apply some mild soap within the process without overdoing it. If some of the finish does dissipate, you can touch it up with a water-diluted layer as needed.
While it's important to avoid washing and rubbing limewash most of the time, certain surface areas might require a little more effort. Depending on the severity of your dirtied wall, take precaution when using a power washer. Although power washing is a spectacular method for cleaning various facades, including patio furniture and pavement, it's not recommended for preserving limewash. If you proceed with it, you face the risk of the texture dissolving, so be sure to place the machine on the lowest setting. Additionally, to protect your wall from being washed altogether, you could conceal unsightly markings by placing large pots or plants in front of the area.
Waterproof your limewash with supportive elements
It's hard to keep things clean, especially white limewashed walls. Whether it's from your kids or the weather, some portion may need upkeep at some point. If you want to minimize the possibility of ruining your limewash, look to the application itself. Since the wall material that the coating is applied to is already naturally absorbent, mixing in various bonding materials may make it less penetrable, per Lancaster Lime Works. Casein is an effective additive, as the milk-based protein acts like a glue to support the overall adhesion within the mixture. You might also try acrylic primer, latex, and xanthan gum.
Including these types of elements can help determine how well your limewashed area will manage being periodically cleaned, including becoming more water-resistant. Limewash alone is a drying agent and can also assist in preventing unforeseen mold and mildew. While there are both benefits and risks to cleaning your limewashed wall, it's vital to consider the various routes toward supporting its longevity.