HGTV's Erin And Ben Napier Demonstrate How To Bring A Tornado-Damaged Home Back To Life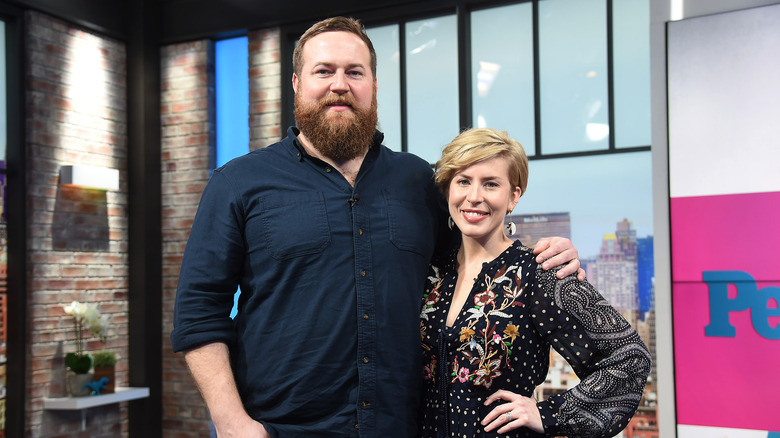 Gary Gershoff/Getty Images
Tornados are one of the most common natural disasters communities face yearly. Every year, the months of March and June see 70% of the year's tornado activity, leaving too many families displaced with homes lost (via National Weather Service). In 2021, Statista reported that $229 million in damage was caused across the United States, and the National Centers for Environment Information (NCEI) recorded 1,376 occurrences.
While home insurances have a dwelling clause that helps financially protect against these damages, it can be incredibly overwhelming to see torn shingles and siding from your house or your favorite tree collapse on the roof. Where do you even begin to repair your home after so much destruction has taken place? HGTV husband and wife duo Ben and Erin Napier face this challenge in a season seven episode of their show "Home Town," showing families all around the nation that it is possible to revive your home in the face of this loss.
Create a safe space tailored to your lifestyle
Taking this process in steps and focusing on specific parts at a time will be key to making this undertaking more manageable. The first component Ben and Erin assess is the safety hazards the current state of the house presented. For this house in particular, it was a tree that destroyed a portion of the roof, as well as rot and mold that affected the structure and foundation of the home. There was also an extreme amount of termite damage to contend with. "We have focused all of our efforts on making the Hollingsworth house structurally sound," Ben said, per Realtor.com.
Once all obstructions had been removed and safety risks repaired, Ben and Erin focused on rebuilding this house to better fit the family's needs. There is optimism to be found in the direst situations, and the Napiers find it in the opportunity to not only rebuild but also to renovate. In this case, they decided to make it more wheelchair accessible by widening doors and walls and removing a bedroom to create a larger bathroom with an easy-access shower and laundry system.
Pulling it all together
After all the patching and renovations, your creativity can flow freely as you work on repainting the interior walls and laying down any new flooring that is needed. Refurbishing old furniture and bringing in some new pieces will give your home a sense of nostalgia while embracing a fresh start. Erin works on repainting a beloved porch bench for the family that has been with the house for 50 years. "I think it's incredibly important when the Hollingsworths see this house for the first time that they recognize something from the past," she said, according to Realtor.com. "This isn't going to feel like the home they left unless that porch swing is there and it's blue."
The couple also recommends certain design choices, such as a round table for the square dining room. However, the Hollingsworths have a large family, so they chose an oval shape that could accommodate more people. They also brought in sentimental items such as photos and medals, incorporating the family's experiences into the layout. Repainting the house's exterior and fixing the lawn are some final touches to complete a home that was once thought to be lost.