Dress Up Your Drab Room Divider With One Artsy Hack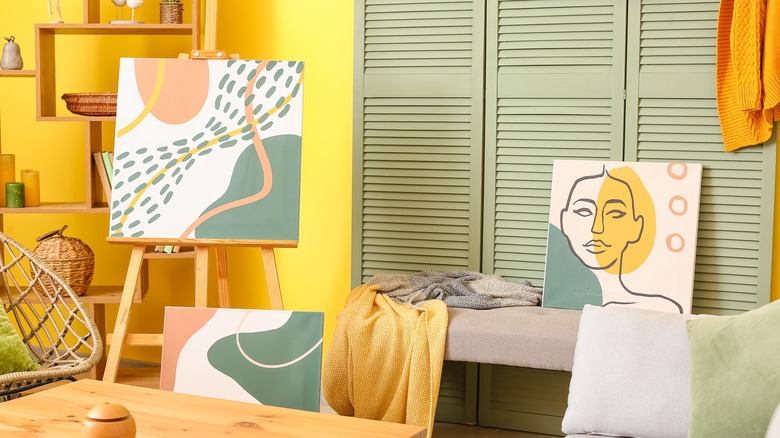 Pixel-Shot/Shutterstock
Room dividers can fill a number of décor needs, including space designation and privacy. They can also be largely decorative, adding a focal point or architectural interest that can entirely change the shape of a room. Available in several materials, there is a room divider for every kind of design scheme and price point ranging from simple, lightweight Japanese-inspired paper screens to heavy, ornate wood-carved pieces. They also can serve as a solution to one of decorating's most difficult challenges, providing a great place for hanging art and other elements without having to drive nails into plaster walls or mess up careful paint jobs or wallpaper.
It's an approach particularly perfect if you are a renter or if you are trying to make as little impact on new walls and paint. A room divider can be an ideal mini-gallery for artwork in your home while also serving the functions room dividers are made for, be that breaking up rooms into zones, highlighting certain areas, or granting privacy and coziness to open spaces.
Create a room divider gallery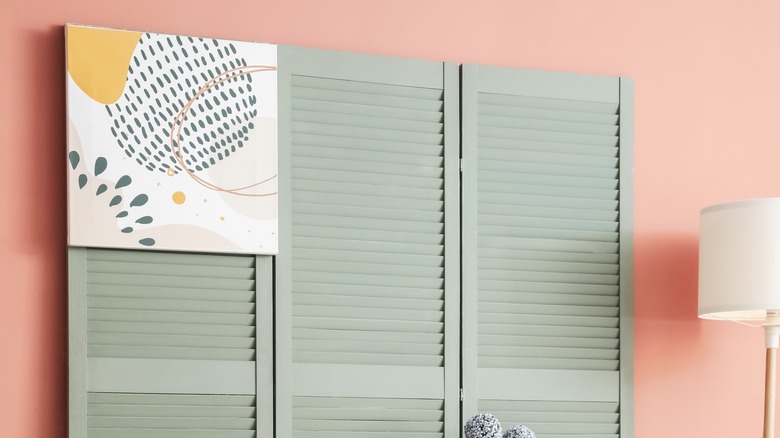 Pixel-Shot/Shutterstock
Since room dividers come in a number of materials, the best way to hang art on them will differ across dividers. Wood-framed screens allow the use of small nails but can also be augmented with adhesive hooks or thumbtacks. Softer screens made of paper and fabric can serve as backdrops for art by creating a loop over the top out of thin wire or an invisible fishing line. This can be looped through the hanging apparatus of the artwork. Lighter pieces of art can be hung using strong two-sided tape or museum putty. You can also purchase dividers that are specifically for displaying photos and art.
As for the artwork, the sky is the limit. You can use smaller framed art, either matching or varying, to create a stunning, portable gallery wall on your divider. You can also use it to hang one or two large paintings on either side or as a backrest for larger, leaning pieces on the floor or furniture. For a more informal look, you can create a mix of unframed pieces, creating a bulletin board-like effect that works particularly well in an office or art/craft room. Use a combination of postcards, ephemera, photographs, prints, and posters to create a large-scale collage or inspiration board. You can also mix other small elements, such as small hanging plants, sconces, and little sculptural pieces.
Make your room divider a piece of art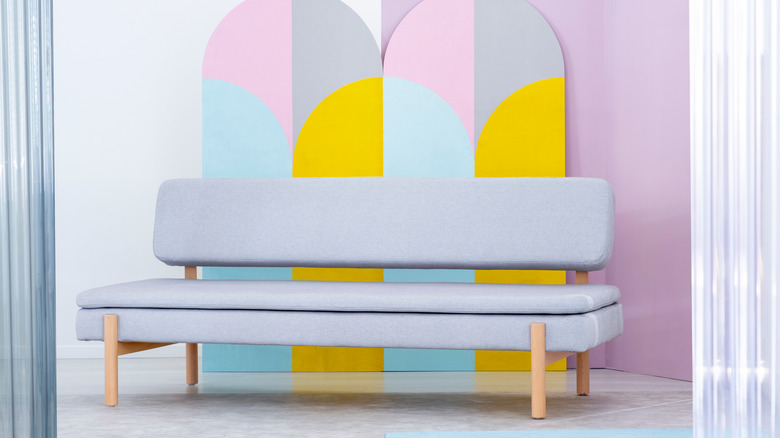 Ground Picture/Shutterstock
Another approach to augmenting your room divider with art is making your divider a beautiful work of art all on its own. For example, a simple wooden divider can be covered in peel-and-stick wallpaper or an adhesive mural design. The white paper of an inexpensive paper screen can be removed, and the framework transformed with decorative paper or fabric. Wooden or other solid material dividers can be augmented with paint, stencils, and other techniques to create unique custom designs that perfectly fit your décor.
You can also create an artistic room divider by purchasing two or three large canvases and some hinges. Attaching the wood frames of the canvases gives you a two or three-part canvas. (This is also a great idea for a kids' room drawing wall.) If you lack an artist's touch, try creating abstract landscapes, florals, or geometric shapes. The result is a high-end look for a more budget-friendly cost. If the back will be visible, you can cover it with fabric or paper that coordinates with the artwork on the front.