Different Toilet Designs To Complement The Style Of Your Bathroom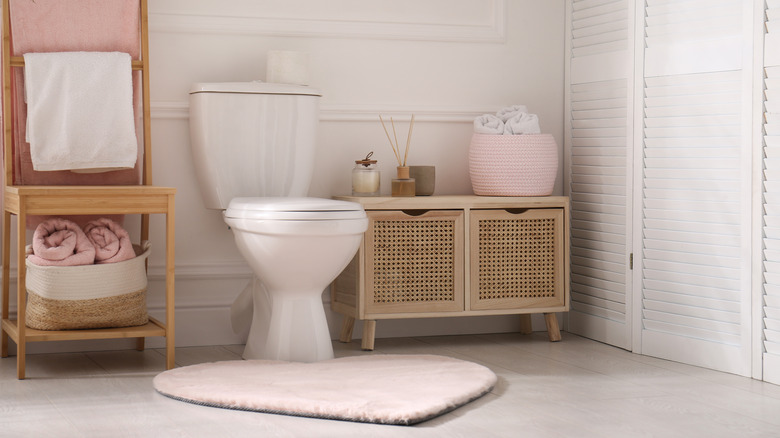 New Africa/Shutterstock
Are you renovating your bathroom soon? If so, you've likely already found the perfect shower tile, vanity, and light fixtures for the space. But, what about the toilet? Toilet shopping may not be the most exciting activity, but do you really want to go through all the hard work of a bathroom reno, just to have something as mundane as a toilet ruin the aesthetic of your bathroom? Probably not. So, it's important to be aware of the different types of toilet designs available.
For instance, two-piece toilets — which feature a separate water tank and bowl — are a common choice among homeowners due to their affordability and durability. You've likely come across countless standard two-piece toilet designs without realizing there may be a different style best suited for your home. The same goes for a one-piece, back-to-wall, and wall-hung options. To fully complete your bathroom remodel, here are the toilet designs we think will complement your design scheme.
Victorian era vibes
If you're working on designing a home inspired by the Victorian era, modern-styled plumbing likely won't cut it. So, we recommend taking a look at low-level toilets, particularly the ones where the cistern is installed on the wall and is connected to the bottom half of the toilet with an exposed pipe. Additionally, this style typically offers multiple finish options for the seat cover, giving homeowners the chance to choose something that will complement their color scheme. There is also a high-level toilet option, which is the same design, but the cistern is installed much higher on the wall. To really accommodate the Victoria era, we suggest choosing something constructed with multiple finishes rather than one.
Another benefit of introducing this toilet style is that it's fairly simple to install. Typically, no plumbing upgrades need to be made if you are replacing an older toilet. And, there's also the choice of just replacing your current cistern with a wall-mounted one to create the Victorian-era look without purchasing an entirely brand-new toilet.
A minimalists' first choice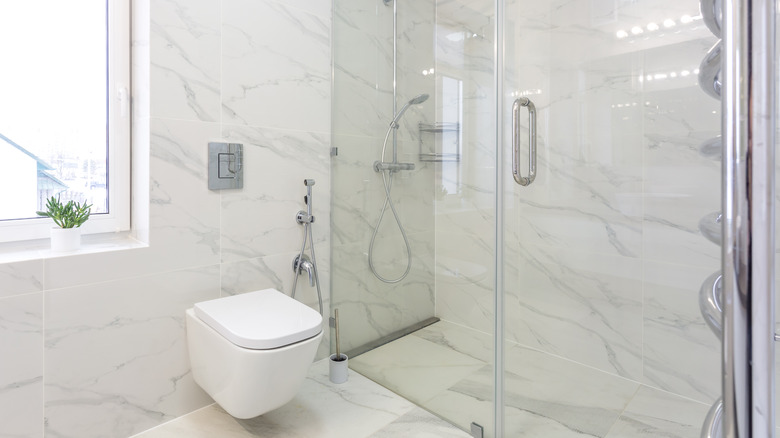 jantsarik/Shutterstock
For those craving something simple for a minimalistic designed bathroom, we recommend taking a look at wall-mounted toilets. Since it does not touch the floor, it can make your bathroom feel more open by revealing the tile underneath. Also, it's typically made available in a basic, round shape with little to no detailing, making it a complementary option in a space designed with minimal décor. However, there are other options available in different colors and shapes to elevate a retro or eclectic space.
Other than the functional and aesthetically pleasing design benefits, there are other benefits to consider. For example, since it is wall-hung, homeowners have the flexibility to mount this type of toilet at various heights to accommodate their size. Additionally, it is also a more accessible option for those with disabilities. The one major drawback is that this style of toilet can be a bit pricey, with labor costs averaging between $400 to $900.
Toilet and furniture combo
A combination we find interesting is back-to-wall toilets combined with storage units. Just as the name implies, this type of toilet sits on the floor with its back against the cabinet and the cistern is hidden inside, but hiding it away in a stylish piece of furniture may better benefit the aesthetic of your bathroom. There are a variety of styles available to accommodate different design schemes, such as a paneled option for a more sophisticated theme or a distressed wood design to complement other rustic finishes. Alternatively, you can opt for one with open shelves to provide extra storage.
Additionally, combining a back-to-wall toilet with some sort of furniture unit makes installation easier than if you were to install it directly against the wall. If you choose to go with the latter, then you'll likely pay minimal labor costs to rework the plumbing and have it installed.
Corner toilet
Is your current toilet taking up too much space while sitting flat against a wall? A corner toilet may be your solution. If your current system is covering almost half of the square footage in your bathroom, it may limit your ability to properly store items or decorate the area. So, a corner toilet, or a triangle toilet, often features a pointed cistern that fits directly into the corner of the room. With this option, you'll have more space to satisfy your styling needs.
Additionally, there are a variety of styles to choose from. For instance, those designing a contemporary bathroom may prefer a corner toilet created with a square seat that features straight edges. There are also options available for more traditional styles, such as corner toilets with dimensional detailing similar to crown molding. The installation process for this design is similar to that of a standard toilet.
A subtle yet impactful alteration
If you're a homeowner who has already renovated their bathroom and is now thinking, "wow, the toilet I chose doesn't match my bathroom at all," you don't have to go ripping it out and replacing it with a new one. One solution is actually quite simple — change the toilet handle. There are countless of options available to complement the design scheme of your space. If your toilet is not as contemporary as you'd like, simply switch out the handle with a sleek, brass or black, flat lever.
However, maybe you'd prefer something a bit more traditional and want to amplify that aesthetic in your bathroom. If so, we suggest choosing something more detailed and ornamental. There are even adorable metal cross handles available that would look stunning in a beach house or nautical-themed home. Additionally, most toilet handles are under $100, proving this is a budget-saving option for anyone wanting to avoid replacing their toilet.