Use A Potato Sack As Wall Decor For An Artistic, Quirky Touch To Your Home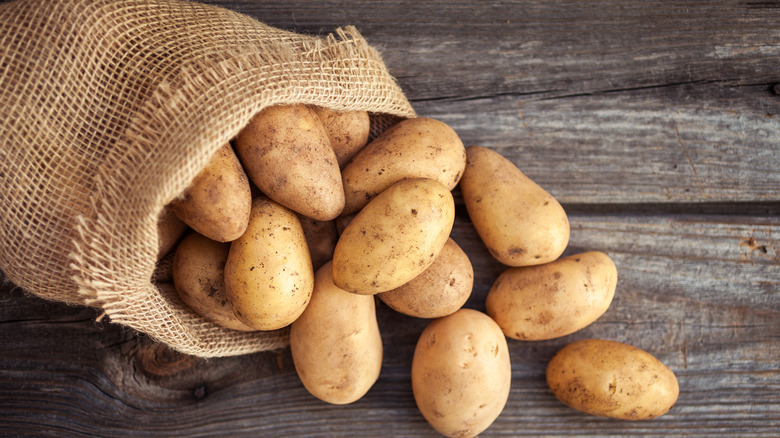 Val_R/Shutterstock
Finding secondary uses for potato sacks is a great way to upcycle something that would otherwise be thrown out. Made from burlap, a woven fabric that comes from jute plant skin, potato sacks can be used in sustainable fashion as clothes and accessories, and they can also add a unique texture to the home. The presence of burlap can create a homespun vibe because it represents some of the neutral colors and materials that drive the simple, rustic décor style.
Adding a potato sack to your home as a piece of trendy wall art extends a quirky touch as that rustic feel allows for a natural and organic look without forcing the overall aesthetic to become pretentious. This means getting really creative with the items you bring in. The potato sack, or any other burlap sack like coffee bags, can be used as a table runner, turned into a storage basket, used to reupholster a surface, or framed and displayed on the wall. Here are some ways to turn this standard kitchen item into decorative and functional wall décor.
Decorative wall art
yarbeer/Shutterstock
Potato sacks often come with quirky, unique designs on them. Make them the star of your wall by flattening them out and hanging them up. You'll need plywood frames, nails, a picture hanger, and a staple gun to complete this project. Start by measuring the sack so you know what size of frame to get. Then, slip the frame inside the sack and staple down the corners on the back side. Make sure all the sides are secure and that the sack is pulled taut and firmly in place. Lastly, affix a picture hanger on the back and it's ready to hang!
You can also turn a potato sack into a decorative scroll. Get two 1-inch by 2-inch wood strips that match the burlap and the rest of your décor. They should also be cut to the same width as the top and bottom of the sack. Next, adhere the wood pieces to the front of the sack using strong glue and staples to hold it in place. Finally, add a piece of twine or rope to the top part for easy hanging and your scroll is complete.
Functional wall décor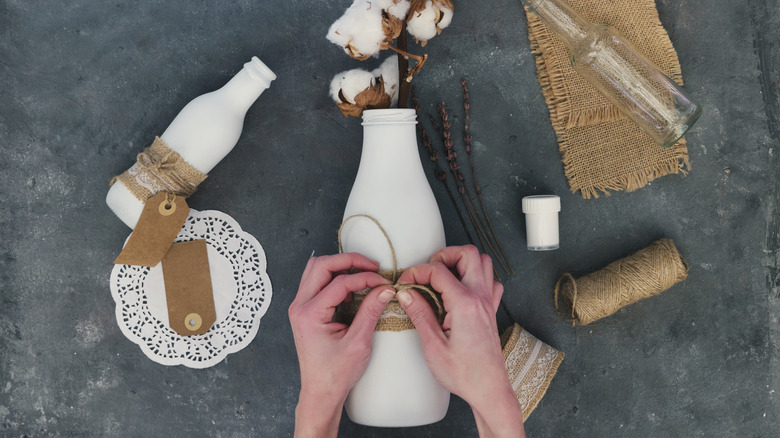 VictoriaArt/Shutterstock
Potato sacks transformed into wall décor can be both decorative and functional. One way to achieve this is by turning them into sacks that hang on the kitchen wall and hold vegetables. All you need to do for this is add two small ropes on the side so you can hang the bag from nails on the wall. Ensure the handles are strong enough to withstand the weight that the bag will carry. When you're done, you now have a place to store things like onions and garlic so they're within reach and look cute, too.
Another functional way potato sacks can add an artistic, quirky touch to your home is by using them as drapes or curtains. You'll need a sewing machine to join the pieces together and also tidy up the ends so they don't fray. Hang them up on curtain rods like normal and you now have shades that filter the sunlight and illuminate the room in a unique, flattering way (via Remodelista). Don't throw away the remaining scraps; you can use those to decorate vases, jars, and planters, as seen above.