Organization Tips That Will Make Your Child's Closet So Much Easier To Navigate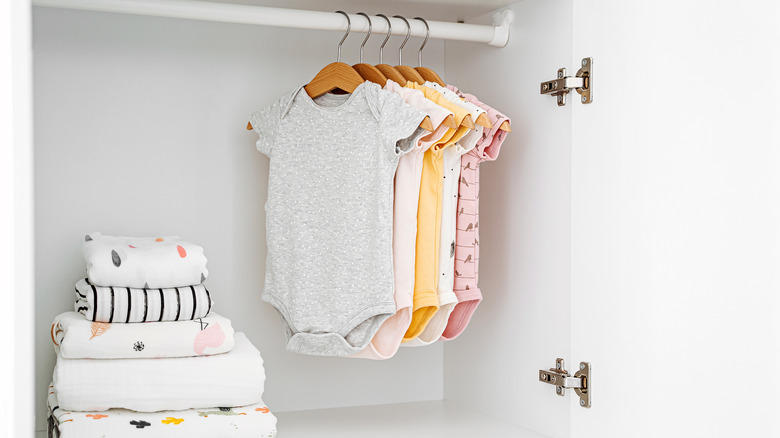 Igisheva Maria/Shutterstock
Keeping your own closet organized can be enough of a chore. When you add in the task of keeping a child's closet organized, many parents want to throw up their hands in defeat. A child's closet typically holds several sizes of clothing, including what they're wearing now and outfits they will grow into in the coming months or years. Beyond all the clothes, you may also need to use your child's closet to hold shoes, bedding and linens, and even toys. 
With all of these items in one (often) small closet, trying to find a place for everything can seem impossible. Fortunately, there are a few simple tips that can help you get — and keep — everything in its place and easily accessible. Use the ideas below to regain control of a disorganized and disorderly closet by finding a system that will work for both you and your child.
Install double hanging bars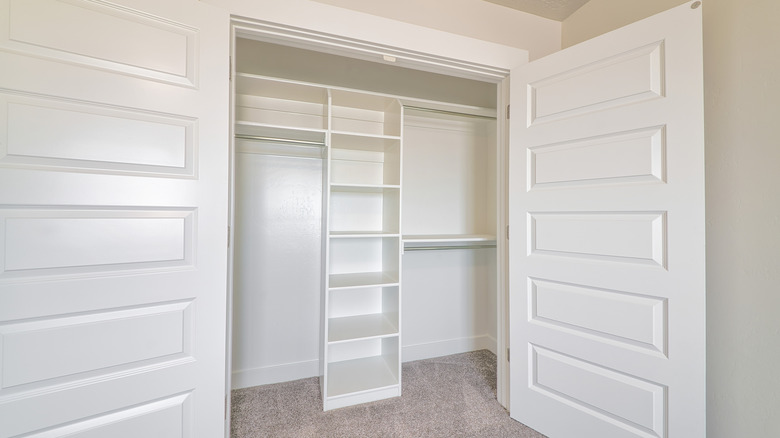 Jason Finn/Shutterstock
Double hanging bars can be a lifesaver, particularly in a closet for younger children. Children's clothes are small and don't take up a lot of space vertically. However, children can easily fill up the rod when they have several outfits in multiple sizes in their closets. A simple solution is switching from a single hanging bar to a double hanging system. With two bars, you'll have double the space to hang clothing and outerwear for your child.
Not only will this solution help free up space in the closet, but it is also a relatively simple fix. You just need to install brackets for the rod, or consider a tension rod as a more temporary solution. And, voilà, the closet will magically have twice as much space to hold clothing. If you have two children sharing a room and a closet, you could even assign one hanging bar to each child to help keep their clothing separated and easier to find.
Bins and baskets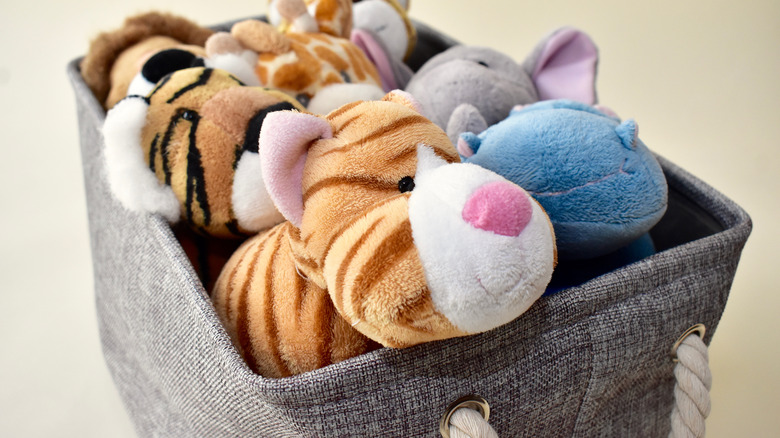 Klem Mitch/Shutterstock
If your child's closet is like many, it probably holds several stuffed animals, pairs of shoes, toys, and various trinkets and mementos collected over the years. If not properly stored, these items are probably accumulating on the floor or one of the shelves, taking up valuable space. Investing in a few bins and baskets can help you contain and organize all of the smaller items in the closet. They'll take up less space when consolidated in a container than if left strewed about on the floor or a shelf. Label each bin to make it even easier to find everything.
If you want to be able to quickly spot what you're looking for, consider placing everything in clear totes. Alternatively, you could find bins with a cute color or pattern to coordinate with your child's room and their interests. Either way, you'll be glad to have more usable space in the closet to organize all of your child's belongings.
Over-the-door organizers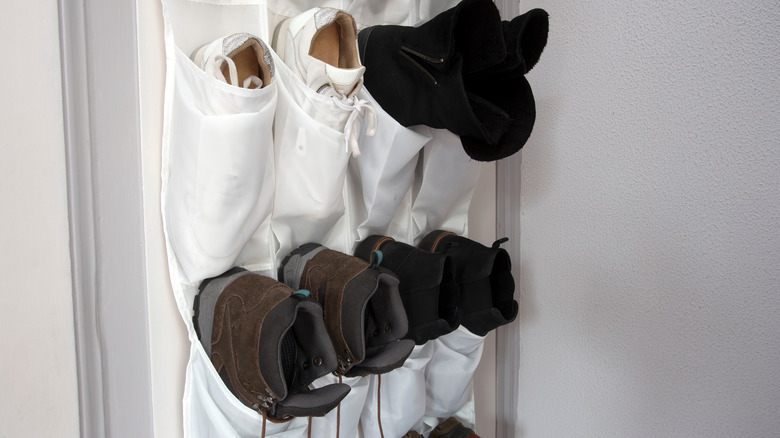 A-photographyy/Shutterstock
One mistake many people make when organizing a closet is only using the space inside the alcove. The doors themselves are often overlooked. However, doors can be used for more than hiding the inside contents. 
Over-the-door organizers can help you achieve this goal. They don't take up any shelf or floor space but can hold several items. There are several styles to choose from, and the right one for your child's closet will depend on the specific items you need more space for. For example, if you want to clear up hanging space by taking coats and jackets off the rack, look for an over-the-door organizer with hooks. If their shoes have taken over the entire closet floor, then an over-the-door shoe rack may be the ideal solution. You can also find organizers with bins, pouches, or baskets to hold a variety of other items like stuffed animals or small toys.
Child-size space-saving hangers
Lulian Valentin/Shutterstock
Using the wrong hangers can prevent you from making the most of the available storage space in your child's closet. If you currently use a mix of random hangers, you may not realize how much space they're wasting. Switching to space-saving hangers is a good idea. These types of hangers offer a much slimmer profile. They nest nicely together, and because they are all a uniform size, you don't have to worry as much about them getting caught and tangled up together. You can find space-saving hangers in both child and adult sizes, depending on your kid's age and how large or small their clothes are.
In addition to freeing up some room to hang more clothes, space-saving hangers will help make your child's closet look more organized and attractive. They'll all be the same size and color, offering a much more streamlined look than a hodge podge of different types. You'll be better able to focus on the clothing itself, rather than the mess holding it up.
Labeled dividers
Does your child's closet serve as a storage space for larger clothing sizes that they haven't yet grown into? If so, you already know how easy it is for sizes to get mixed together and how difficult it can be to find what you're looking for. Fortunately, this problem is an easy one to solve. Hanging dividers on the bar between the different sizes will allow you to easily find what you're looking for. When you're ready to pull out clothing in the next size up, you can grab everything next to the marked divider without having to look at each individual item's tag.
You can find closet dividers through a variety of retailers, but they are also something that you could easily make on your own without spending much money. You'll just need some sturdy cardboard, a pair of scissors, and a few markers. Then, simply cut round discs with a slit so that they'll hang and slide on the closet bar. Label each disc with a different clothing size, and then get everything all organized in the closet.
Use hooks for extra hanging
Thomas Collett/Shutterstock
We're not all lucky enough to have a huge closet with more hanging space than we'd ever be able to use. In fact, for many of us (and our children), it's quite the opposite: A tight closet that could benefit from much more hanging space than is available. While you can't extend the bar in the closet and magically create more space, there is another thing you can do. Attach some hooks on the sides of the wall or the back of the door to create more space to hang up and organize your child's belongings.
Hooks can come in handy for a range of items, including coats and jackets, scarves, bags, and more. You could even hang them at a more convenient height for your child to reach. If they can't yet reach the bar in the closet, being able to reach the hooks could help them become more independent with accessing and putting away their things.
Develop a system for outgrown clothing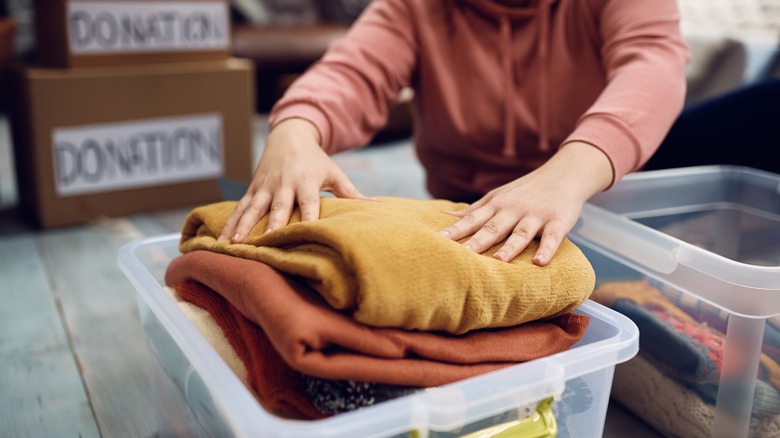 Drazen Zigic/Shutterstock
Kids can grow like weeds. Each time they hit a growth spurt and outgrow their current clothing size, you're left with a huge pile of clothing that is too small. Coming up with a system to help you keep up with all of the clothes they have outgrown is essential. Otherwise, the items will end up taking over their drawers and closets.
Before creating your system, decide what to do with the leftover clothing. Will you be keeping it for a younger sibling, giving it away to a friend or family member, donating it, or saving some special items for future generations? Once you know what you'll be doing with the old clothing items, ensuring they are properly organized and dealt with will be easier.
One of the best ways to keep them from taking over your child's closet is to place a bin on the closet floor to hold these items. After the container is full, you can either store it for a younger sibling or pass it on to its new owner. If you plan on keeping items long-term, consider using vacuum-sealed bags to conserve as much space as possible.
Daily outfit organizer
Do you (and your child) dread mornings when they have to decide what they will wear for the day? If you're tired of walking into a mess on the floor or arguing with your kid about why they can't wear a tank top in the middle of winter or a pair of pajama pants to school, take steps to eliminate this daily headache. Look for a hanging closet organizer with at least five different slots designed to hold clothing. Label each of these with a day of the week (at least the weekdays if there are only five slots).
Each weekend, you and your child can work together to pick out outfits for the week and place them in the corresponding slot. Then, when it's morning and time to get dressed, there won't be any confusion or arguments about what they should wear. They can just pull out the outfit for the day and get ready to go.
Don't forget to save space for toys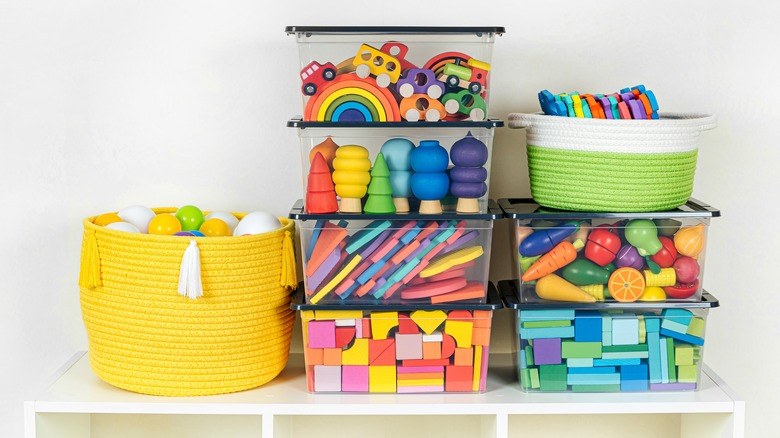 Igisheva Maria/Shutterstock
A child's closet needs to have some space for toys. If you don't carve out some space or come up with an organizational system, the toys are still going to end up in the closet. They just won't be organized and will be all over the floor, taking up space where something else belongs.
Depending on the size and layout of the closet, this will look different for each situation. You could place a large bin or hamper on the floor to hold stuffed animals, use small containers on the shelves to store smaller toys, or place a cubby organizer and square totes under the hanging space to keep everything within easy access. If you have a large closet, half of the area can be earmarked for playthings and the other for clothes. If you have a smaller space, try hanging a shoe organizer on both sides of the door and filling it with stuffed animals, dolls, or toy cars.
Consider a closet system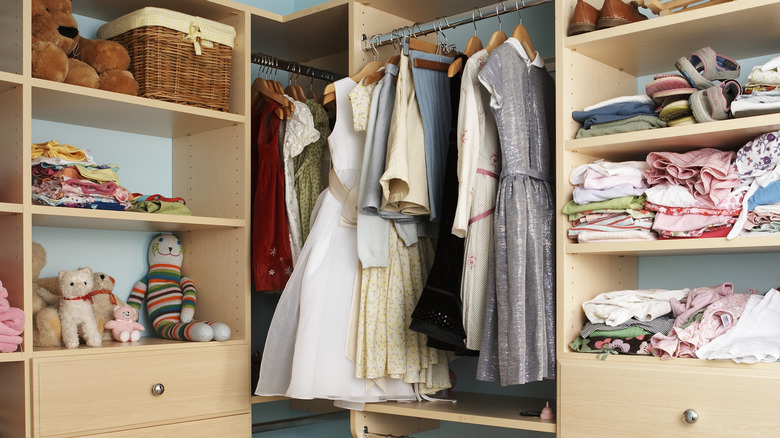 Thomas Northcut/Getty Images
A closet system is something else you might want to consider when trying to keep your child's wardrobe organized. These systems can be customized and can include shelves, drawers, rods, cabinets, and shoe racks. You can go to places like Ikea and The Container Store to create your own design based on their rendering app using the specific measurements of your closet, allowing you to make the most of every inch. Going this route also allows you to choose which elements you need most. For example, does your kid have a lot of dresses and T-shirts but not many sweaters? Then you probably need more rods than shelves. If you're feeling extra fancy and your budget allows it, you could consider hiring a closet designing company to work with you to determine your specific storage needs and come up with a layout that will offer everything you're looking for.
There are also budget-friendly closet systems. You can DIY one by buying Target or Ikea bookshelves and dressers and stacking them side by side to create your storage system. The bookshelves transform into cubbies, creating vertical storage, and the dressers make the most of the bottom of your closet. There are tons of DIY hacks on both YouTube and TikTok to show you exactly what to buy and how to arrange it. 
Involve children in organizing everything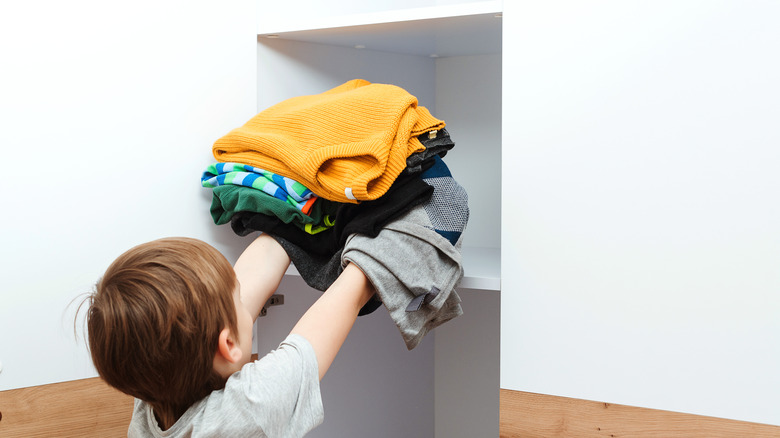 Volurol/Shutterstock
Keeping your child's closet organized shouldn't be your sole responsibility. If they are old enough, they should be helping to put clothing and toys away in their correct spaces. If you really want to get their buy-in and make sure that they're invested in keeping their closet tidy, you will want to involve them in the initial organization process. They're much more likely to understand the system if they were involved in creating it. They're also much more likely to want to keep their closet organized if they understand all of the hard work that went into getting it neat and tidy in the first place.
Ask your child to help you sort all of their toys and shoes into the corresponding bins or shelves where they will belong. If they're old enough, you could even have them help write the labels for the different dividers and containers for their items. As you're working with them, make sure that they understand where everything goes so they can put it back into the correct spot.
Keep items accessible to the child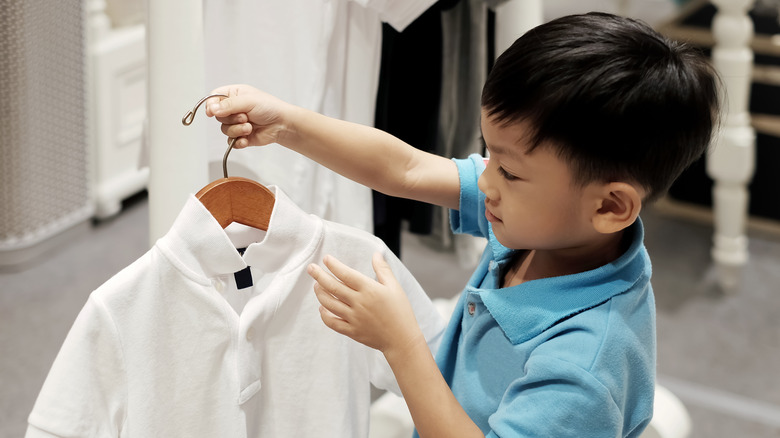 Robie Online/Shutterstock
If you want your son or daughter to be able to help put clothing, toys, shoes, and other items back in their closet, then it is important to keep accessibility in mind. Young children are too short to reach the top closet rod, so it is unrealistic to expect them to be able to hang up their clothes independently. However, with some purposeful planning, there are ways you can make several areas of the closet more accessible.
When picking out bins and other organizers, consider using a cubby shelf on the floor. This way, your kid can access each section to put their things away. Over-the-door organizers that go farther down the back of a door also offer more accessible spaces for younger kids to reach. Accessibility is another reason to consider a double-hanging closet bar. Not only will it increase the overall storage space of the wardrobe, but younger children will also be able to reach and hang up their own clothes.
Make it fun and colorful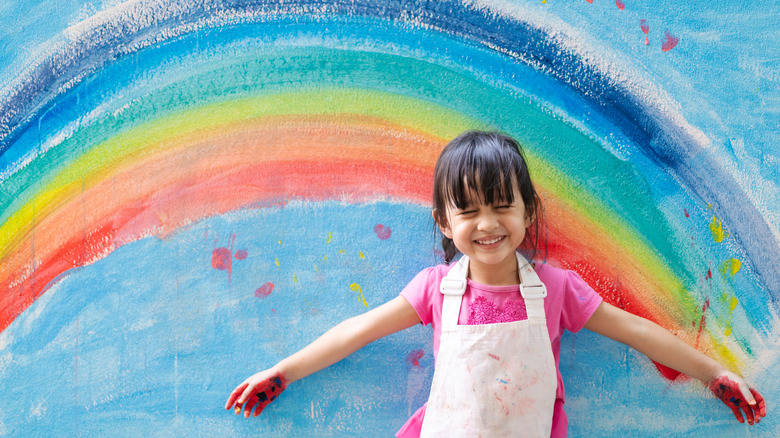 SUKJAI PHOTO/Shutterstock
Finally, don't let the daunting task of organizing distract you from the fact that you are working in your child's room. Find ways to make the new closet system fun, colorful, and enjoyable for your son or daughter. This is another perfect opportunity to involve your little one in the process. Have them help you pick out the bins and labels they use. Let them paint the closet walls with their favorite color. Encourage them to pick a theme and shop for coordinating supplies together. There are so many different ways to add some fun to even a simple and (currently) boring closet.
Not only will your kid enjoy the opportunity to decorate their closet, but they'll also be happier with the finished product. And, when they're more invested in the closet and overall organization system, it will be much likelier that they'll want to keep everything tidy. It'll be a win-win; you'll both be happy with the finished results.