Chip And Joanna Gaines Tackle Their Biggest Project Yet In Fixer Upper: The Hotel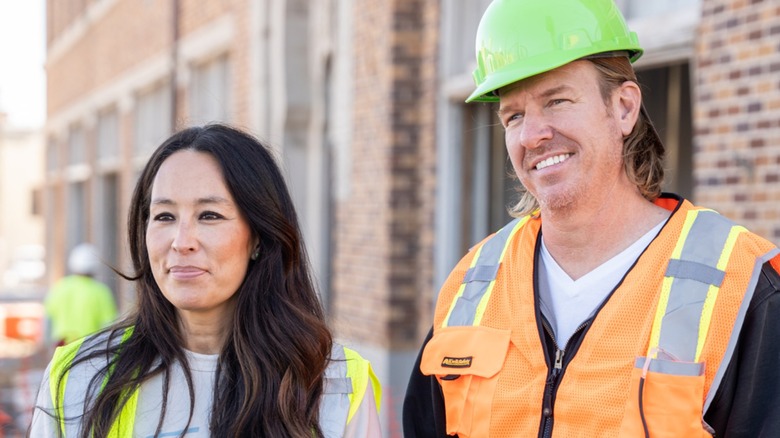 Warner Bros.
Although "Fixer Upper" fans are still gawking over the astonishing remodel from "Fixer Upper: The Castle," Warner Bros. Discovery has announced Chip and Joanna Gaines' next big series, "Fixer Upper: The Hotel." Similarly to the castle, this power duo will renovate a historic property built back in 1928. However, this time, they'll be dealing with about 50,000 square feet of space. "This is what you dream about," Chip Gaines said (via HBOMax). "I think Jo [Joanna] and I are out of our element to some extent, but I think we're up for the challenge."
The six-episode series is currently set to premiere in November 2023 following the opening of Hotel 1928 in October — a name chosen to honor the year it was constructed. "For us, this project represents everything we are most passionate about — hospitality, restoration and home," Chip and Joanna Gaines said. "We've always been firm believers in the value of home, as a place but also as a feeling. Our dream for this hotel is that it would serve as an extension of home to every guest who comes to stay."
What to expect
Once the renovation is complete, the hotel — also once known as the Grand Karem Shrine building — will feature four floors, 33 custom-designed guest rooms, a restaurant, a ballroom, and a rooftop terrace. In honor of the building's history, icons of both the Shriners and Freemasons are still visible in its design. The hotel is situated just a short walk away from Market Magnolia at the Silos, where the Gaines' famous cupcake shop, Silios Baking Co. — renovated in season 4 of "Fixer Upper" — is located.
"Fans have been visiting Waco for years, but soon they will be able to do more than see a Fixer Upper – they can stay in one overnight!" Allison Page, Global President of Magnolia Network and DTC, said. "With Fixer Upper: The Hotel, we're pulling back the curtain on one of the biggest projects Chip and Jo have ever undertaken and giving viewers a first look at a unique and storied space that will help define downtown Waco for years to come."