HGTV Announces A Star-Studded Lineup For The Next Season Of Celebrity IOU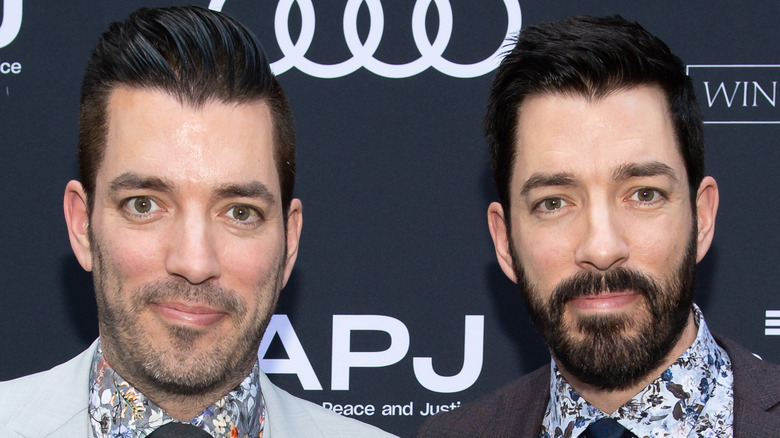 Ryan Emberley/Getty Images
Drew and Jonathan Scott are coming back with season 4 of "Celebrity IOU" on May 15. As you may know, this series follows the Scott brothers as they help celebrities renovate the homes of those who have positively impacted their lives. This past season, fans were amazed by the renovation results conducted for celebrities like Tiffany Haddish, Snoop Dog, and Howie Mandel. Now, they've released a new list of stars we can expect to see in this eight-episode series.
This list includes Kristin Chenoweth, Glenn Close, Kristin Davis, Taraji P. Henson, Derek Hough, Julianne Hough, Heidi Klum, Jay Leno, and Emma Roberts. "The celebrities we partner with are incredibly genuine — they really want to do something kind for the people who have given so much to them and others," Jonathan said (via People). "Their dedication to these special renovations is so moving, and I think that's why we all ugly cry at every episode."
An exciting experience for everyone
Like the previous episodes, this new season will surely be an emotional rollercoaster. In the first episode, model and co-host of "America's Got Talent" Heidi Klum requests the help of Drew and Jonathan Scott to renovate the home of her housekeeper, Lucia, which includes devising an open living area floorplan and a stunning kitchen remodel. "With each new season, we continue to be amazed at the celebrities' strong design eye," Drew said. "They all put in the time to make the renovations perfect for the recipients, and working on these projects together is both fun and challenging. And, above all, the stories are just so heartfelt." 
As we anticipate what's to come, fans on social media are sharing their excitement about the upcoming episodes. "Jonathan, I can hardly wait to see you on the new Celebrity IOU shows! I will be counting the days," one user exclaimed on Instagram. The new season will be available to watch on HGTV.