Stuck With An Outdated Kitchen? We Asked Five Designers For Their Go-To Hacks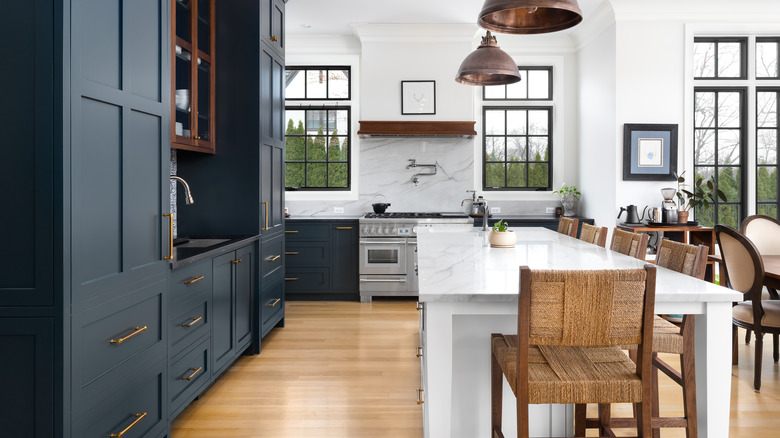 Hendrickson Photography/Shutterstock
For some people, the all-white kitchen trend seemed like revealed truth. It implied cleanliness, minimalism, clarity, and focus. If nothing else, it lent emphasis to the people in the room, and the things those people interact with directly. It was not a blank canvas, but a skillfully gessoed one, something you could and should build upon. Surely no impatient trendsetter, nor even the wiliest marketing director, would try to undermine the simple, self-evident truth of the white kitchen.
But, of course, that's exactly what happened, in part because trendiness is a strong force, and in part because there are just as many clever things to say about coldness and sterility as about cleanness and simplicity when you're talking about white walls. But there are also things to say about moving yourself and your home outside of the trend cycle, and we talked exclusively to some interior design experts who had some things to say that should guide you in the right direction if you're not ready to start over in the mode of warm wood cabinets and bold color accents.
Zero in on whether or not your kitchen reflects your personal style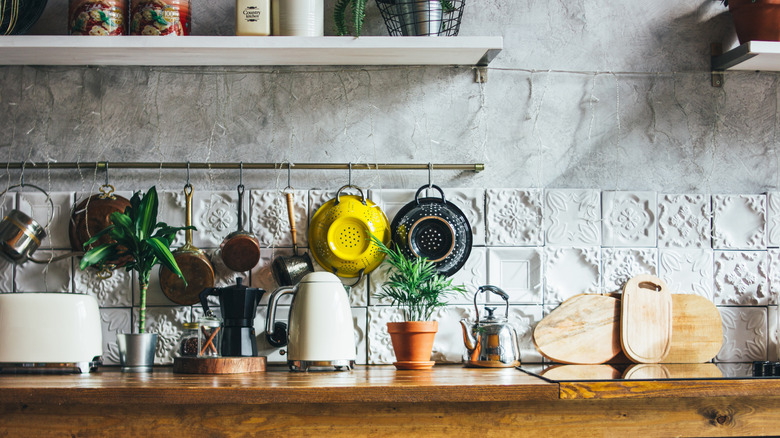 Galina Zhigalova/Getty Images
If you're having trouble resisting the pull of the new fad, it could be that a shift in focus will make things clearer for you, and show you that you've been on the right path all along, decorating and cooking with things that you love. And if you're at all trend-conscious, there's a good chance you have a sense of personal style that's both more personal and more valuable to you than someone else's trend.
"My suggestion is to remember that trends come and go, but the functionality and personal style of your home remains constant," says Raf Michalowski, interior designer and the founder of Meble Furniture. "Instead of focusing solely on what's 'in,' consider incorporating elements that make you happy and reflect your personality. Whether that's adding a pop of color, incorporating vintage pieces, or simply decluttering your counters, small changes can make a big difference."
Those strategies always work because they have built-in longevity and their appeal is nearly universal. Vintage furnishings and appliances have already proven themselves by withstanding the tests of time and trends. Classics don't require Instagram's stamp of approval.
Michalowski says, "By creating a space that you love and enjoy being in, you can create a timeless kitchen that never goes out of style."
Focus on functionality instead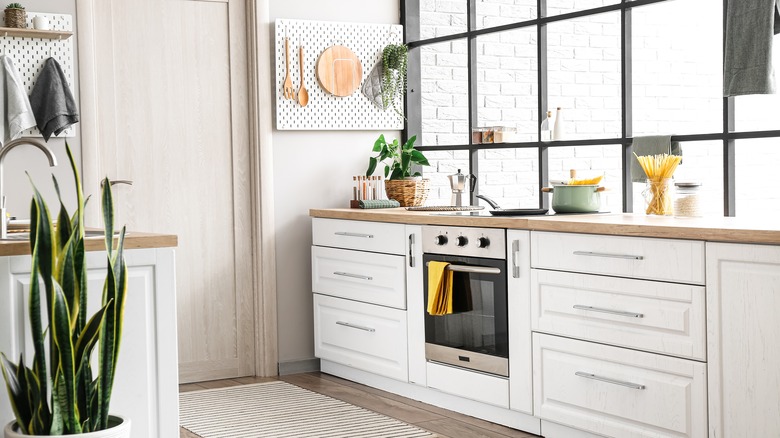 Pixel-Shot/Shutterstock
Most homes are centered around the kitchen, and if your kitchen is a place where more things than normal happen, it will automatically be less important for it to be trendy. This doesn't have to mean a commercial aesthetic, and it probably shouldn't; commercial appliances and fixtures lack warmth and often sustainability. And some elements like industrial lighting can be less than useful in the home context, and they're falling out of favor with trendsetters anyway.
"While trends come and go, the functionality of your kitchen remains constant. Consider making small tweaks to your kitchen to increase its usability, such as adding more storage or better lighting," says Michalowski. "These changes can improve your experience in the kitchen without breaking the bank."
Functional kitchens don't have to be boring or strictly utilitarian. Again, the key is in having your kitchen reflect you and your family, whether the details are small or large. Move toward the place you want to end up, regardless of fashion. A "chef's kitchen" isn't a useful concept unless the kitchen is tailored to the way you're a chef. Or maybe it's a garden kitchen with baskets of produce, herbs hanging everywhere, and canning implements you never quite put away. Maybe you're looking for an eat-in kitchen focused on family meals. Or a place to bake without dragging out the dough board or clearing off the pastry bench every time. Making a kitchen the place where you can do the things you want to do bypasses all the fickleness of mere fashion.
Add personality
Lois GoBe/Shutterstock
Of course, your design choices don't have to be practical. You can cultivate personality in every quirk and cranny of a kitchen, and you won't feel the need to satisfy the latest trend if your kitchen is packed with personality. "If you're feeling like your kitchen is outdated, adding personality can make it feel fresh and new. One idea that I like the most is to incorporate unique decor or art pieces that reflect your personal style," says Michalowski. "This can create a cohesive look throughout your home and make your kitchen feel like a personalized space."
Style is a foolproof answer to fads because the things you love and enjoy using are simply more important than a handful of trends picked out of magazines and showroom floors. And your personal style is unified by your tastes, which means that the work of making things complement each other got done when you weren't even trying for timelessness.
What happens if you've backed yourself into a minimalist corner and don't feel like you have a lot of opportunities to express yourself in an all-white kitchen? Even one carefully chosen expression can change the whole game. A colorful accent wall adds instant interest, depth, and even personality. And that one change can also facilitate a dozen others... little style elements that didn't work in the all-white kitchen suddenly will, all for the cost of a can of paint. The current trend is bolder colors, but do your own thing. If you want cornflower blue and little wooden ducks, go for it.
Focus on curating timelessness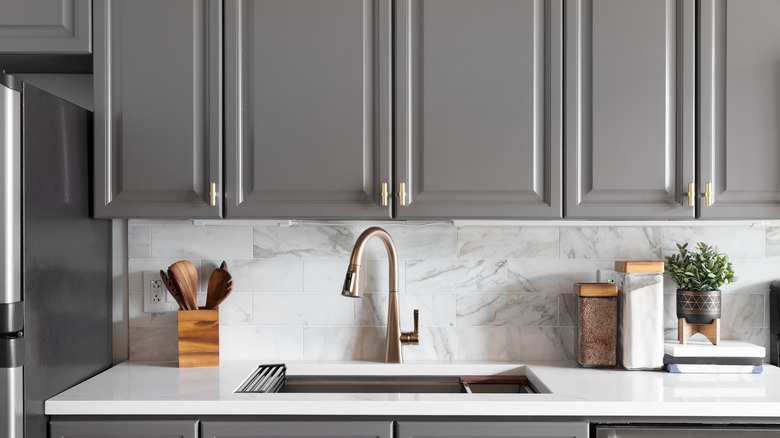 Hendrickson Photography/Shutterstock
If the emergence and meteoric rise of the new warm wood trend has your kitchen feeling dated, refocus on non-faddish details that help you feel more grounded in your kitchen's look, rather than worrying about the trends. "The key is to pay attention to the details and think beyond simply selecting a few trendy items. Consider hardware, window treatments, and other pieces that can give the kitchen a timeless feel. You don't have to follow trends to have a beautiful kitchen that you won't tire of," says Jonathan Faccone, an interior designer and the founder of Halo Homebuyers.
These details can be small or large, decorative or functional, or any of these in combination. The key is selecting elements that are either distinctly personal to you, or have proven to stand the test of time. Classics were often once fads themselves, but have remained aesthetically pleasing and rarely fall out of favor so completely as to feel out of step with good taste. For example, it's increasingly popular among the stylish to talk about Shaker cabinet doors with mild disapproval, favoring instead utterly simple doors of light (or tight-grained darker) wood. But the average person, as well as your above-average friends, are unlikely to look askance at Shaker cabinets anytime soon.
Embrace the warmth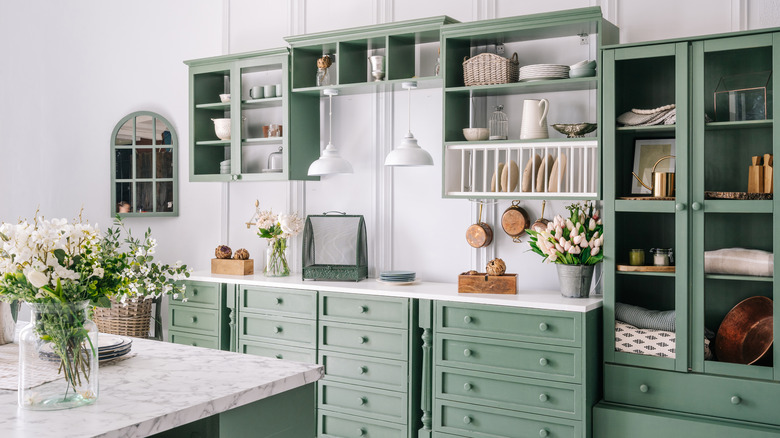 brizmaker/Shutterstock
Incorporating smaller warm elements into your kitchen can be a great approach to updating without a complete renovation. "You can easily grab a few wooden chopping blocks or wooden mortar and pestle to capture the Provençale appeal of the warm kitchens," says Joe Ferguson, Architectural Joiner at Skirtings R Us Skirting Board & Architrave. "It is easy to catch up with trends through small moments in the kitchen."
There are tons of solid approaches to introducing non-architectural (or smaller architectural) wood elements to your kitchen. If a mortar and pestle isn't your thing, consider options like cutting boards, bowls, baskets, basting spoons, etc. Bring wood in via door and window frames, open wood shelving, wood panels at the backs of open cabinets, and range hood enclosures.
Of course, you can always go big: an enormous wood island that dominates the room might very well be the only warmth you need to bring to an all-white kitchen. Wood isn't the only source of warmth, of course. We'll touch on light and texture, but keep an open mind because you can find warmth in unexpected places. Vintage items tend to almost automatically signify warmth. There's a thriving community of vintage appliance aficionados who will argue (and win) that antique appliances look better, work better, and last longer than just about anything modern you can buy, and there's no question that their effect is often homier and warmer than new alternatives. Dropping a 1950s stove in your kitchen, with its curvaceous and ornate postwar dashboard, clean lines, funky little details, and glowing bits, is like parking a pristine 1956 Thunderbird in an empty garage. It instantly redefines the room, and you suddenly prefer it to most of the rooms you've been in lately.
Add statement lighting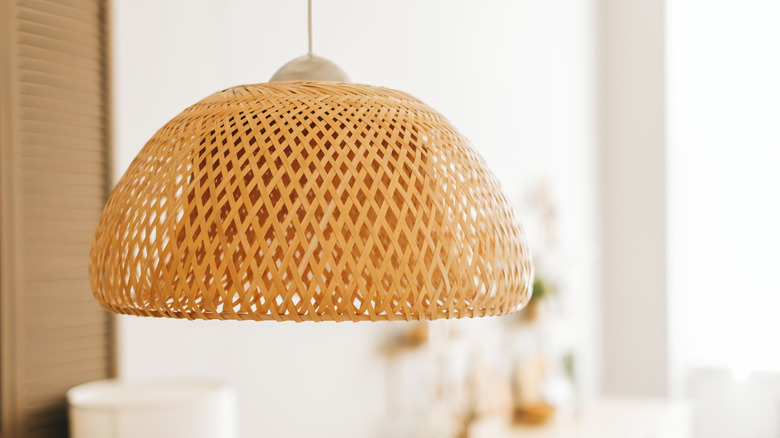 Nikkimeel/Getty Images
Lighting, someone probably should have once said, is everything. If you can manage to create that combination of task and mood lighting that creates both drama and subtlety, you're on your way to blocking out the sometimes-harsh glare of trendiness. Using warm lighting to illuminate earthy elements of your kitchen is a great way to suggest the inviting style of warm, wood kitchens. "Updating your light fixtures can completely transform the look of your kitchen, without requiring a complete renovation," says interior designer Robert Moors. "My favorite idea is to add a dramatic pendant light or a chandelier over the dining table to create a focal point in the room."
Warm light emanating from a cold industrial or super-modern fixture won't have the same effect as fixtures of more natural-feeling materials like rattan, wicker, and bronze. Oversized elements or focal points like Moors mentions take up a lot of visual space, adding that earthy element to the room. The problem with industrial and modern designs is not that their drama is mutually exclusive with warmth. Rather, their drama calls attention to themselves, while the dramatic effects created by light itself (and whatever it illuminates) can be warm in any measure you see fit. So think in terms of natural materials and organic shapes. Light things that make sense and which emphasize wood and warmth wherever possible. And don't discount the value of warm white under-counter lighting to bring a cozy glow to a kitchen.
If you prefer a cooler color temperature during the day, or for task areas of a kitchen. It's trivial these days to install RGBW or RGBCW LED lights that let you control the color temperature of a particular bulb on the fly, or to change on a schedule.
Add texture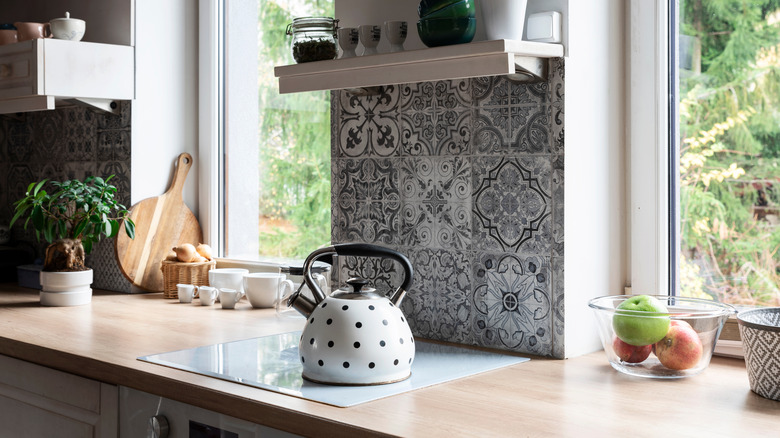 liloon/Shutterstock
Nothing is more timeless than natural materials and the universe of textures they bring with them. "If you want to make it feel warmer, display gorgeous wood cutting boards or charcuterie boards with plenty of visible grain, swap any rugs out for a soft version of a natural fiber rug like sisal or jute, set a large thick wooden chopping block out to serve as a counter topper," says Lori Shaw of Lori Shaw Interiors.
Stone, wood, other and natural textures tend to carry on through generations without a hitch. More dramatic textures have been slower to gain popularity, especially in countertops. But even the ubiquitous honey oak cabinets of the 1980s and 1990s are making a big comeback. So far, we've seen more subtle closed-grain wood used for cabinetry and less pronounced textures in countertops. (Quartz is still top of the list of popular countertops. While it's not a natural material, it gives the impression of one while having distinct advantages in evenness of texture and consistency of production.) But if you're looking for a quick but effective update, the good news is that the effect can be had by accenting what you already have with more dramatic, and more fun, textures like walnut, more highly figured varieties of maple, intricate encaustic tile, and chevron or parquet flooring.
If you like where your kitchen is and are just looking for a trendy update, this approach is a big win. You don't have to start completely from scratch — just add onto what you have, and you can take your pick from all manner of great options, turning your kitchen update from an unwanted chore to an enjoyable pastime that can be as finite or as iterative as you want it to be.