Why You Should Consider A Prefab Tiny House (And Where To Find Them)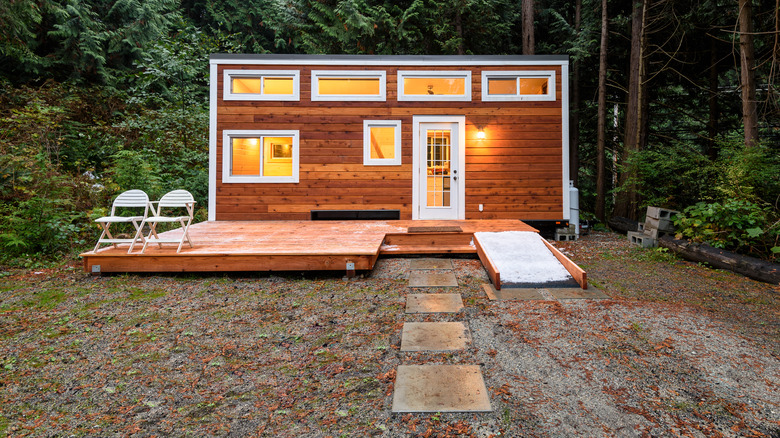 ppa/Shutterstock
The minimalist lifestyle continues to be incorporated into people's lives more and more with things like capsule closets, the one in one out rule, and even tiny homes. Tiny homes can be ordered in kits and built after delivery, or you can skip the headache of building your own house and order a prefabricated home instead. Depending on size and amenities, tiny homes can cost as low as $8,000 to more than $ 100,000, and prefabricated constructions will cost more than a kit. Prefab tiny homes come prebuilt and won't require sorting through materials, confusing instructions, or manual labor, so the price increase is worth it for many. 
Prefab homes can also be harder to find, as most big boxed brands like Wayfair, Lowe's, and Home Depot only offer mass-produced, assembly-required models. You'll need to find companies specializing in these ready-upon-delivery tiny homes for the perfect prebuilt dwelling, but this means your home will be much more unique and tailored to your lifestyle. 
Are prefab tiny homes worth the extra cost?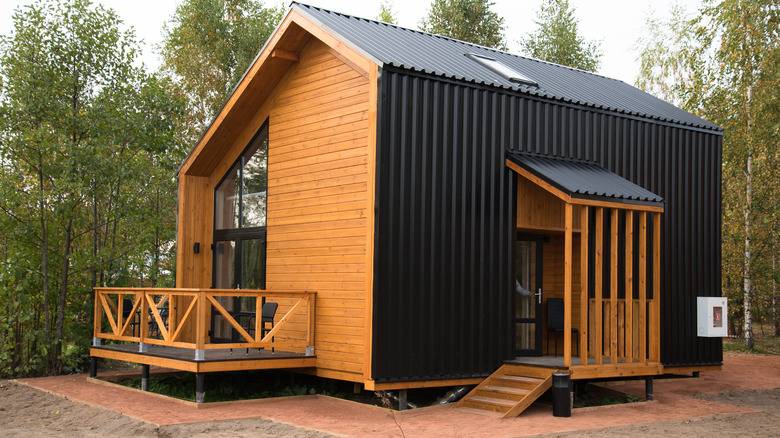 Dina da/Shutterstock
As you evaluate the extra cost of a prefab tiny home, ponder on the amount of time you have allotted for moving into your smaller space. Kits will require more time to make move-in-ready, along with more planning and manual labor. It's estimated that DIYers can take more than two months to build a kit from start to finish, which doesn't include things like landscaping or utility hookups. A longer building process means you'll likely have to leave materials and tools out overnight for the duration of construction, and sometimes, this can lead to stolen items. Prefabricated homes can usually be delivered within a few weeks and lived in shortly after. The process is much quicker, and you eliminate the worry of making crucial mistakes during the building stage.
Kits often won't provide you with all the necessary tools, and you may have to purchase some. Another added cost to consider is that if you're not experienced in this kind of hands-on work, you may have to hire professional help anyway. Prefabricated tiny homes also allow manufacturers to waste fewer materials. With the building done in-house, excess materials can be used on other constructions. If you map out the extra costs of buying a kit, you'll likely find that a prefab home isn't the price hike it seems to be. And it's hard to put a price on peace of mind. 
Where to buy a prefab tiny home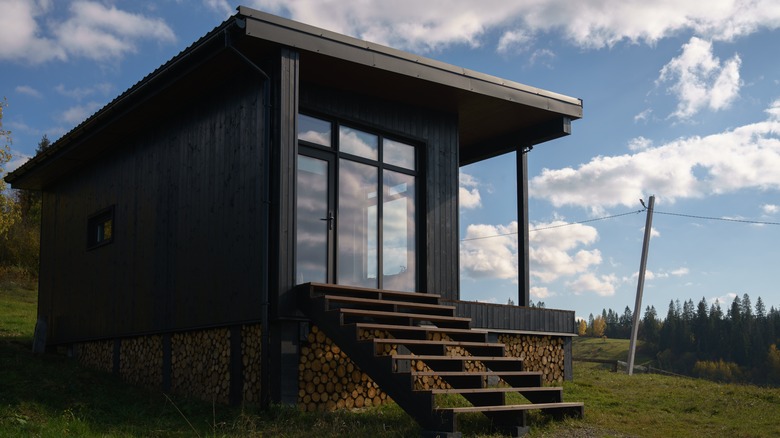 Ayman alakhras/Shutterstock
Finding tiny prefabricated homes can be a bit challenging on its own, as many large companies only sell pre-cut kits. But, for those who want a home ready upon delivery, no kits or assembly needed, plenty of small businesses offer quality, tiny prefabricated houses. Escape Traveler stands out due to building fully electrical units and offering warranties. They also provide customizable options, non-electrical units, and homes on wheels. You can browse their website or request a tour of their plant in Wisconsin. EcoCabins creates eco-friendly prefab options with a mission of offering quality homes at an affordable cost. 
Minty Tiny House Company is based out of Canada and offers a range of prebuilt RVs, trailers, and tiny homes, making a point to feature high-end kitchens. Tumbleweed, which provides payment plans, is a certified green company with tiny prefab houses available, and Offgrid Dwellings is another excellent option with similar listings. If you want to buy a tiny home or rent one from a current owner rather than buy one from a company outright, Tiny House Listings is the website for you.