Shiplap Vs. Drywall: Which Is Right For Your Home?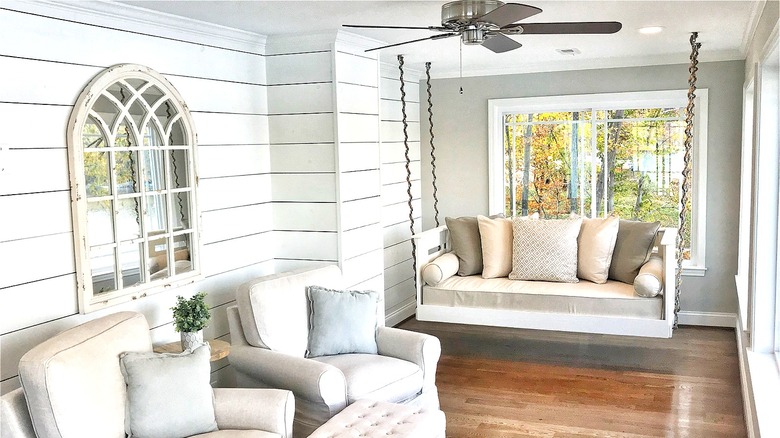 ocwarfford/Shutterstock
Shiplap has become a popular option over the past decade for taking the look of a wall up a notch, while drywall — sometimes called wall board or by the brand name Sheetrock — is still the standard option for finishing walls when building a new home, adding on a room, or repairing a wall. If you're seeking something different and durable, shiplap might be the way to go, but if your taste and expectations are more traditional than trendy, drywall could be better.
Choosing how to finish your home's walls usually boils down to two considerations: personal preference and budget. For instance, shiplap can add instant style to a room, but if you have a more limited budget, standard drywall might be a better choice for your household. Taking a closer look like this at some of the main considerations related to installing shiplap or drywall can help you decide which one is right for your home improvement project.
Shiplap considerations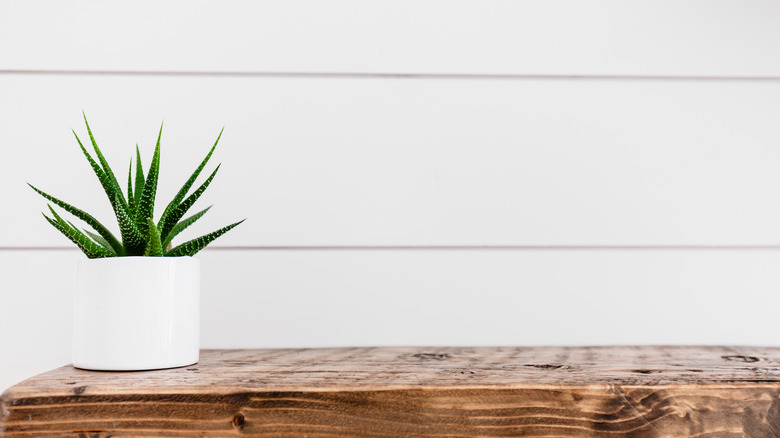 Aspects and Angles/Shutterstock
When building a new home or adding on a room, shiplap can be attached directly to the studs. You can also add shiplap over an existing wall to cover up holes if you've had a drywall mishap or to even out an irregular wall, which is sometimes an issue with older homes. Of course, shiplap can also be added simply as a decorative touch.
When considering this wall alternative, keep in mind the boards usually cost about $2 to $7 per square foot and that installation on average will cost $1,000 per wall. If you're handy, you might be able to knock the price down a bit by doing it yourself, though keep in mind professionals also have access to discounts on materials that DIYers don't.
While you might gravitate toward modern farmhouse when you think of decorating with white shiplap, it also looks great with coastal vibe décor. Tired of those looks? Many decorators are now using it to create more elegant settings simply by updating the furniture, lighting, and wall art. It can also be painted a darker color like slate gray or navy blue for a more dramatic look (although you'll have to sand it before adding a new coat of paint).
Note, some interior designers are now viewing shiplap as passé, though, so that can be an indicator to think twice before adding this waning trend to your home. Of course, if you really admire the look, your opinion is what counts when making a house into a haven.
Drywall considerations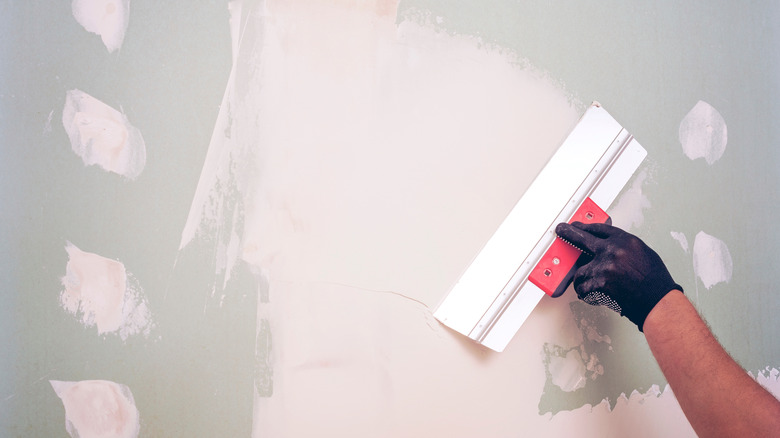 Andrey tiyk/Shutterstock
Drywall has been the conventional wall choice in all types of residences for decades. Materials-wise, it's far less expensive than shiplap, costing $0.30 to $0.80 per square foot or about $10 to $20 per sheet, depending on the size and quality (e.g., a 5/8-inch panel versus a 3/4-inch panel). Installation costs can vary, especially if you install the drywall yourself. However, if professionally installed, hanging drywall will cost on average $1,200 to $1,400 (for a 144-square-foot room), or about $300 to $350 per wall.
Keep in mind that wall board isn't nearly as durable as shiplap since it's made of gypsum with paper over each side instead of wood. Even so, drywall is a versatile alternative since it can be wallpapered after applying a simple coat of primer. At a time when wallpaper is being used in every room in the house, it seems, this is definitely something to consider. If you're still not a fan of wallpaper, texture can be added to drywall as well, so standard interior paint will readily adhere without having to sand it to change the color like shiplap.
Another consideration when repairing or improving walls is appealing to homebuyers if you may be putting your home on the market in the not-too-distant future. Most potential buyers expect to see textured drywall when they're shopping for a new abode. Though they might fall in love with the shiplap you've installed, that's not a guarantee and it could even be a deciding factor (not in your favor). For that practical reason, sticking to drywall could be a better option.