White Walls Are On The Way Out - Here's What To Try Instead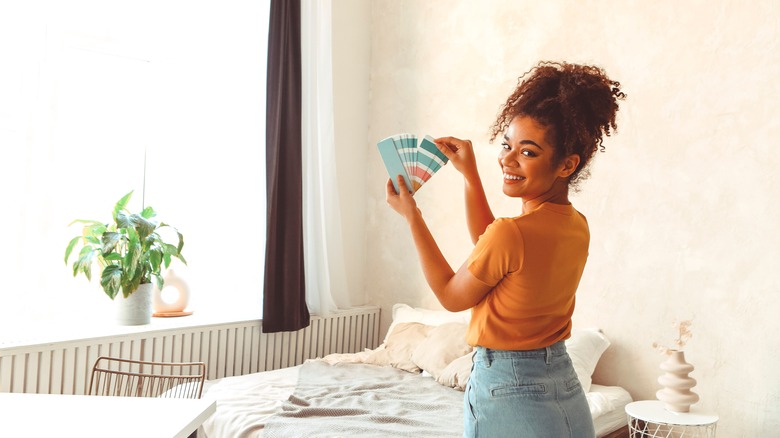 Dasha Petrenko/Shutterstock
Have you ever wondered why homes painted white on both the exterior and interior sell better? Is it possible that it sets a detaching atmosphere that allows buyers to envision all the ways a room could be redesigned to their tastes? White walls have been a go-to, simple theme in interior design for quite some time, but in an era where people are seeking more fulfillment from their homes, consumers are shifting away from the sterile shade. Sure, white paint removes the worry of matching your décor with complex colors, but it also infuses a room with frigid air and a dispassionate sense of design.
"While white is pure and unblemished, it can also be perceived as cold, impersonal, and unsympathetic," Karen Haller, color psychology specialist and best-selling author, tells Homes & Gardens. "It may help calm the noise and chaos of modern-day life, but it can do so at the point of shutdown." People are on the hunt for colors that create cozy spaces without dominating the room and instead accentuate their décor with calming affections. Fixr's paint and color trends 2022 survey found that earthy tones and warm neutrals are sparking homeowner interest and that green and botanical patterns are ruling the wallpaper category. Blues, greens, and creams should be on your swatch list this year as you reconsider the white walls freezing up your home.
Warm and serene palettes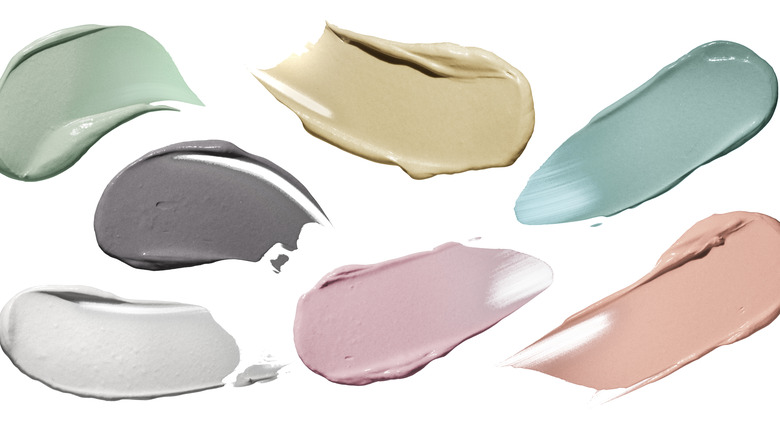 Tanyarow/Getty Images
Fixr's survey found that 66% of homeowners chose sultry neutrals for their homes, 59% went with earthy tones, 44% with classic black and white, and 17% settled on cool neutrals. Green is high on the list of go-to paint shades, sage green Fixr's top 2022 living room and bedroom paint color, and a majority of brands chose green hues for the 2022 color of the year. Greens gain popularity from their botanical relation, creating a nature-driven space that inspires a healthy and nurturing atmosphere. Viridescent tints are among many that can invoke a sense of mother earth, with blues, beiges, creams, and yellows falling into the same category. 
"Brown's appeal is often linked to the color's ability to make us feel close to and grounded by the earth," interior designer Naomi Astley Clarke told Homes & Gardens. "The key to achieving a chic brown scheme is to only employ as much as your space can handle and to balance it out with thoughtful color combinations. Also, you can't go wrong with pairing brown and blue as the coolness of blue hues harmonizes with the warmth of wood furniture." Blues are often overlooked when considering earthy palettes, but you can't deny how cerulean colors have us hearing waves and songbirds, nor how it's reminiscent of a summer day's clear sky. Whether choosing to dabble in lighter or darker tones, these color ranges are the perfect substitutes for your home's stiff white coating.
Striking and personalized wallpapers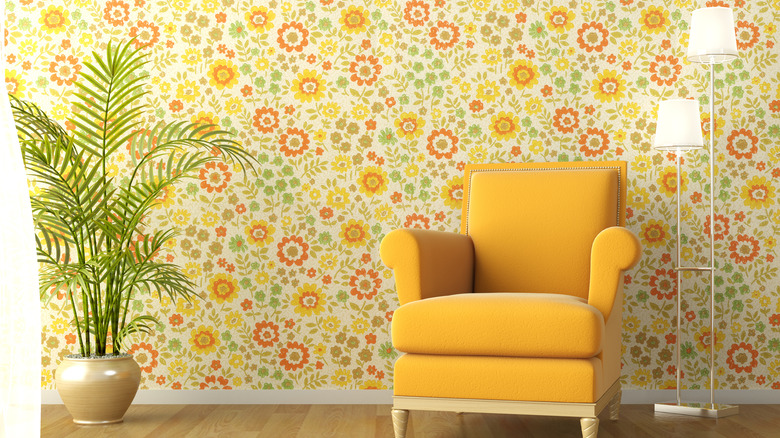 Arquiplay77/Getty Images
We have entered a time where wallpaper is no longer outdated but instead embraced as an ideal solution to spruce up a room. Peel-and-stick wallpaper is great for renters and homeowners alike, giving a solution that is less permanent than paint yet will transformative. In Fixr's survey, 39% of respondents noted that wallpapering an entire room was the best way to incorporate new colors, and 30% decided an accent wall would be better. Additionally, the top wallpaper designs were ranked as green/nature patterns (56%), chinoiserie (28%), geometric (28%), mural (27%), and art deco (23%).
Wallpaper can bring dimension into a space by including multiple colors, complex designs, and eye-catching textures. They can be, of course, used throughout an entire room or utilized for trimming and other accents for subtle decorative touches. Survey respondents also voted on which rooms are most suitable for wallpaper, powder rooms coming in first with 88%, ceilings and dining rooms tying at 28%, and 22% selecting the bedroom. If you are on the fence about leaving the white behind, consider experimenting with different colors and designs through easy-to-apply-and-remove wallpapers.