Why Martha Stewart Refuses To Put Curtains On Her Windows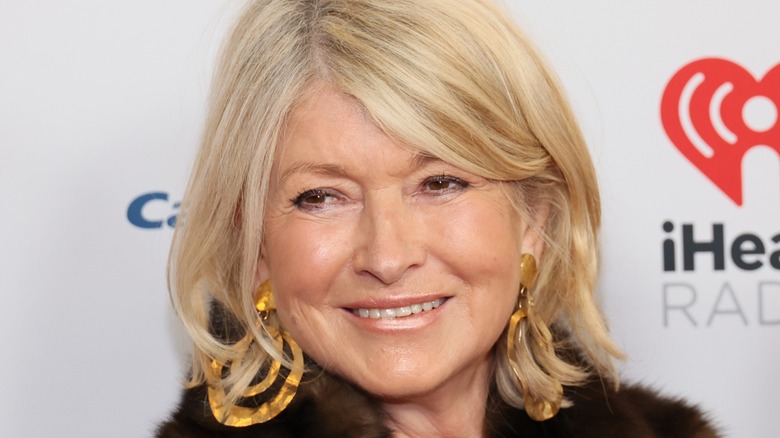 Dia Dipasupil/Getty Images
Curtains are a simple solution to managing privacy, controlling natural light, and adding a pop of color to any room in your home. Pick a bold print or muted shade of fabric that complements your room aesthetic, and voilà – instant visual appeal. However, as with any design element, beauty is in the eye of the beholder. And if you don't want to end up hiding in shame behind your house's flowy window treatments, you might think twice about inviting Martha Stewart over for tea.
"I will never put curtains on my windows," the popular lifestyle sage unabashedly disclosed during a Zoom interview (via Apartment Therapy). That's right — this home decor staple won't ever find its place in her house, and she claims it never has in past designs either. But before you start questioning your crush on curtains, the domestic diva was quick to clarify that her personal choice in window treatments boils down to simplicity and sight lines. "I like to look outside," Stewart explained to Veranda. In her home, "every window looks out to something nice, and it's just all open to the view." If you think beauty is within and want to keep your curtains, do it! They can undoubtedly add a touch of elegance and practicality to your design. But if sunlight is a top priority and Stewart's love of exterior vistas resonates with you, too, it may be time to look at — and through — other options for your home's window decorations.
What does Martha Stewart use instead of curtains?
With decades of professional home design under her belt, Martha Stewart is no stranger to finding innovative ways to breathe life into a wide range of living spaces. This includes embracing the functionality of window treatments. While Stewart may not support the structure of heavy curtains and drapes, she says she is not a fan of bare windows, either; instead, she prefers the practicality of translucent shades. "I have shades on all my windows to protect the furniture, the fabrics on my bed, and my rugs from fading," she revealed to Veranda, and we can see during a tour of her home on MTV Cribs that her strategy works beautifully. 
You can channel your inner Martha Stewart by swapping curtains for cellular shades, also called honeycomb shades because of their honeycomb-shaped air chambers. The streamlined window treatments feature crisp accordion pleats that offer a sleeker profile than bulky curtains and can easily be adjusted throughout the day. But don't let their lean look fool you; honeycomb shades pack a powerful punch when it comes to protecting home furnishings and your budget. According to the Department of Energy, insulated cellular shades can achieve as much as a 60% decrease in the amount of harmful solar heat that streams through windows. Over time, subtracting the sun's harsh rays from your home, especially during the toasty summer months, can add up to significant energy savings and also protect your most precious furniture pieces from fading.
Exploring alternatives to curtains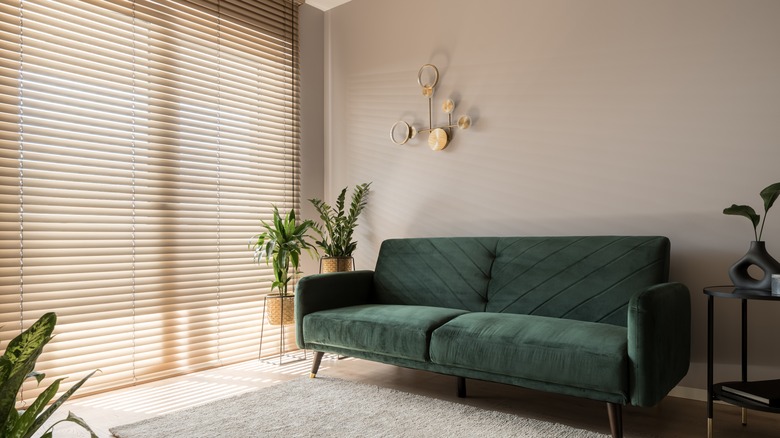 Dariusz Jarzabek/Shutterstock
Cut ties with curtains and explore other window treatment options if you can't live without a barrier between your home and the outside world. Blinds are an exceptional alternative to expensive curtains. The cost-effective window coverings come in an array of colors and styles, and you don't need Martha Stewart skills to install them. Stylish valances are another substitute for curtains. The short fabric panel on top of a window is an easy way to spice up a room with various patterns, textures, and colors that can play off your existing interior decorating style.
If you are looking for a surefire way to keep the sun at bay, shutters are an eye-catching option — not to mention energy efficient. Wooden interior shutters, like plantation shutters, are especially effective at reflecting the sun and keeping room temperatures down, explains The Home Depot. Moreover, because of their weight, shutters won't blow in the breeze like blinds and shades might when your windows are open on a hot summer day. It's easy to pull them up for a clear line of sight and bring them back down for privacy in the evening. Finally, when it comes to cleaning, interior shutters are hard to beat. A simple wipe-down with a cloth or sponge will keep them free of any dust and debris. Compare that with the hassle of removing, washing, and drying fabric window treatments, and you may find yourself joining team Martha Stewart in declaring it's curtains for curtains.