Jenny Marrs Explains Why She And Husband Dave Joined The Cast Of Hometown Takeover This Season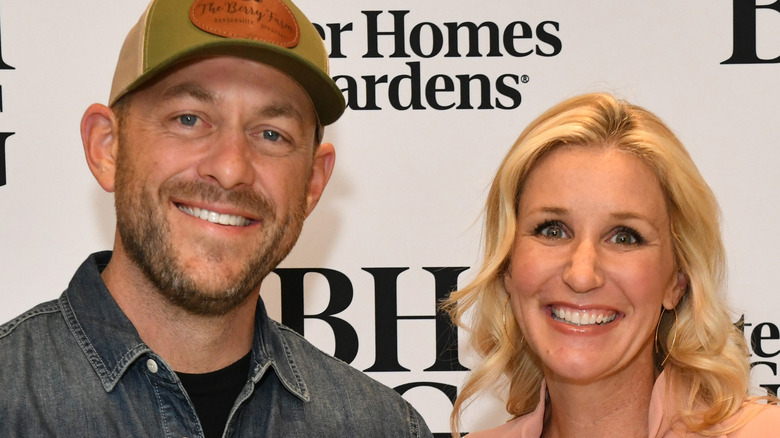 Craig Barritt/Getty Images
Season 2 of "Home Town Takeover" officially premiered on April 23. To the excitement of fans, this season features guest stars Jenny and Dave Marrs, known for their successful series "Fixer to Fabulous." Paired up with renovators Erin and Ben Napier, the design-savvy duos will be taking on the charming small town of Fort Morgan, Colorado.
Erin Napier told HGTV, "Struggling small towns can do the hard work to become healthy again. It's difficult, but nothing great is ever easy. And while it is scary to take on a project of this scale, it helps so much to have a team to help carry the load." The feeling is mutual, according to Jenny, who shared her excitement to be working alongside the Napiers, meeting residents, and celebrating the hard-working people of Fort Morgan.
In an interview with Country Living, Jenny broke down the challenges she faced when deciding whether to star in "Home Town Takeover." "We couldn't figure out how it was possible, honestly. Our production company had to rework our entire 'Fixer To Fabulous' schedule," she explained. However, the new project offered a unique possibility she couldn't pass up. "The world needs more goodness. All four of us felt honored to participate in something like that," Jenny said.
Giving back to those who give most
In a heartfelt video shared on her Instagram, Jenny Marrs and her husband surprised Fort Morgan resident and homeowner Sarah Boon, a single mother and equine-assisted therapy practitioner who manages to balance 100 acres, 36 horses, and two children. Jenny told Boon, "You do everything you do for your kids, but you're also still helping your community," to which Dave chimed in, "That's why we're here." Touched by people like Boon, Jenny captioned her Instagram post, "The stories we were given the opportunity to be a part of were the reason we said yes to joining this season of Home Town Takeover. This show is all about highlighting real people doing the real work of raising kids and managing businesses, and helping their community. It's pure feel-good television, and I know we can all use more of this in our lives."
Dave seems to share in his wife Jenny's sentimentality and enthusiasm. He explained to HGTV, "Being a part of this epic renovation is so meaningful to us, especially because I grew up right here in Colorado. We're so honored to be able to help the families who give back to their neighbors and the small business owners who need a boost." Jenny concluded her Instagram post with the statement: "We are thrilled to join our friends, Erin and Ben Napier ... on an amazing journey to revitalize an entire town."