Viral Coastal Cowgirl Decor Is Trending. Here's How To Get The Look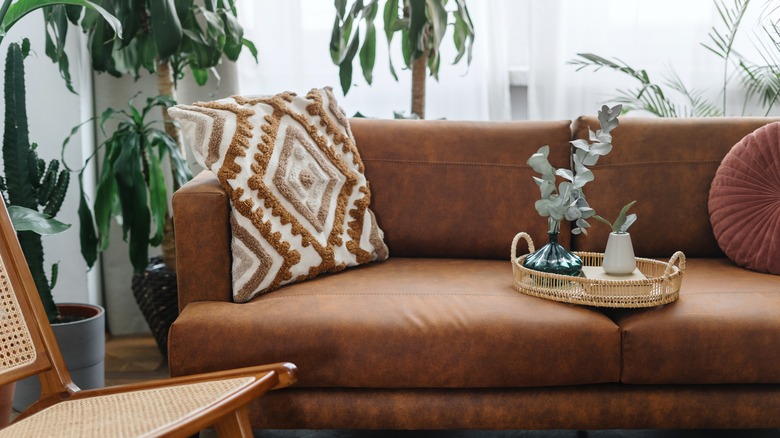 brizmaker/Shutterstock
One of the hottest trends in design for the past couple of years has been coastal style, particularly coastal grandmother, with its soft-washed blues, creams, and vintage nautical charm. However, a fresh variation of coastal style has been brewing among fashion influencers, stylists, and social media platforms like TikTok that's a little more rooted in west coast beachiness than Hamptonesque leisure.
Meet coastal cowgirl, a blend of beachy with boho that is slowly emerging as one of this summer's greatest influences on interiors. Think warm, rustic woods and rich earth tones. Layered textures, lots of fringe, vintage-inspired touches, and salt-washed antiques. Coastal cowgirl has been hitting both coasts and everywhere in between. It's a slightly warmer and earthier version of other coastal design trends rooted in more laid-back vibes lush with natural influences like sisal, animal pelts, denim, and of course, plants and greenery. This design style is perfect for a more unique take on coastal style. 
Coastal grandmother vs. coastal cowgirl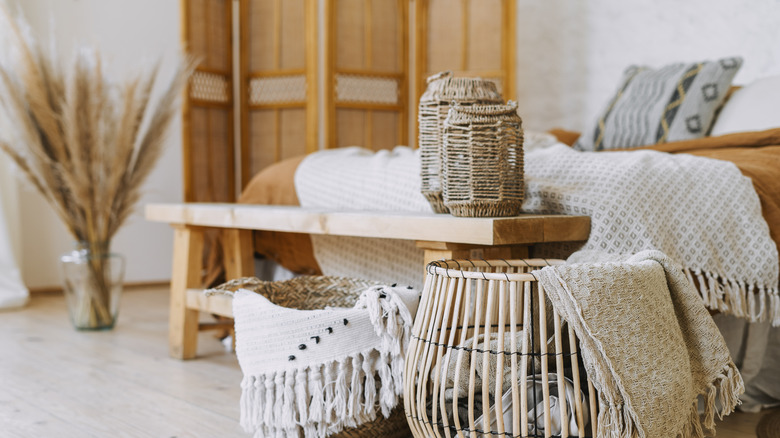 brizmaker/Shutterstock
Coastal grandmother style is known for its cooler-toned sea shades tipped with cream and white. Often overlapping with more rustic styles like farmhouse and shabby chic, the coastal grandmother style takes its inspiration in sea-worthy details and textures like driftwood, shiplap, and basket-woven materials. The furniture itself is often a mix of French provincial and more traditional American styles made casual by weather and wear. Designers have cited inspiration in everything from summer Atlantic beach getaways to Nancy Myers films of the past three decades, which present an idyllic vision of beachfront living.
Coastal cowgirl style, however, takes more of its inspiration from the west and southwest style, drawing equally from the desert and the sea. While coastal grandmother draws its tenor from the preppier version of beachy, coastal cowgirl is far more filled with California surfer cultures, desert sunsets, and Texas ranch life. Coastal cowgirl rooms have a lot of texture and dimension, including elements like worn-out denim, exposed beams, and chunky knits. Like coastal grandmother décor, these interiors are often white and filled with light but will often contain darker furniture and varying shades of neutrals that form a richer palette.
How to get the coastal cowgirl look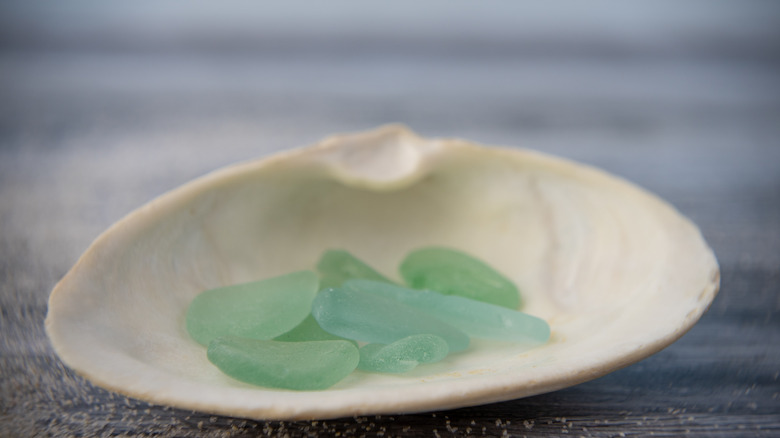 Tina Horne/Getty Images
Even if the oceans are far out of sight, you can still bring a bit of coastal cowgirl style into your home, whatever its architectural style. Look for typical coastal-style hallmarks like natural materials found on the water, including sea glass, shells, stone, and driftwood. Combine them with more southwestern and western accents like fur, suede, and woven textiles. For accessories, look for boho touches like macrame, windcatchers, lots of candles, and organic materials like jute, sisal, and bamboo.
Natural fabrics like linen, leather, and suede make great upholstery options in rich shades of brown and tan, while softer accents like throw pillows, rugs, and curtains tend to be lighter and boho-flowy with lots of fringe. Wood pieces are found in a variety of finishes, including weathered grays and deeper browns. Coastal cowgirl loves a general sense of eclecticism, so mismatching furniture pieces is key.