Storage Mistakes Even HGTV's Nate Berkus Makes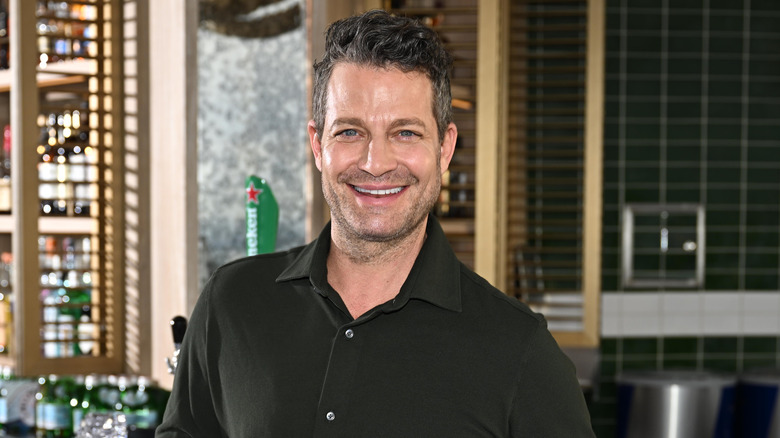 Dave Kotinsky/Getty Images
A neat and organized space is something we hope to have when we think about what our future home will be like. You've seen kitchen pantries on Pinterest with sleek shelving units and baskets that perfectly store food items. In addition, watching TikTok storage hacks gives you ideas for improving your storage spaces. However, creating a functional storage unit can take time. There are so many right and wrong ways of storing items that even HGTV's Nate Berkus has learned a few proper procedures he never used. For example, instead of labeling things in the same font and the right place, Berkus would use a font that was too small, creating confusion in his kitchen cabinets. Not being able to read the labels or know what's inside your bins is not going to create an organized system. Instead, it will make you late and create a mess you have to clean up when you get home.
Berkus has been an interior designer for years but still makes a few mistakes when figuring out how to store things around the house. So when he launched his organizational products, he collaborated with the folks at mDesign who sent Home Sort to his house to offer some tips. While everyone has their way of organizing and creating a setup that works for them, there's always something new you can learn that may make your life easier. Here are some more storage hacks Berkus has learned to employ.
Nestle knives next to each other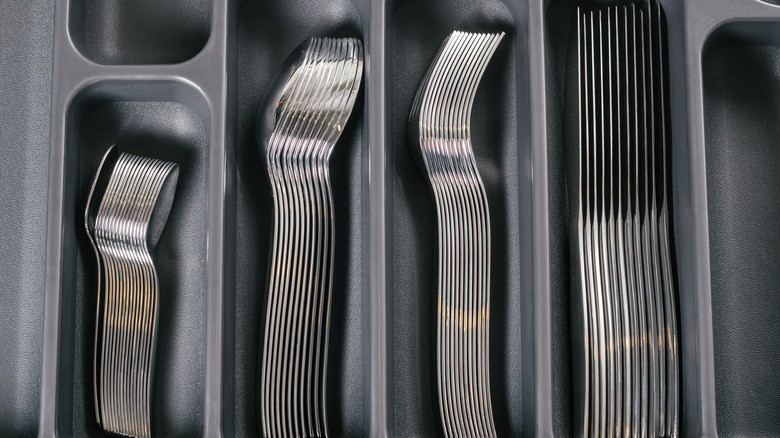 Jane Rubtsova/Getty Images
Washing and drying your dishes and cutlery are a piece of cake but there's a good chance you might not be storing the latter in the most efficient way. When you place cutlery back in their respective slots, you might lay them on top of each other, but as it turns out, this might not be the most efficient method. Berkus made the same mistake, but the Home Sort team came in and gave him another option.
Instead of laying the knives flat on each other, you should place them side by side with the sharp side facing down in the slot. The same method goes for spoons and forks; you lay them on their side instead of facing up. When they're nestled next to each other, it creates a cohesive look. It's a great way to make everything look neat, and you can also show off your matching set. Stainless steel appliances are a popular go-to for homeowner's kitchens, but you can showcase the color if you have something entirely different. Likewise, your cutlery will stand out when you open the drawer.
Let items peek over baskets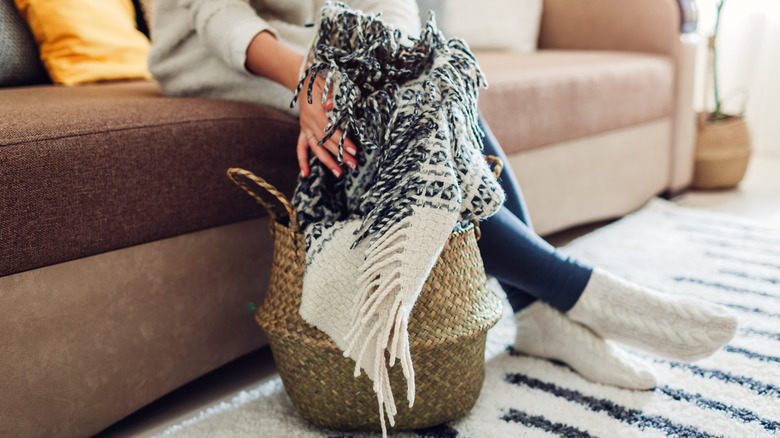 Mariia Boiko/Shutterstock
Another mistake Berkus would make was using baskets where you couldn't see what was inside them. When you have multiple storage baskets, a label can only help you so much; instead, using a transparent bin allows you to see what's inside. If transparent bins don't work for the space you're organizing, like the living room, ensure the items inside are peeking slightly over the top. 
Using a woven basket as a blanket holder in the living room, for example, can make your favorite throws accessible when you're looking to snuggle up on the couch. It's also a great décor piece that elevates the room, making it feel cozier. So, when you arrange your blankets inside, sit them upright to show off the upper half. On the other hand, if you're using baskets in your refrigerator to keep it more organized, clear plastic holders will let you quickly see what's inside from the front to the back of the fridge.