Can Shiplap Increase Your Home's Value?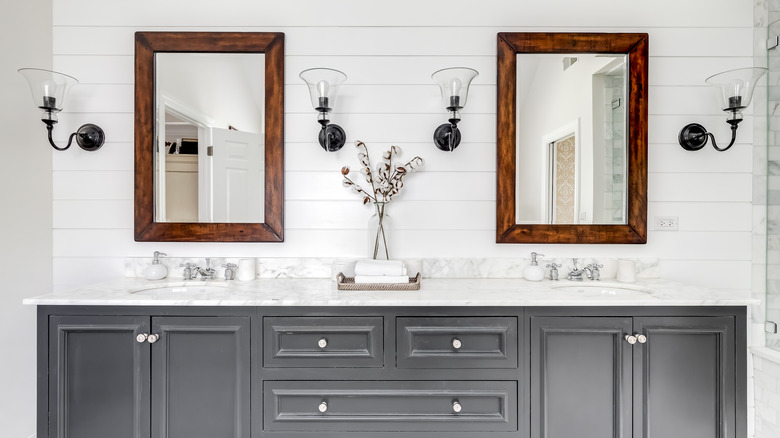 Hendrickson Photography/Shutterstock
Shiplap is one of the most popular farmhouse-inspired trends in the past decade, bedecking the walls of homes everywhere, urban and rural, with its trademark horizontal planks. You may, however, want to think twice before going all in on this element since many experts indicate that shiplap may not be what buyers are looking for when you sell. Not only may it not appeal to the aesthetics of future homeowners, but it also may create some serious problems that will decrease your home's value in the long run.
Designing and decorating a home can often be a careful balancing of our personal tastes, the dwelling style, current décor trends, and massive changes that may one day impact our ability to sell the home when the time is right. While some will throw caution to the wind and make changes based on what they want at the moment, others keep a careful eye on what future homeowners may be drawn toward.
What is shiplap?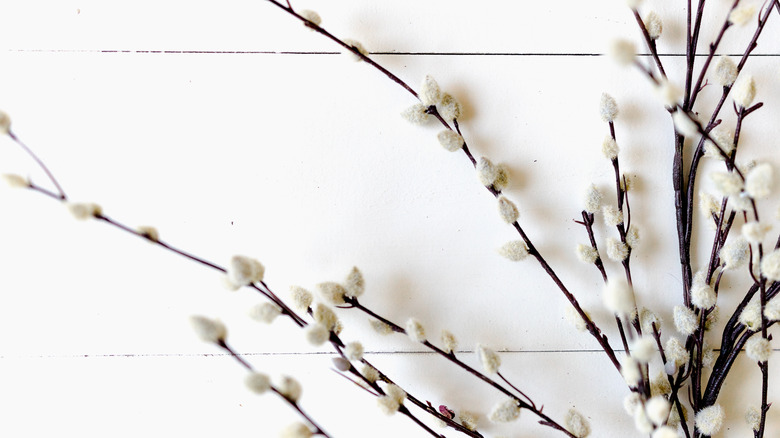 Palette of Light/Shutterstock
Popularized particularly among the modern farmhouse style, under the influence of designers like Chip and Joanna Gaines on HGTV's "Fixer Upper," the shiplap trend has spread far and wide for its rustic feel. It's also a great way to give architectural interest to otherwise blank walls. While horizontal and vertical wood paneling is not a new thing, the use of shiplap, a particular variety of interlocking, tightly fitted boards, is a newish development of the past two decades.
Historically, shiplap was a common, airtight way to panel the exteriors of barns or sheds. Today's homeowners have brought this rustic look into their homes, often using shiplap as full wall coverings, accent walls, or wainscotting that not only speaks to rustic farmhouse style but also gives new depth and dimension to rooms. It can be found everywhere, from bedrooms and living rooms to kitchen and bathroom spaces. The interlocking boards are easy to install as a DIY project and can be painted or stained any way you desire.
Problems with shiplap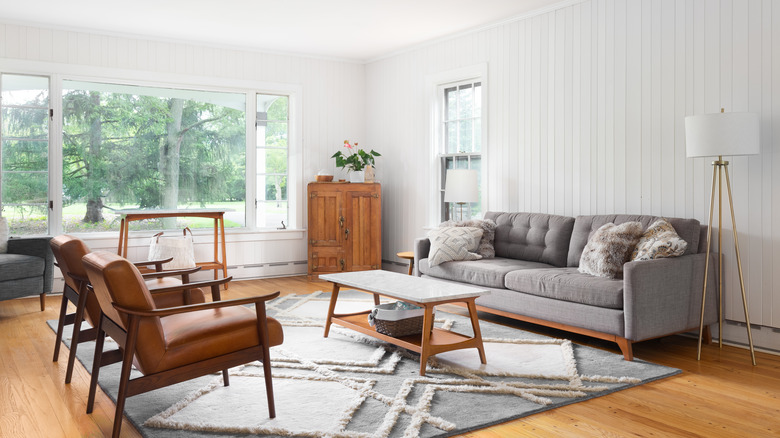 Hendrickson Photography/Shutterstock
While many will say farmhouse-inspired styles are here to stay, you may not find future potential buyers quite as on board as you, with less specific wall coverings often appealing to buyers as more of a blank canvas. Shiplap in a home may seem like one more renovation project they will have to take down to tear out, making your home much less attractive.
In addition, shiplap, when installed poorly, can cause issues due to improper insulation on exterior walls. This can cause buckling and shifting of the paneling over time and severe mold and dampness issues at its extreme. Even on interior walls, everything from the natural shifting and settling of the home over time to pests can cause problems. Shiplap is not as easy to clean or paint as a solid wall for homeowners.
If you love the look of the paneling and want to add a similar feel to otherwise dull walls, great alternatives include peel-and-stick textured wallpaper that can easily be removed, thin wainscotting panels, or frame molding, which is easier to remove when desired. If you're sold on shiplap and love the look, properly insulate it on external walls or only use it on interior ones. Consider employing it more sparingly as a partial or accent wall. Avoid use in kitchens and bathrooms where conditions may be less optimal due to dirt, heat, and dampness.