Treat Mom Right With At Home's Mother's Day Gift Collection Selection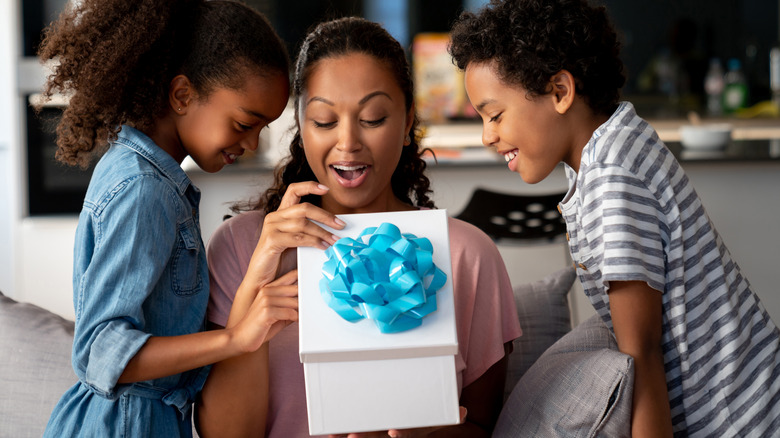 Andresr/Getty Images
This year, Mother's Day falls on Sunday, May 14th, so if you're planning to surprise her with a gift (as you should), it's time to start shopping! Moms are bound to love any gift that comes from their children, but for the mom who "doesn't want anything" or is allergic to clutter, you can't go wrong with a useful and beautiful gift from At Home. Luckily, you don't have to break the bank to impress with At Home's new Mother's Day collection. In addition to their already great prices, the new product release offers great deals on cute gardening tools, cozy blankets, photo frames, kitchen supplies, and even chocolates. 
At Home has plenty of gifts for moms, mothers-in-law, godmothers, or any other woman who has significantly impacted your life. Whether she gardens like a goddess, loves glitter and glam home décor, or fills her shelves with sentimental photos, you can find her perfect Mother's Day gift in At Home's newly released collection. Plus, many of these luxe-looking items fall under $25. Here are some highlights from the Mother's Day collection and gifting ideas to inspire. 
Mother's day gifts as unique as her
No two moms are exactly alike, so hone in on her hobbies to find a gift that will delight her and let her know you pay attention. At Home is a wonderful place to shop for Mother's Day gifts because the collection caters to a wide variety of tastes and interests. For example, if she prides herself on a glamorous and well-organized home, buy her a studded gold foil box to display on her coffee table or bookshelf. If she's into bohemian décor and loves to entertain on every occasion, a wooden scalloped serving board and stoneware dish set could be just the thing to impress her and her guests.  
One excellent idea is to build a custom Mother's Day gift basket! At Home's collection makes it easy to pick color-coordinated items that will look adorable when gifted together. For example, the matching lavender garden kneeler, gloves, hand trowel, and hand rake are the perfect start to a gardener's gift basket, and they'll total just around $25. If she prefers to stay indoors and as far as possible away from mud and bugs, create a "cozy night in" basket with a plush fringe throw blanket, a cute ceramic mug, and a wax warmer. Complete her Mother's Day basket with assorted chocolates and nifty body care products. You won't even have to leave the store to find a pretty basket!